A new orchestral composition - Ik zeg: NU by Richard Causton - has been chosen by BBC Radio 3 for worldwide broadcast.
BBC Radio 3 have selected a new orchestral composition by the Music Faculty's Reader in Composition, Richard Causton to represent the UK at the annual International Rostrum of Composers to be broadcast across 27 countries worldwide. The Rostrum is run in association with UNESCO and the International Music Council.
The piece - Ik zeg: NU  - was based on a story of survival. Three quarters of the World War II Jewish population of the Netherlands were killed by the Nazis. One of some 16,000 Dutch Jews to survive the war was a relative of Richard Causton, Salomon Van Son (now 98 years old), who survived Nazi persecution hidden in a hay barn for almost three years. The farmer who hid him was interrogated by the Germans repeatedly but never revealed where he was. This work is based on Salomon Van Son's memoir about his experience.
 
Richard explained, "The title, Ik zeg: NU ('I say: Now') comes from Sal van Son's ten-year-old great nephew, who remarked philosophically, 'I say now now, and a moment later it is already history'.  
 
"This child-like observation of how time passes seemed a brilliant description for music and how we experience it; but beyond that, it also describes life itself. We can never hang on to the moment, it is always slipping through our fingers. So my piece is about the passage of time and a homage to my 98-year-old relative, whose book traces the history of his Jewish family through four centuries, including his own years in hiding from the Nazis in occupied Holland during the Second World War."
 
Richard constructed a new set of specially-tuned tubular bells especially for use in the piece, and together with the sounds of detuned vibraphones, a prepared piano and accordion, their haunting, resonant sound evokes the complex and elusive nature of passing time. The piece was commissioned by the BBC for the BBC Symphony Orchestra and was first performed at the Barbican Hall, London, in January to huge critical acclaim.
 
"Richard Causton's new work for the BBC Symphony Orchestra, Ik zeg: NU, holds two timeframes in play simultaneously, and brilliantly." (The Guardian)
 
"Now-ness and then-ness move in parallel in this spacious, beautifully constructed work." (The Times)
 
"It was a fabulously ear-tickling display of compositional skill, which every now and then took on a poetic resonance." (The Daily Telegraph)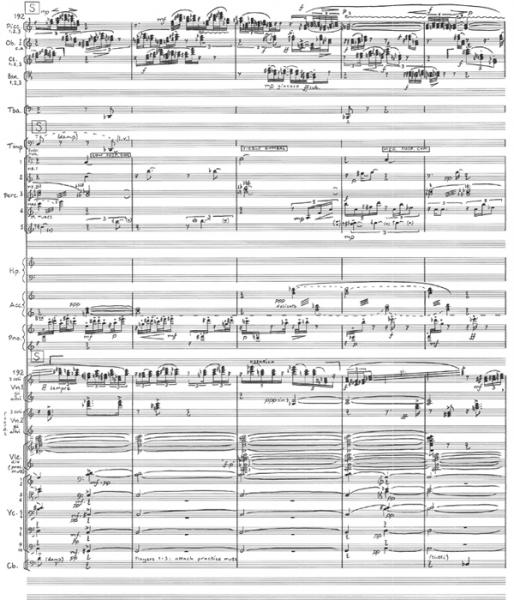 Image: Richard Causton pencil score of Ik zeg: NU
---

The text in this work is licensed under a Creative Commons Attribution 4.0 International License. Images, including our videos, are Copyright ©University of Cambridge and licensors/contributors as identified.  All rights reserved. We make our image and video content available in a number of ways – as here, on our main website under its Terms and conditions, and on a range of channels including social media that permit your use and sharing of our content under their respective Terms.
---