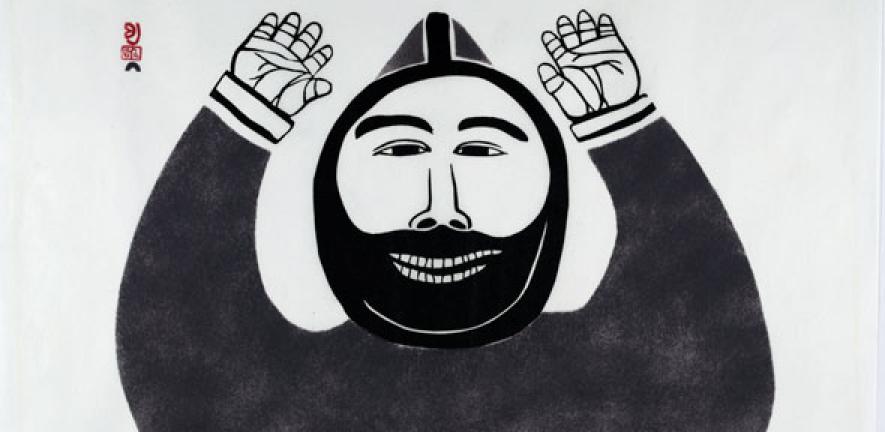 The artworks of black and indigenous peoples – a missing chapter in the history of modern art – is brought into sharp focus in a 'revelatory' exhibition at Cambridge University's Museum of Archaeology and Anthropology.
The exhibition's most vital message is that art has offered a route to freedom

Nicholas Thomas
After being awarded £100,000 by the Art Fund to build a collection of work from Australia, South Africa and Canada, the museum officially opened The Power of Paper yesterday. The exhibition focuses on artworks made in those countries during an epoch of decolonisation.
It exhibits for the first time in the UK some of the earliest prints made by Aboriginal, Inuit and black South African artists – a rich variety of indigenous art from the 1950s onwards as the end of empire informed works reflecting attachments to land and belief, as well as struggles with violence, dislocation and contemporary city life.
"This show is a revelation," said Nicholas Thomas, Director of MAA and the exhibition's curator. "It presents visions of place and history that are rarely given the attention their eloquence and power deserve, even in today's supposedly global and inclusive art world.
"I'm taken aback by the sheer artistic accomplishment of all the works included, but also love the quirkiness of the artists' take on everything from empire, to township life, to climate change. Why should a military helicopter be hoisting an oversized caribou, walrus and polar bear through the air? You need to come to the show to find out."
Modern art was more than just a project of great Europeans. From the late 1950s onward, as the end of empire gathered momentum, artists in native and local communities began to produce work in modern media in both remote community workshops and city studios; wryly expressing everyday life in townships or settlements, and often illuminating both personal and collective concerns in artworks that could be evocative, oblique or polemical.
Responding to the very limited representation of modern indigenous art movements in British collections, in 2011 the Art Fund awarded the Museum of Archaeology and Anthropology in Cambridge £100,000 to build a collection of work on paper from Australia, Canada and South Africa.
For more than two years, working with a network of artists, workshops and specialist curators, Thomas embarked on what he described as a 'dream shopping trip', building a unique collection of around 300 works. While some of the artists are internationally famous, only a few of the works have been on display in Europe.
Art on display in Britain for the first time includes the very first prints produced at the famous Rorke's Drift print workshop, which played a major role in the development of black art during apartheid.
South African artist Frank Ledimo, whose work King Ubu Encounter (2002) is featured in the exhibition, said: "I create work that is based on the urban landscape in which I live. I have been fascinated by the representation of the figure to relay messages of urban squalor, city life, survivors and victims of urbanisation."
Added Thomas: "The Power of Paper gives voice to great but marginalized artists, whose words caption their own work. The exhibition's most vital message is that art has offered a route to freedom."
The Power of Paper runs at MAA until December 6, 2015. The exhibition will also feature a working press with opportunities to participate in practical workshops as visitors explore the medium of printmaking as a form of expression.
---
The text in this work is licensed under a Creative Commons Licence. If you use this content on your site please link back to this page. For image rights, please see the credits associated with each individual image.
---