Food sold at restaurants whose menus display energy information is lower in fat and salt than that of their competitors, according to new research from the University of Cambridge.
As well as providing useful information for customers, mandatory menu labelling could also encourage restaurants to improve the nutritional quality of their menus

Dolly Theis
The researchers behind the study argue that if government policy made menu labelling mandatory, it could encourage restaurants to produce healthier options, leading to public health benefits.
Obesity levels worldwide have almost tripled since 1975, making it one of the most pressing public health challenges today. Poor diet is a leading contributor to obesity as well as to diseases including type 2 diabetes, heart disease and cancer.
Food from restaurants and fast food takeaways tends to be high in energy, fat, sugar and salt compared to food prepared at home. Some health campaigners have called for restaurants to improve the nutritional information available to customers. Mandatory menu labelling for large restaurant chains was introduced in the US in May 2018. In the UK, the government included voluntary menu labelling in its Public Health Responsibility Deal in 2011. A proposal for compulsory menu labelling was included in last year's Childhood Obesity Plan and a public consultation closed last December, but no announcement on a final policy has been made so far.
The assumption behind such measures is that providing customers with clearer information on the energy content of food served will allow them to make more informed, and hence 'better', choices. But it is also possible that menu labelling could change what outlets serve, as nutritionally-poor food could lead to bad publicity.
Researchers at the Centre for Diet and Activity Research (CEDAR), University of Cambridge, set out to determine whether there were differences in the energy and nutritional content of menu items served by popular UK chain restaurants with ,versus without, voluntary menu labelling in their stores. Their results are published today in the open access journal PLOS ONE.
The team first looked at energy and nutritional information on the websites of the most popular 100 UK restaurant chains during March and April 2018. Of these 100 restaurants, 42 provided some form of energy and nutritional information online, but only 14 provided menu labelling in stores.
Items from restaurants with in-store menu labelling had on average 45% less fat and 60% less salt than items from other restaurants.
"This is the first study to look at differences in nutritional content of food from restaurants with and without menu labelling in the UK," said Dolly Theis from CEDAR and the MRC Epidemiology Unit at Cambridge. "It suggests that on the whole, restaurants that provide information on calories on menus also serve healthier food, in terms of fat and salt levels. As well as providing useful information for customers, mandatory menu labelling could also encourage restaurants to improve the nutritional quality of their menus."
The researchers say that it is possible that menu labelling encourages restaurants to change the content of their food and also that those chains with 'healthier' offerings are more likely to label their menus. Twelve of the 14 restaurants that provided voluntary menu labelling were in the top 50 restaurants by sales – larger chains may come under more scrutiny from governments, the media, campaign groups and the public to provide both menu labelling and healthier options.
Across all menu categories, at least three-quarters of individual menu items were below the daily maximum recommended intake for energy, fat, saturated fat, sugar and salt. However, some individual items contained more than twice the daily recommended amount for energy, fat, saturated fat, sugar or salt. In one case, an individual dish contained 5,961Kcal – almost three times the daily recommended maximum for an average adult woman.
Dr Jean Adams added: "We found some restaurant items that hugely exceeded the daily recommended intake for energy, fats, sugar and salt. More than a quarter of UK adults eat meals out at least once a week, so such large or nutritionally-imbalanced portions could contribute to poor dietary intake at a population level."
The research was funded by the British Heart Foundation, Cancer Research UK, Economic and Social Research Council, Medical Research Council, National Institute for Health Research, and Wellcome.
Reference
Theis, DRZ and Adams, J. Differences in energy and nutritional content of menu items served by popular UK chain restaurants with versus without voluntary menu labelling: a cross-sectional study. PLOS ONE; 16 Oct 2019; DOI: 10.1371/journal.pone.0222773
---
Researcher profile: Dolly Theis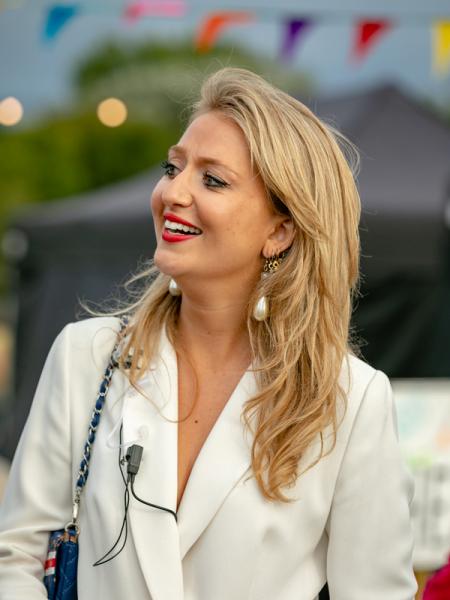 Tackling the obesity epidemic – and particularly childhood obesity – is likely to require policy changes at a local and national level. But how can academics feed the findings of their research into this process?
The answer may not be straightforward, as PhD candidate Dolly Theis from the MRC Epidemiology Unit explains.
"Policymaking is a complex business," she says. "Even for those inside its very heart, the policymaking process can feel like an unnavigable maze."
Dolly has experience of working closely with policymakers and has brought this knowledge with her to Cambridge. Prior to joining the MRC unit, she led research into childhood obesity and grassroots sport at the Centre for Social Justice think tank in Westminster. Between 2010-2013, she worked as a Parliamentary Researcher for Baroness Jenkin of Kennington, focused primarily on food waste, international development, obesity, poverty and women in politics.
At Cambridge – which Dolly describes as "an inspiring and pretty magical place" – she is studying how the UK government policymaking process works in relation to childhood obesity. In particular, she wants to understand how childhood obesity policies are conceived, framed and introduced by government; what and how evidence is understood and used; and who is most influential in the policymaking process.
"My research involves me doing what feels like investigative work!" she explains. "I try to identify as much quality evidence as I can that best explains the policymaking process in relation to childhood obesity; whether that is searching for relevant documents, speaking to people, trawling government and Parliament websites, or keeping up with the news.
"Hopefully by understanding how the policymaking process works in practice, academics and researchers can better influence it with the very best research."
Outside of work, Dolly runs the Big Tent Ideas Festival, a non-partisan political ideas festival bringing together thousands of people from all backgrounds, beliefs, sectors and parties to discuss the major problems facing our society and to find consensus on solutions.
---

The text in this work is licensed under a Creative Commons Attribution 4.0 International License. Images, including our videos, are Copyright ©University of Cambridge and licensors/contributors as identified.  All rights reserved. We make our image and video content available in a number of ways – as here, on our main website under its Terms and conditions, and on a range of channels including social media that permit your use and sharing of our content under their respective Terms.
---