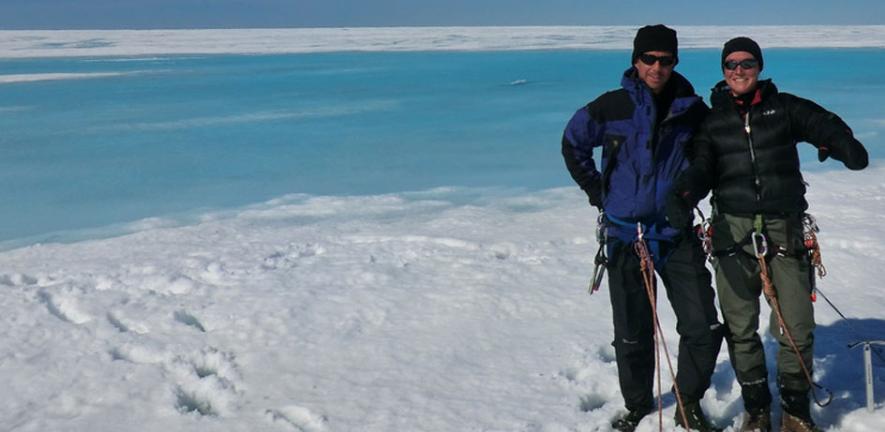 In the eleventh of a series of reports contributed by Cambridge researchers, glaciologists Dr Ian Willis and Alison Banwell watch as a lake disappears before their eyes.
During the final dying moments of the lake, ice blocks the size of truck containers swirled on the water like pieces of soap around an emptying plug hole.

Dr Ian Willis
"What? No coffee?" We had been dropped off by helicopter onto the Greenland ice sheet where we were to live and work for three weeks. The sky was clear and the sun was out, but the air temperature hovered around 0oC and a cutting katabatic wind blew from the top of the ice sheet in the east, through our 'windproof' jackets, and down the coast to our west. We had speedily put up our personal tents and three mess tents (the 'kitchen', the 'workshop' and the 'office'). By late afternoon, we had set up the stove; dug through the snow to get water; the kettle was boiling; and now all we needed was the coffee. But someone had forgotten to pack it. "Three weeks without coffee?" Our heads throbbed, our hands shook and our moods sank into our felt-lined boots.
That early-June morning, we had flown to the ice sheet from the small coastal town of Ilulissat, Disko Bay, west central Greenland. Ilulissat, meaning 'icebergs' in the native language, has around 4,000 people and is remarkable for its brightly coloured wooden buildings. To the south is Ilulissat Fjord, which has at its head one of Greenland's biggest and fastest moving outlet glaciers, Jakobshavn Isbræ. As it shudders forwards, thousands of icebergs calve off the front each year, some the size of aircraft carriers. For the last decade, local people and visiting scientists have witnessed one of the world's most noticeable effects of climate change, as the floating front of the glacier has retreated by around 10 km. The glacier has also sped up; ten years ago it flowed at 7 km a year, but now that figure is closer to 15 km.
Our goal was to measure three key things on the ice sheet surface: melting, water flow through snow and along channels etched into the ice, and the filling (and hopefully drainage) of lakes. We radiated out from our camp each day, sometimes for 2–3 km, trussed up in harnesses jangling with ice screws and carabiners, roped together like beads on a string in case anyone disappeared into a crevasse or a hole under the snow. We advanced slowly as we probed for these hidden dangers, but also in an attempt to avoid large patches of slush that developed within the melting snow. We had 24 hours of daylight, of course, and quickly learnt to tell the time from the direction of the sun gyrating around us, higher to the south around midday and lower towards the north, reminding us to crawl into our sleeping bags at the end of each day.
For several days we had watched a nearby lake grow into what was now a thick sky blue ribbon, tapering at the edges, spread across the bright white of the ice sheet – about 800m across. But, as we watched, it suddenly began to shrink: the thick ribbon became a thin band, then a tiny thread, and then it was gone. During the final dying moments of the lake, ice blocks the size of truck containers swirled on the water like pieces of soap around an emptying plug hole. A volume equivalent to 600 Olympic-sized swimming pools (or 15 Royal Albert Halls) had drained in just 2.5 hours. On the floor of the former lake was a new fracture 600 m long that had been produced by the weight of the water. Six large holes or 'moulins' had formed along the fracture, the largest of which was around 10 m wide and still had water thundering into it when we reached it.
After nearly three weeks on the ice sheet we were reluctantly ready to leave. It took a few days to bring our instruments back to camp, collapse our tents and pack our things into the boxes they had arrived in. The helicopter retrieved us and whisked us back to Ilulissat which felt warm, peculiarly dry underfoot, and was fused with colours and smells that we had been deprived of for three weeks. And at last there was coffee.
Dr Ian Willis and Alison Banwell
Ian is a Senior Lecturer and Alison is a PhD student at the Scott Polar Research Institute, and both are members of St Catharine's College. Ian has over 20 years of extreme sleepover experience on top and in front of several of the World's glaciers. In addition to his Greenland work, he currently has projects in Svalbard, Iceland and New Zealand. Alison has recently been awarded a Dow Sustainability Innovation Student Challenge Prize that will allow her to extend her Greenland work to the study of Himalayan glaciers. Ian and Alison's work was supported by the Natural Environment Research Council, University of Cambridge Travel Fund, BB Roberts Fund, Scandinavian Studies Fund and St Catharine's College.
A longer version of this article was originally published in the St Catharine's College Society Magazine 2011.
---
This work is licensed under a Creative Commons Licence. If you use this content on your site please link back to this page.
---