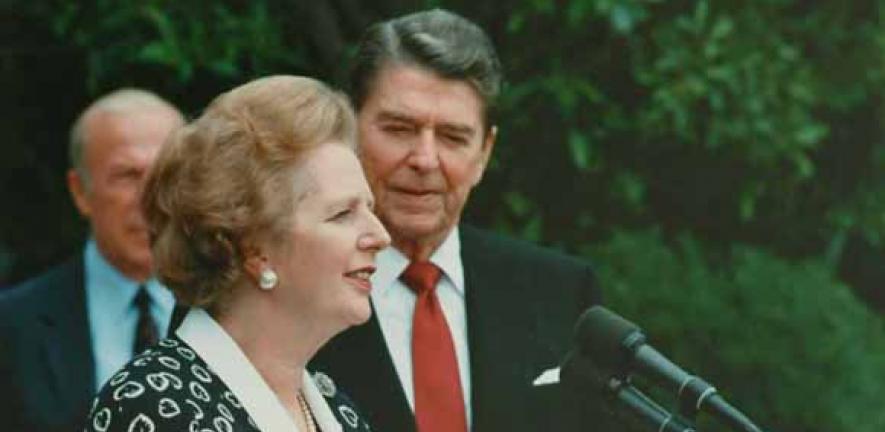 Margaret Thatcher's third and final election victory dominates the 50,000 pages of her personal papers for the year 1987 – opening to the public from today at Churchill College, Cambridge.
I had been distressed to observe at close quarters the stress of a third election campaign and the back-biting it involved on Margaret Thatcher's health and performance.

Lord Powell
But despite winning 376 seats and 13.7 million votes (compared to Labour's 209 seats and just over 10 million votes), the papers for 1987 are striking in their air of uncertainty and despondency, with one particularly prescient letter from Private Secretary Charles Powell imploring her not to fight another bruising election campaign.
As well as fighting off what Conservatives believed to be a particularly hostile press in the run-up to the election, 1987 proved a particularly troubled and unsettling year for both the Prime Minister and the country at large with the Zeebrugge ferry disaster, Hungerford massacre, King's Cross fire, Enniskillen bombing, 'Black Monday' stock market crash, and the Great Storm all taking place during the course of a turbulent year.
The extraordinary Powell letter, opened to the public in full for the first time by the Churchill Archives Centre and the Margaret Thatcher Foundation, strikes a pleading tone to Lady Thatcher after congratulating the PM on her historic victory.
"All the same I hope you will not put yourself through it again," says the letter. "The level of personal abuse thrown at you during the campaign was unbelievable and must take some toll, however stoic you are outwardly… In two or three years' time you will have completed the most sweeping change this country has seen in decades and your place in history will be rivalled only in this century by Churchill. That's the time to contribute to some other area."
Responding to the letter ahead of today's opening, Lord Powell said: "I had actually forgotten writing the letter until Charles Moore cited it in his biography. It's an unusual letter for a civil servant to send a Prime Minister, even on a very personal basis, reflecting the small size and intimacy of Number 10 especially in those days. I had been distressed to observe at close quarters the stress of a third election campaign and the back-biting it involved on Margaret Thatcher's health and performance. In the light of subsequent events, my advice to her looks pretty sound."
Although 1987 had its fair share of difficulties – not least a growing Tory disquiet around the upcoming 'Poll Tax' – Thatcher did enjoy enormously successful visits to both the USA and the USSR, the latter to meet with Mikhail Gorbachev during March/April.
The success of the visit helped launch her election campaign and put clear water between her and Labour in the polls at a time when the gap had been narrowing, a constriction that provoked much disquiet in the Conservative ranks at all levels of the party machine.
While the Russia visit and resulting photos provided a bump to Thatcher's and Conservative Party popularity, Thatcher had since 1983 consciously sought a better relationship with the Soviet leadership. In truth, Lady Thatcher was yet to be convinced by Gorbachev and played down expectations both before and after the visit, even in the face of overwhelmingly positive coverage both in the UK and behind the Iron Curtain.
The 1987 papers also bring back to light a forgotten episode on eve of poll when Lady Thatcher, being interviewed by David Dimbleby, made what could have been a potentially election-losing and career-ending comment. Asking a question about social division, Dimbleby suggested the PM never actually said she cared. In reply, she said: "Please. If people just drool and drivel that they care. I turn round and say 'Right. I also look to see what you actually do.'"
Thatcher instantly regretted her choice of words and immediately apologised for her use of the phrase 'drool and drivel'.
Historian Chris Collins of the Margaret Thatcher Foundation, the only person to have read all 50,000 pages of the 1987 papers in their entirety, said: "She was a bit lucky there, I think. Perhaps the immediate retraction and election victory saved her from having to live with endless taunting in later years.
"It's hard to find anything quite like this exchange in the whole body of her public rhetoric (which amounted to more than 14 million words by the end of her Premiership) and her feelings about it were correspondingly high."
On a lighter note, the papers for 1987 contain her Press Office briefing notes after Lady Thatcher was persuaded to appear on children's TV, including the BBC's Saturday Superstore. A briefing ahead of an interview for Smash Hits magazine carries the ominous warning 'You may not enjoy this appearance' – and if proof were needed, included an appendix with a short history of punk.
Noting that the genre was at its most extreme phase under the previous Labour government, the briefing went on to outline the Sex Pistols' God Save the Queen and Anarchy in the UK, both highlighted in yellow to give these classic punk anthems even greater prominence.
Not content with her brief history of punk, the PM also gave a speech in Jamaica later that year referencing Bob Marley. Powell also sent her the words to Get Up, Stand Up.
While Thatcher may have proved her prowess at winning elections in 1987, she did come a cropper on the domestic front after appearing on a BBC science programme called Take Nobody's Word For It with Professor Ian Fells of Newcastle University to demonstrate some basic chemistry including a recipe for bread.
"If you offer the viewing public a recipe on a TV programme with a title like that, it better be a good one – ideally foolproof," added Collins. "Unfortunately this one wasn't. Horrified officials found themselves receiving letters from people complaining they had tried the PM's bread. One said it was 'just like chewing gum' and another 'that it was bad enough to cry'. Later that same year, the Roux brothers sent her a book of patisserie recipes, though history does not record whether the gift had any connection to 'Breadgate'."
---

The text in this work is licensed under a Creative Commons Attribution 4.0 International License. For image use please see separate credits above.
---