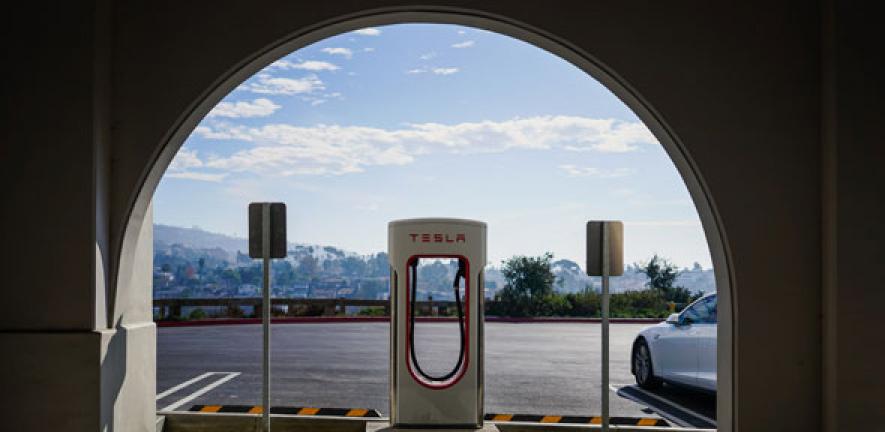 The University of Cambridge is leading one of four government-funded projects into battery research, in order to accelerate the transition to electric vehicles and a low-carbon economy. 
The funding for the four projects, totalling up to £42 million, was announced this week by the Faraday Institution, the UK's independent national battery research institute. Cambridge will receive up to £11.9 million to research how to extend battery life for electric vehicles.
Led by Professor Clare Grey from the Department of Chemistry, the Cambridge-led project will examine how environmental and internal battery stresses (such as high temperatures, charging and discharging rates) damage electric vehicle (EV) batteries over time. Results will include the optimisation of battery materials and cells to extend battery life (and hence EV range), reduce battery costs, and enhance battery safety.
The project includes nine university and 10 industry partners, including the University of Glasgow, University College London, Newcastle University, Imperial College London, University of Strathclyde, University of Manchester, University of Southampton, University of Liverpool and WMG, at the University of Warwick.
The other three projects to be funded by this week's announcement are Battery system modelling, led by Imperial College London; Recycling and reuse, led by the University of Birmingham; and Next-generation solid-state batteries, led by the University of Oxford.
If successful, this research has the potential to radically increase the speed with which we are able to make the move to electric vehicles, as well as the speed with which we can decarbonise our energy supply, with obvious benefits to the environment.
"With 200,000 electric vehicles set to be on UK roads by the end of 2018 and worldwide sales growing by 45 percent in 2016, investment in car batteries is a massive opportunity for Britain and one that is estimated to be worth £5 billion by 2025," said Business Minister Richard Harrington. "Government investment, through the Faraday Institution, in the projects announced today will deliver valuable research that will help us seize the economic opportunities presented by battery technology and our transition to a low-carbon economy."
The topics for the four projects were chosen in consultation with industry, who will partner closely with each of them. This unique collaboration will help to ensure that the research is producing findings and solutions that meet the needs of industry. In addition, industrial partners will contribute a total of £4.6 million in in-kind support to the following four projects:
"To deliver the much-needed improvement in air quality in our cities and achieve our aspiration for cleaner energy targets we need to shift to electric vehicles quickly," said Peter B. Littlewood, founding executive chair of the Faraday Institution. "These research programmes will help the UK achieve this. To be impactful on increasing energy density, lowering cost, extending lifetime, and improving battery safety requires a substantial and focused effort in fundamental research. Through steady investment in basic research on specific societal challenges identified by industry and government, the UK will become a world-leading powerhouse in energy storage."
Professor Philip Nelson, EPSRC's Chief Executive, said: "There is an urgent imperative for us to increase the efficiency of energy storage as we move towards low carbon economies and attempt to switch to clean methods of energy production.
"The Faraday Institution will bring leading academics in the field of battery development together with industry experts to explore novel application-inspired approaches that will address the challenges we face. The UK has an opportunity to accelerate the development of new products and techniques. EPSRC will be working with the Institution and the academic community to help it succeed and keep the UK a prosperous and productive nation."
Originally published on the Faraday Institution website. 
---

The text in this work is licensed under a Creative Commons Attribution 4.0 International License. For image use please see separate credits above.
---