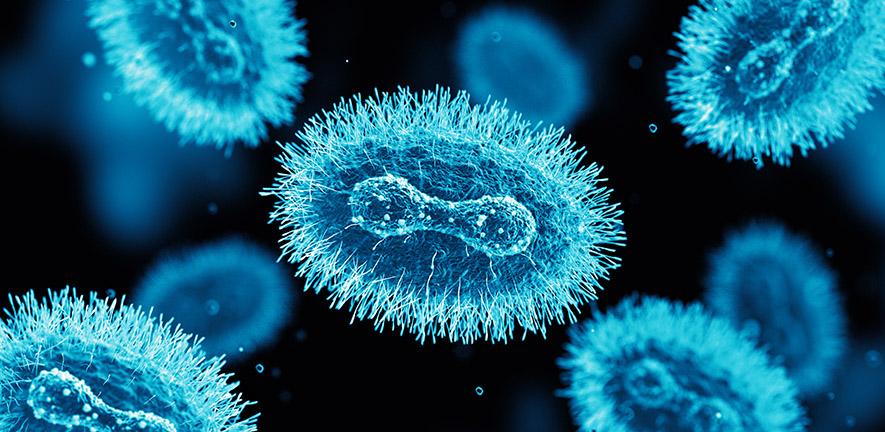 Cambridge is among 12 institutions across the UK that will be working together to tackle the monkeypox outbreak, developing better diagnostic tests, identifying potential therapies and studying vaccine effectiveness and the virus' spread.
Few would have predicted that monkeypox virus would be causing a global epidemic in 2022

Geoffrey Smith
The consortium has received £2 million from the Biotechnology and Biosciences Research Council and the Medical Research Council, both part of UK Research and Innovation (UKRI). It is led by the Pirbright Institute and the MRC-University of Glasgow Centre for Virus Research.
Researchers will work closely with experts at government agencies – the Animal and Plant Health Agency, UK Health Security Agency, and Defence Science and Technology Laboratory – to study the current outbreak and inform the public health response in the UK and internationally.
Cambridge scientists Professor Geoffrey Smith from the Department of Pathology and Professor Mike Weekes from the Cambridge Institute for Medical Research and Department of Medicine are among the key scientists involved in the consortium.
Professor Weekes said: "Monkeypox has become a really important global pathogen, reaching more than 50 countries worldwide in a matter of months. Although we have an effective vaccine and treatment, global roll-out has so far proved challenging, emphasising the importance of a comprehensive understanding of this virus. The UK consortium includes researchers from multiple different disciplines, and I anticipate the data we generate will rapidly help understand how the virus can be targeted in new ways to prevent disease."
Professor Smith said: "Few would have predicted that monkeypox virus would be causing a global epidemic in 2022. The ability to respond quickly to this new challenge has been helped greatly not just by the swift and welcome response of UKRI, but also by decades of support for the study of orthopoxviruses from UKRI and the Wellcome Trust. The information gained from those studies is valuable in the fight against monkeypox virus."
The monkeypox virus outbreak originated in West Africa. The current worldwide outbreak of cases spreading outside this area was first identified in May 2022. This is the first time that many monkeypox cases and clusters have been reported in non-endemic areas.
In the UK there have been more than 3,400 confirmed cases since May, although case numbers are currently falling. Internationally, WHO reports it has spread to 106 countries and territories with 25 confirmed deaths.
Professor Melanie Welham, Executive Chair of BBSRC, said: "One of the real strengths of the UK's scientific response to disease outbreaks is the way that we can draw on leading researchers from all over the country, who can pool their expertise to deliver results, fast. Long-term support for animal and human virus research has ensured we have the capability to respond with agility.
"This new national consortium will study the unprecedented monkeypox outbreak to better understand how to tackle it. This will feed rapidly into global public health strategies, developing new diagnostic tests and identifying potential therapies."
The consortium will focus on building our understanding in a number of key areas, including:
Developing new tests and identifying potential control measures:
Developing sensitive point-of-care tests to speed up diagnosis, such as lateral flow tests or LAMP* tests. The lateral flow test development will be conducted with Global Access Diagnostics (GADx) to develop a product which could later be manufactured at scale and used clinically worldwide, including in low/middle income countries.
Screening potential drugs to treat monkeypox in human cells in the lab to determine which ones could be developed for further testing.
Studying the virus, how it infects humans and its susceptibility to the immune response to identify targets for future therapies.
Studying the virus:
Characterising the genome of the virus and studying how it is evolving, and how this is linked to changes in the transmission and pathology of the virus.
Understanding the human immune response to the virus and the vaccine, including studying samples from infected individuals.
Identifying animal reservoirs and potential spill-over routes of transmission between animals and humans.
Learning from the vaccine roll-out:
Studying the effectiveness of the smallpox vaccine by tracking the immune responses after primary and secondary vaccination of up to 200 individuals.
Professor Bryan Charleston, co-lead from The Pirbright Institute, said: "The implications of the current monkeypox outbreak are huge. As well as tackling the current outbreak, we also need to be fully prepared for next outbreak, because worldwide there's a huge reservoir of infection. One of the key ways we can do this is to develop rapid tests, which are very important to help clinicians on the front line to manage the disease."
Professor Massimo Palmarini, co-lead from the MRC-University of Glasgow Centre for Virus Research, said: "Monkeypox is public health challenge, so taking decisive, collective action to better understand this virus is paramount. By bringing together research expertise in different areas, we will harness the UK's world-leading knowledge to learn more about how the virus works and spreads and provide the foundations for the development of potential new treatments."
Adapted from a press release from UKRI
---

The text in this work is licensed under a Creative Commons Attribution 4.0 International License. Images, including our videos, are Copyright ©University of Cambridge and licensors/contributors as identified.  All rights reserved. We make our image and video content available in a number of ways – as here, on our main website under its Terms and conditions, and on a range of channels including social media that permit your use and sharing of our content under their respective Terms.
---