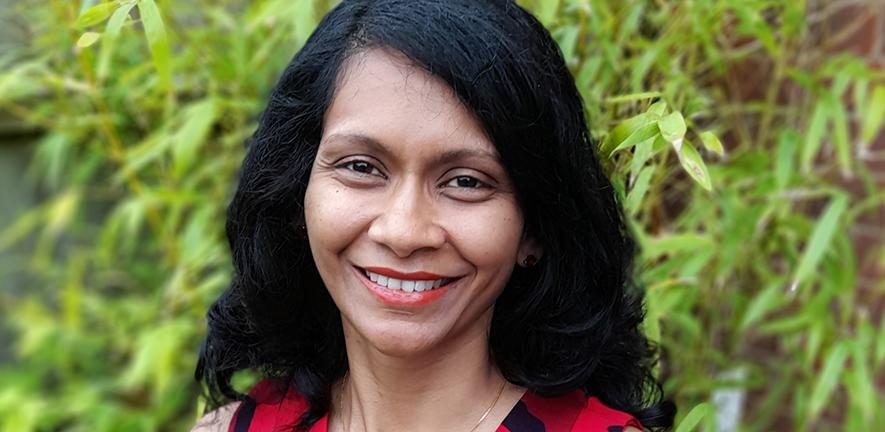 Dr Sohini Kar-Narayan from Cambridge's Department of Materials Science and Metallurgy has been named one of the top 50 Women in Engineering 2021 by the Women's Engineering Society.
Now in its sixth year, the 2021 WE50 celebrates the wealth of female talent within engineering and related disciplines. The annual celebration is aligned with International Women in Engineering Day (INWED) which takes place on 23 June.
Some of Kar-Narayan's happiest childhood memories involved taking apart cassette players and VCR recorders, and that curiosity is what drew her to her current role. Her research involves developing new polymeric materials for harvesting energy to power health monitoring devices and integrating materials into versatile sensors. She has also been working on developing self-powered devices for patients.
"I am absolutely thrilled by this award, and to be recognised as an 'Engineering Hero' will go down well with my kids," said Kar-Narayan, who is a Fellow of Clare Hall. "My late father was diabetic and suffered from heart disease, and this played a role in my desire to use science and engineering to improve patient care by developing self-powered devices that can offer personalised healthcare and remote health monitoring, and new technologies to study and manage the progression of disease at a cellular level. I am so grateful to WES for this award, and of course, to all the people who have supported me over the years, including my brilliant research group without whom this would not have been possible."
One of the aims of Kar-Narayan's research is the development of early-stage prototypes and eventual commercialisation of energy harvesting and self-powered sensing technologies. An example is the spin-out company ArtioSense Ltd that she has recently co-founded, which seeks to deliver low-cost conformable sensors that can aid orthopaedic surgery through real-time force monitoring in joints.
Even in the current climate, the number and standard of nominations were high, emphasising the exceptional achievements made by women in this field. The WE50 awards were judged by a panel of industry experts.
"It was wonderful to read about the achievements of these extraordinary women and the impact that they are making on society with their talent, hard work and dedication," said Head Judge Professor Catherine Noakes OBE CEng FIMechE FIHEEM. "The COVID-19 pandemic has highlighted how truly important science, technology and engineering are to the health of our planet. The 2021 WE50 personify the inventive and inclusive thinking needed to build a sustainable future. If there was ever a time that we needed these heroes in engineering, it is now."
INWED celebrates the achievements of women in engineering and related roles and highlights the opportunities available to engineers of the future. The WE50 was created to raise awareness of the skills shortage facing the industry, highlighting the huge discrepancy between the number of men vs. women currently in engineering professions. The theme of WE50 changes each year to recognise women working in different fields and from varying routes into engineering. This year's theme is 'Engineering Heroes.'
---

The text in this work is licensed under a Creative Commons Attribution 4.0 International License. Images, including our videos, are Copyright ©University of Cambridge and licensors/contributors as identified.  All rights reserved. We make our image and video content available in a number of ways – as here, on our main website under its Terms and conditions, and on a range of channels including social media that permit your use and sharing of our content under their respective Terms.
---