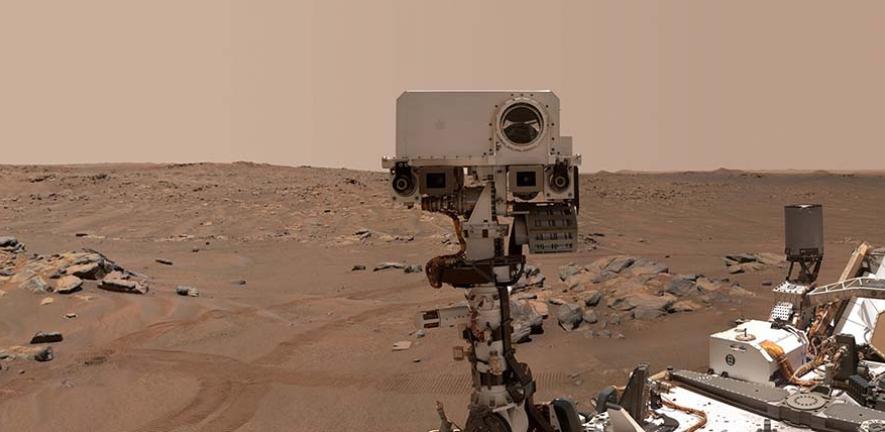 Perseverance, a word which captures the undaunted will of people across the world to never give up, despite the many challenges of the last 12 months, is Cambridge Dictionary's Word of the Year 2021.
Just as it takes perseverance to land a rover on Mars, it takes perseverance to face challenges and disruption to our lives

Wendalyn Nichols
Perseverance has been looked up more than 243,000 times on the website in 2021, the first time it has made a noticeable appearance. 
Defined by the dictionary as 'continued effort to do or achieve something, even when this is difficult or takes a long time', the word's stellar performance this year may have as much to do with NASA as the pandemic. A spike of 30,487 searches for perseverance occurred between 19–25 February 2021, after NASA's Perseverance Rover made its final descent to Mars on 18 February. 
Wendalyn Nichols, Cambridge Dictionary Publishing Manager, said: "It made sense that lookups of 'perseverance' spiked at this time. Cambridge Dictionary is the top website in the world for learners of English, and perseverance is not a common word for students of English to have in their vocabulary. We often see spikes in lookups of words associated with current events when those words are less familiar."
In the following months, however, perseverance continued to be looked up more frequently on the site than ever before. Nichols said: "Just as it takes perseverance to land a rover on Mars, it takes perseverance to face the challenges and disruption to our lives from COVID-19, climate disasters, political instability and conflict. We appreciated that connection, and we think Cambridge Dictionary users do, too."
Further evidence that words looked up on Cambridge Dictionary often reflect world events is that in January searches for insurrection, impeachment, inauguration and acquit all spiked as the world closely followed the US presidential election. 
In 2020, 'quarantine' defeated 'lockdown' and 'pandemic' to be crowned Word of the Year, attracting more than 183,000 views. 
People use Cambridge Dictionary to develop their English language skills, and those who look up perseverance will find more than just the definition of the word. A new Cambridge Thesaurus article on perseverance goes beyond listing synonyms to explain the nuanced differences in meaning between perseverance, determination, persistence, doggedness, single-mindedness, tenacity, resolve, will, and the US term stick-to-it-iveness.
The Cambridge team have also created a new list of words about being determined for English learners on Cambridge Dictionary +Plus. Research shows that many people learn new vocabulary more effectively when they have a record of it, so they can go back to study and test themselves. This word list includes vocabulary related to perseverance, so English language learners can easily find out more about the word of the year while simultaneously expanding their vocabulary.
Cambridge University Press has been publishing dictionaries for learners of English since 1995. Cambridge Dictionary began offering these dictionaries completely free of charge online in 1999 and is now the top learner dictionary website in the world, serving 2.6 billion page views a year.
Find out more about Cambridge Dictionary Word of the Year 2021
---

The text in this work is licensed under a Creative Commons Attribution 4.0 International License. Images, including our videos, are Copyright ©University of Cambridge and licensors/contributors as identified.  All rights reserved. We make our image and video content available in a number of ways – as here, on our main website under its Terms and conditions, and on a range of channels including social media that permit your use and sharing of our content under their respective Terms.
---