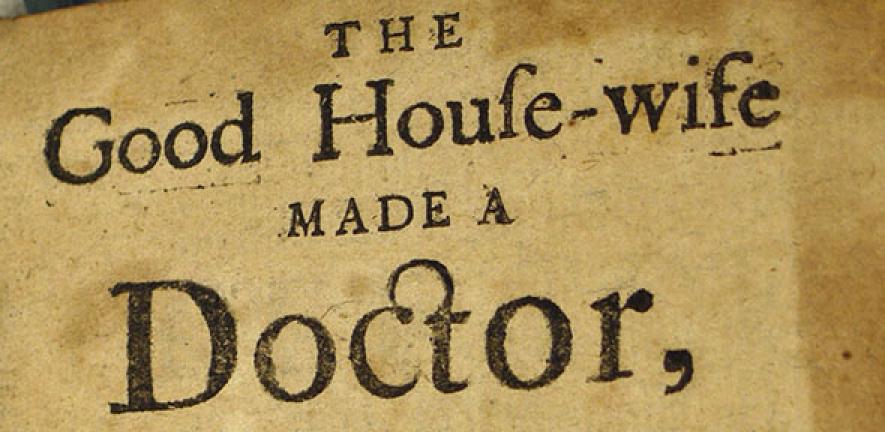 Historic recipe books and physicians' manuals featuring home-made cures from the 17th century have gone on display to the public for the first time, as part of a new exhibition revealing the secrets of early modern household knowledge.
I am fascinated by what dynamic places households were in the early modern period

Exhibition curator, Charlotte Hoare
If you had bladder problems in the 17th century, you may well have been given a drink of wine mixed with garlic, crabs-eyes and "the powder of a stag's pizzle", according to The Family Dictionary, an early manual of home remedies that is included in a new public exhibition.
The display at St John's College, Cambridge, called "Blancmange to make, blisters to draw", uncovers the secrets of early modern household knowledge, both culinary and medicinal. From the first British recipe for curry to home-made cures for everything from toothache to smallpox, the bewildering array of skills and abilities expected of women from this period are revealed through historic books and papers, many on display to the public for the first time.
Recipe books and manuals for house-wives of the 16th and 17th centuries would often include home remedies and treatments alongside the more familiar domestic skills of cookery and needlework. Many of these "cures" were somewhat dubious, such as the use of chestnuts to treat people coughing up blood because the "tree is absolutely under the domain of Jupiter", as Nicholas Culpeper asserts in his 1652 work The English Physician. Home-made treatments were nevertheless very common. It was expected for most householders to have at least a basic knowledge of medicine and the ability to make remedies using only herbs and materials that could be gathered locally.
The influx of modern science in this period began to define a new emphasis on personal diagnosis and cure instead of the more common preventative approach to illness. As professional doctors emerged, it is often presumed that household practice became more about culinary pursuits.
While medicine in the 17th century was becoming an increasingly specialised form of knowledge, however, the market for medical recipes to make at home was booming and the majority of care was still being performed by non-professionals, usually women. The Good House-wife Made Doctor, which was published in 1698 and features in the St John's exhibition, complains of the "tedious methods" of medical doctors and recommends a more traditional approach to health known as "kitchin physick".
Charlotte Hoare, Graduate Library Trainee at St John's, designed and curated the exhibition. She said:"I really wanted the exhibition to shed some light on an area that, traditionally, has been a little neglected. I am fascinated by what dynamic places households were in the early modern period.There are some wonderful items on display: the ground-breaking Art of Cookery with its first ever British recipe for curry; Nicholas Culpeper's controversial remedies for everything from 'Serpents biting' to 'Stoppings of the Spleen' and some fascinating annotated instruction manuals.
"My favourite item is completely unique: a manuscript kitchen account book for the household of Lady Jane Berkeley. Lady Berkeley was an extraordinary woman: she enforced estrangement from her husband and acted as head of household for her numerous properties.  The account book is an invaluable window into the myriad concerns of running a busy kitchen."
The exhibition is held in the Library at St John's College and is open free of charge to members of the public from 9:00-5:00 Monday-Friday until October 2014. A digital version of the exhibition can be found online at: http://www.joh.cam.ac.uk/digital-library-exhibition-blamange-make-bliste...
For further information about this story, please contact: Tom Kirk, tdk25@cam.ac.uk 
---
The text in this work is licensed under a Creative Commons Licence. If you use this content on your site please link back to this page. For image rights, please see the credits associated with each individual image.
---