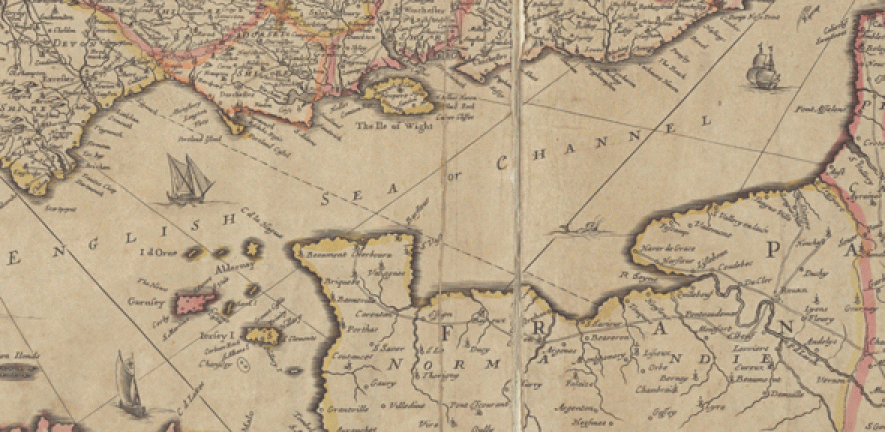 Water joins as well as divides – and maritime communities often defy the borders imposed by the state. In the first book of its kind, Dr Renaud Morieux offers a fascinating insight into the history of the 'English' Channel during the 18th century. He also tackles some of the big questions about identity and sovereignty that continue to be pertinent today.
Nature has placed England and France in a geographical location which must necessarily set up an eternal rivalry between them.

Jean-Louis Dubroca,1802
An image of a rowing boat takes pride of place in the ornamental stonework above the doorway of 10 Halsmere Road in south London. The house was built in the 1930s as a home for district nurses serving a deprived area of Lambeth.  Aboard the boat several figures hunker down as they pull their oars through a choppy sea. Above their heads, a sturdy oak tree symbolises their destination: England. Today the motif of a perilous sea journey is once again particularly poignant.
The bas relief in Halsmere Road tells the story of the Minet family who, in the late 17th century, escaped religious persecution in France to seek sanctuary in Britain. The fortunes of this family, who over the course of 200 years prospered to become property-owners and benefactors, are recounted in riveting detail by Renaud Morieux in The Channel: England, France and the Construction of a Maritime Border in the Eighteenth Century, published tomorrow by Cambridge University Press.
The first book to look at the history of the narrow seas which connect Britain and the Continent, The Channel examines the enduring symbolism, and permeability, of one of the world's most iconic borders. Morieux was born and raised in France and now teaches British history at Cambridge. He is ideally qualified to explore the narratives of the stretch of water that separates and joins Britain and France.
The focus of Morieux's research is on maritime rather than naval history and his book looks at the experiences of the communities who made their living on or beside the sea during the extended 18th century. In the telling of these stories, some local, some national, he raises some of the bigger political and philosophical questions about identity, sovereignty and border-control.
The Channel, a strait only 21 miles at its narrowest, has for centuries been perceived as a divider – a body of water that gives Britain its unique, and much trumpeted, identity as an island. "La nature a placé l'Angleterre et la France dans une situation respective, qui doit nécessairement établir entres elles une éternelle rivalité,"declared the propagandist Jean-Louis Dubroca in 1802. His assertion translates as: "Nature has placed England and France in a geographical location which must necessarily set up an eternal rivalry between them."
Generations of British historians plugged a similar line (among them John Seeley and George Macaulay Trevelyan, both Regius Professors of History at Cambridge) to represent Britain as a thrusting sea-faring nation, shaped by its rocky shores. The almost sacrosanct idea of borders connects with the notion that geography creates natural divisions. Almost three centuries ago, the geographer Jean-Nicholas Buache de La Neuville wrote: "Nature herself had parcelled out the globe since its beginning; she had divided up its surface unto an infinite number of parts and had separated them from each other by barriers that neither time nor human intervention can ever destroy."
But Morieux's thesis is that the narrow Channel joined as well as divided – and acts as a zone for contact as well as conflict. As a body of water, it creates opportunities for trade and transport, informal and cultural exchanges. Britain and France were famously at war for much of the 'long' 18th century, between the Nine Years' War of 1689-1697, which set William of Orange's England and his European allies against Louis XIV's France and the wars of the French Revolution, which ended with Waterloo in 1815.
But even in times of war, for the maritime and coastal communities of Britain and France, business continued much as usual. Fishermen harvested the ocean's resources, sold their wares in 'enemy' ports and even joined forces to lobby national governments. Postal services were maintained as a result of 'postal truces' which safeguarded the passage of packet boats.
Smugglers flourished with the complicit support both from undercover agents and corrupt officials. In 1774 the number of smugglers (a term that became smogleur in French) operating out of the French port of Dunkirk was estimated at between 1,000 and 1,500. The goods that flowed illicitly from France to Britain, avoiding import duties, included Dutch gin, French tea from China and India, coffee from Saint-Domingue and textiles from Rouen and Lyon. These items arrived at the innumerable small coves and inlets of Kent and Sussex. The pickings were rich and the networks that made them possible were truly transnational.
Britain's jagged shape and the existence of its surrounding seas are the result of massive geological and climatic changes over vast spans of time. That this island was, until 9,000 years ago, connected to mainland Europe by a chalk bridge represented a profound challenge to the notion of divine and impregnable isolation. In a chapter titled 'The impossibility of an island', a pun on Michel Houellebecq's 2005 novel The Possibility of an Island, Morieux traces successive shifts in public discourse, both sides of the Channel, about the very formation of Britain as a physical entity encircled by protecting water – "this scepter'd isle" and "precious stone set in the silver sea" immortalised by Shakespeare in Richard II.
During the 17th and 18th centuries, debates about the origins of the people of the British Isles became increasingly conflicted. Commentators wrestled with Biblical teachings about creation and the growing evidence for what later become known as evolutionary theory. As early as 1677 Matthew Hale wrote: "We have reason to believe that we of this island [Britain] are not aborigines, but came hither by migrations, colonies, or plantations from other parts of the world." Earlier still, Andre Du Chesne (1584-1640) doubted "that in the first age of the world men were drawn out of the earth, like pumpkins or mushrooms that are born of moisture in woods and forests".
Maps are attempts to define the outlines of land and sea – and identify who owns what. Names, especially the naming of geographical features at points where national borders meet, are loaded with meaning and fraught with potential conflict. In the 1607 edition of William Camden's Britannia, a section was devoted to the 'British Ocean': "This sea which is generally called MARE BRITANNICUM, and OCEANUS CALEDONIUS, … hath sundry and distinct names. Eastward… they call it the German sea.. But Southward where it inter-floweth France & Britain, it is properly called the BRITISH sea, & by the common mariners, The Chanel: by the English sailers, THE SLEEVE, and in the same sense, Le Manche in French, because it grow narrow in maner of a sleeve."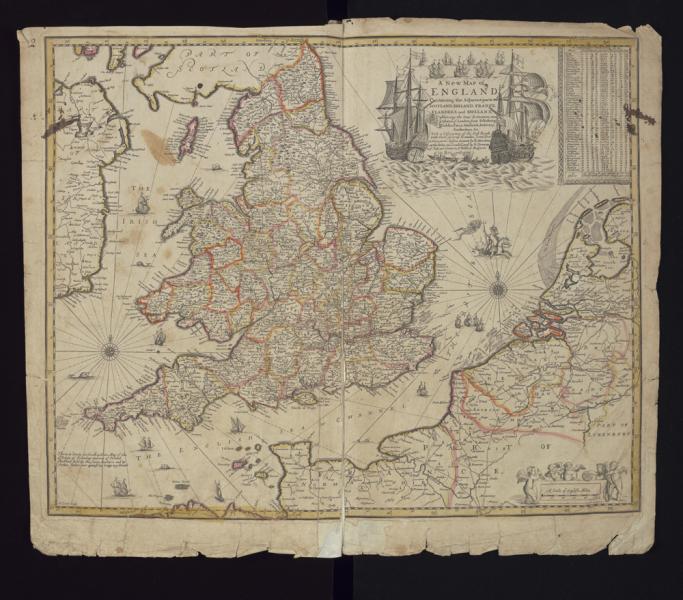 In the 18th century, new names emerged for the Channel. The French monarchy aligned France's territorial boundaries with the French shore – hence 'La Manche' in French, a neutral place-name –while the British viewed the Channel as an integral part of their territory. Seen from its northern shores, the Channel was 'English' or 'British'.
Sharing the rich resources of the sea, and regulating fishing and other harvests, remained a matter of constant debate. Where did one state's territorial waters begin and end? Was it possible to own parts of the sea and its wealth, or was the sea a common resource, belonging to all? Fisherman did not have the same relationship to, and imagination of, the coast as a cartographer, whose own conceptions differed from those of the customs officer.
In a discussion of fish stocks, an anonymous 18th-century author made a distinction between 'sedentary' fish such as shellfish and river fish (which he deemed as needing urgent protection from over-exploitation) and 'travelling' fish such as herring and mackerel (which needed no such protection). He noted that: "All the maritime nations of Europe regard the fruit of this fishing as one of the most advantageous products of their industry, and the men employed therein as the base and foundation of their strength and power."
In The Channel, Morieux paints a portrait of a sea alive with activity and peopled by communities who were intimately connected as 'transnationals' benefitting from networks that operated regardless of national boundaries. For the Minet family, who as Huguenots (Protestants) were forbidden to practise their religion in Roman Catholic France, this narrow stretch of water offered an escape route. Isaac Minet, who was born in Calais in September 1660 and died in Dover in April 1745, recorded personal and family details in his accounts book. His recollections included the family's undercover crossing from France to the safety of Protestant England, a trip that meant evading a posse of French customs' officials.
Isaac Minet had well-established contacts in Dover, and within a single generation he and his family became integrated into civic society. He was naturalised English in 1705 and was elected 'jurrat' of the town corporation in 1731.  Isaac's grandson Hugues became mayor of the city in 1765. In 1770 Hugues Minet, having prospered as a businessman and owner of packets (boats), purchased land in Lambeth. Until these lands were sold to the City of London in 1968, his descendants continued to play a capital role in the development of the area. Among local institutions to bear the Minet name was The Mary Minet District Nurses Home in Halsmere Road.
Historic British conceptions of the maritime border continue to play out in current debates about migration control. The presence of British police and customs officers in Calais to monitor the crossing of the Channel reminds us of a period when the British monarchy claimed its sovereignty over the 'narrow sea'. But human trajectories defy rules imposed by the state. In 2016 Calais, hundreds of British volunteers daily bring help to the refugees trapped in the so-called 'jungle'. Then, as now, migrants, fishermen, merchants, smugglers and travellers follow their own agendas and itineraries. As much as it is an international frontier, the Channel also remains a truly transnational border.
The Channel: England, France and the Construction of a Maritime Border in the Eighteenth Century by Renaud Morieux is published by CUP on March 31, 2016.
Inset images: Ornamental stonework about the doorway at 10 Halsmere Road, South London (Photograph by Jon Newman); Robert Morden, A New Map of England Containing the Adjacent Parts of Scotland, Ireland, France, Flanders and Holland (1673). (Cambridge University Library, Map Department, Atlas.3.68.4 (plate 2)).
---

The text in this work is licensed under a Creative Commons Attribution 4.0 International License. For image use please see separate credits above.
---