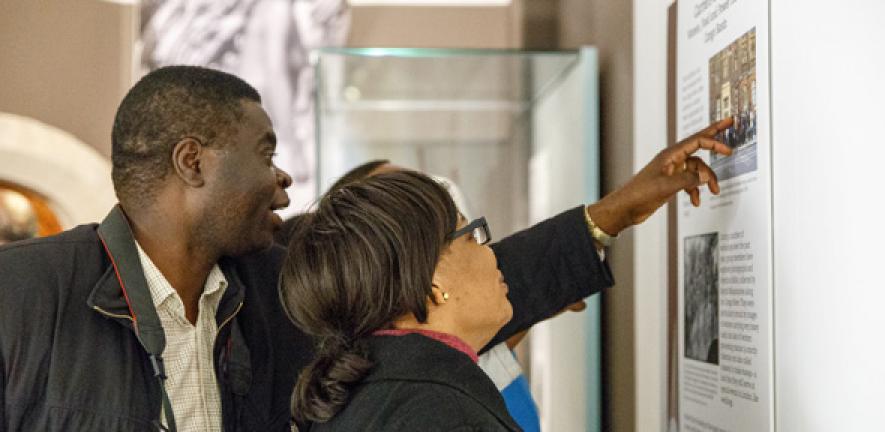 When Reverend Kenred Smith captured moments of life in the Congo over 120 years ago, he couldn't have imagined that the photos – now in Cambridge's Museum of Archaeology and Anthropology – would be chosen by a Congolese community to help them remember a country that many of them had fled.
We looked at these pictures of women carrying huge baskets of manioc to market and we thought that's really where the power lies – in those who sustain life.

Pamela Campbell, Vice Chair of CGLI
The community is a London-based group called the Congo Great Lakes Initiative (CGLI). Its members aim to help people with Congolese and African heritage, some of whom are victims of post-conflict trauma, better integrate in the UK.
"One way for building confidence and skills has been to re-connect ourselves and our children to their heritage through museum collections," says Didier Ibwilakwingi Ekom, Executive Director of CGLI and project coordinator. "It's helping us to find new ways to tell our stories."
Reverend Smith's collection of 242 photographs is held at Cambridge's Museum of Archaeology and Anthropology and now forms part of a collection that numbers around 650 images from the Congo Basin, many of them still on their original glass plates. In addition, the Museum has around 1,200 objects from the Congo, just under 400 of them associated with members of the Baptist Missionary Society.
With funding raised from the Heritage Lottery Fund, the CGLI worked with the Museum to unlock new understanding of the images through CGLI members' unique indigenous insights. Their collective efforts have resulted in an exhibition, 'Carriers of Culture: Women, Food and Power from the Congo Basin', currently at the Museum of Archaeology and Anthropology.
Hear what matters about the photographs to the community, how the Museum has some brand-new materials, and why every party needs kwanga...
"During the 19th and 20th centuries, Britain was a major supplier of missionaries to Africa and around the world, many of them sending home materials from these early encounters," explains the Museum's Dr Chris Wingfield. "Missionary collections have been under-researched and overlooked in Britain and yet histories of missionary activity can really matter to people in these now strongly Christian parts of the world. One of our interests has been to understand who cares about this material today, in what ways, and how this can influence the ways we engage with collections."
The Great Lakes region of Africa straddles the equator of the continent and in recent decades has suffered interlinked conflicts, famine, violence and refugee-related problems. In the Democratic Republic of Congo (DRC) alone, the war that officially ended in 2003 claimed up to six million lives, displacing over two million people.
"When refugees first arrive, questions of heritage are not necessarily the priority," adds Wingfield. "But after 10 or 20 years there can be a search for connection and a desire to discover traces of shared histories. This group in particular has been very active in drawing out those aspects of Britain's history that connect and crossover with the Congo."
One CGLI member describes what the exhibition has meant to her and her family: "Involvement in political activities led to me fleeing my country. This exhibition has made me really proud that [information] can be passed on from generation to generation. I've got my grandson who is five years old and he keeps on asking me questions. He has learned, and in the future he can pass it to his brother, his siblings."
Wingfield adds: "Re-engaging with the collection, identifying themes and then co-curating the exhibition with the community has been enlightening. This project has partly been about giving children who are growing up in London a link to their Congolese heritage. These kinds of collections are a resource they can draw on. But it's also given the Museum a sense of the different ways people feel they have an ongoing stake in historic collections."
Among the collection is a series of photographs showing women making kwanga, a manioc bread. It's a laborious process. Manioc roots are harvested, then soaked, dried, sieved, boiled, pounded, wrapped, re-steamed and re-dried – the multistep process is needed to rid the starchy vegetable of its cyanide-like poison.
The community returned again and again to these images, and suggested they form the heart of the exhibition. "We looked at these pictures of women carrying huge baskets of manioc to market and we thought that's really where the power lies – in those who sustain life," explains Pamela Campbell, Vice Chair of CGLI. "That's not to denigrate men. But keeping things going is powerful and that power lies with women."
Kwanga is still an important part of Congolese life both in the DRC and in the UK. As Ibwilakwingi-Ekom says, "there is no single party where you won't find kwanga… if there is none there has not been a party."
Remarkably, women are still processing the vegetable almost the same way, a century on, as shown in contemporary photographs donated to the Museum by the CGLI. One photograph taken in the DRC shows a woman carrying the manioc she's harvested, the effort etched on her face of hauling the heavy basket. It's surprisingly similar to photographs taken in the 1890s by Smith; the basket is almost identical to one collected by Baptist Missionaries and given to the Museum in 1910, and which now forms the centrepiece of the exhibition.
For Wingfield and his colleague Dr Johanna Zetterström-Sharp, the project represents a "new path" for working with museum collections. "It's really important to work with communities like the CGLI because they bring fresh approaches to the curation of objects," she says. "We often think about our collections in relation to the disciplines that we come from but there are lots of other forms of knowledge and understanding that projects like this bring out, and our perspectives are shifted as a result."
The community describes the partnership as one in which universities have the knowledge, but members have the information.
Ackys Kituba, President of the Congolese Community in the UK, adds: "Although we are educated, we are discovering new things about our country. The link will be stronger than before. We are learning something as a group but we are doing it for our children."
Nine-year-old Enoch was born in the UK and travelled to Cambridge with his Congolese family to see the exhibition. Asked what he'd remember most, he says: "How they make kwanga. It was really interesting. It's helping me find out more about my family. It's kind of clever… they wouldn't make it for no reason."
'Carriers of Culture: Women, Food and Power from the Congo Basin' is at the Museum of Archaeology and Anthropology until 2 April 2017.
Inset images: photographs from the exhibition (credit: Museum of Archaeology and Anthropology).
---

The text in this work is licensed under a Creative Commons Attribution 4.0 International License. For image use please see separate credits above.
---