Dr Rosalind Parkes-Ratanshi is used to working in resource-poor settings. She spent over a decade on the frontline fighting HIV and AIDS in Uganda. Now in Cambridge, she plans to focus on working in areas of deprivation – in Africa and south east Asia, but also much closer to home.
We used to look at cohorts to try to understand what patients were dying from, but now... they're no longer dying from infections, but face other issues such as treatment fatigue and stigma

Rosalind Parkes-Ratanshi
When Dr Rosalind Parkes-Ratanshi first arrived in Africa in 2003, the situation regarding HIV – her specialism – was "just awful", she says. We're all familiar with the devastating images of emaciated and very sick African patients dying in hospital wards, but to see this first hand, she says, was truly shocking.
At the time, antiretroviral therapy (ART), which in developed countries were helping patients manage their condition and limit the spread of the disease, were not widely available in Africa. People were dying from opportunistic infections which most of us were not at risk of or could fend off with adequate treatment.
She had been practising as a doctor in London and had seen HIV treatment transformed. No longer did it carry a death sentence; for the majority of people, if diagnosed early enough, it could now be managed as a chronic condition, like for example diabetes.
Seeing and hearing about the situation in sub-Saharan Africa, which carries by far the greatest global burden of the disease, Parkes-Ratanshi headed to Uganda to carry out a PhD at the UK Medical Research Council/Uganda Virus Research Institute. She was looking at the treatment of cryptococcal meningitis, a potentially life-threatening fungal infection of the brain and spinal cord in Masaka in the rural South West of the country.
Turning the tide
Parkes-Ratanshi saw the tide begin to turn on HIV. Masaka Regional Referral Hospital and The AIDS Support Organisation (an NGO) where she worked were among the first to trial the rollout of ART. The government and the president had recognised the severity of the problem very quickly and sought help from the international community. It also promoted public health messages around 'ABC' – abstinence, be faithful, wear a condom. At its peak, around 15% of Ugandans were HIV-positive – this figure has now fallen to just over 7%.
Nowadays, a person living with HIV in Uganda should be able to manage their HIV as in the West. In fact, the national and international efforts to control the epidemic have been so effective that a cohort of infected individuals has been recruited to help researchers study how people live with their chronic infection.
"We used to look at cohorts to try to understand what patients were dying from," says Parkes-Ratanshi, "but now we have patients who have been on ART for over ten years. They're no longer dying from infections related to a poor immune system, but face other issues such as treatment fatigue, stigma and non-communicable diseases like cardiovascular disease and cancers."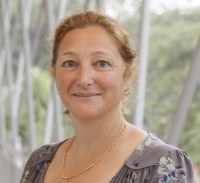 ​Parkes-Ratanshi is working with the cohort as part of her involvement with the Ugandan Academy for Health Innovation and Impact, of which she is Director. The Academy is a joint initiative between Janssen, the pharmaceutical companies of Johnson & Johnson, the Ugandan Ministry of Health, the Infectious Diseases Institute in Uganda and the Johnson & Johnson Corporate Citizenship Trust to address unmet needs in HIV and TB. It is there, she says, to ensure that the outcomes of clinical research are embedded in health policies that benefit the population. "It's more translational than translational! It's not lab to clinic, it's clinic to population."
One of its flagship programmes is Call for Life™, a randomised controlled trial which aims to promote healthy behaviours and adherence to drug regimens amongst the HIV cohort through the use of mobile phone technology. Participants receive a call at certain times of the day and are offered advice on adherence, health tips and reminders to attend clinic. This simple, cost-effective intervention could help patients manage their infection without over-reliance on the country's limited resources.
"The thing I'm particularly interested in is this concept of 'differentiated care'," she adds. "How can we offer a light touch for those that are doing well and are taking their drugs well and responding well to treatment, and save the resources for those that really need extra help – they've only just been diagnosed, or they're adolescents or pregnant or kids, for example."
The Academy is about more than just conducting research, however. It is about providing much needed skills and training to researchers across Africa. It works with the Infectious Diseases Institute,which has provided training through short courses to some 16,000 clinicians and scientists across Africa, and is developing a series of online courses using a smartphone and desktop platform so that scientists/ clinicians who are unable to attend in person can still benefit.
Learning from each other
In 2015, Parkes-Ratanshi returned to the UK and took up a position as a lecturer at the Cambridge Institute of Public Health. She has not given up her ties to Uganda – she is still Director of the Academy – but felt this was the right time to increase links with the UK. There were, she says, two main reasons that influenced her decision.
In Uganda, HIV is treated using a standardised approach using national pathways and limited, but effective, treatments. If you're a patient with HIV, you get the first line treatment recommended by the Ministry of Health and WHO; if and when that fails, you receive the second line treatment, and so on. In the UK, however, treatment is individualised to a patient so that they receive maximum benefit with minimum side effects. "In order to know what the options are, I need to be clinically 'on the ball'," she says. "I need to be up to date with clinical skills from an international perspective to know what the opportunities are for research and clinical care in Uganda."
But it is the strengths of Cambridge's research networks – Cambridge Institute of Public Health, Cambridge-Africa and Cambridge Infectious Diseases to name but a few – that hold real appeal.
"When you're working in a resource-poor setting like Uganda, you are thinking about the immediate problems facing you and there aren't huge amounts of basic science and translational medical research. There are initiatives like the Ugandan Academy and Cambridge-Africa that are looking to change this, trying to bring up a generation of basic scientists, but at the moment, that capacity isn't there.
"If we're going to think of ways to benefit the widest possible group, we're going to need to make collaborations with other researchers in other areas. For somebody like me, those cross-university networks are vitally important. That's the only way we're going to be able to solve problems for our resource-limited environments."
Parkes-Ratanshi is now working with Professor Carol Brayne, Director of the Cambridge Institute of Public Health, to look at how evidence generated in a well-resourced part of the world might be linked with that from lower-resource settings. In the spirit of initiatives such as Cambridge-Africa, this isn't about making assumptions about research priorities and carrying them out on particular populations. "It's very much about community participation," she explains, "It's about going to the communities and asking them 'What are your priorities around ageing? What are you interested in? What's concerning you on a daily basis?' and then co-developing research that's relevant to them."
One might assume that when she refers to "lower-resource settings", she means Africa. Not necessarily. "There's great inequality even within the UK," she says. And so, while they have identified sites in Uganda and South Africa, as well as in Bali, they are also looking at areas in the Fenlands around Cambridge, where deprivation levels are high.
And in a sense, this is one of the real benefits of encouraging collaborations between geographically and economically diverse areas of the world: everyone has something to give, everyone has something to learn. "When you're in a poorly-resourced setting, you generate ideas and innovations that might help in a resource-rich setting as well as your own. And who knows, some of the ideas that come out of this might be helpful in the future as the UK itself becomes more resource-limited."
---

The text in this work is licensed under a Creative Commons Attribution 4.0 International License. For image use please see separate credits above.
---