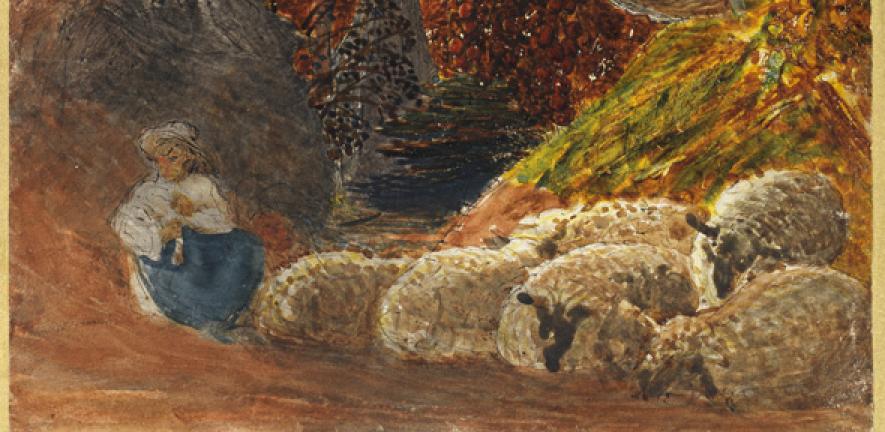 The Cambridge Animal Alphabet series celebrates Cambridge's connections with animals through literature, art, science and society. Here, S is for Sheep and their presence in the evocative, pastoral paintings by Samuel Palmer.
Look at those sheep! You just want to plunge your hands into their fleeces.

Visitor to the Fitzwilliam Museum
Scroll to the end of the article to listen to the podcast.
The artist Samuel Palmer (1805-1881) depicted sheep in numerous paintings and drawings. Most famously perhaps, six sheep feature in one of Palmer's best known works, The Magic Apple Tree, an exquisite water-colour in the collection of the Fitzwilliam Museum.
This gem of a picture is a reminder that sheep are part of the English landscape and were, for many years, a mainstay of the national economy. Much of the wealth of pre-industrial Britain was founded on wool. Mutton was a mainstay of the diet. Sheep manure fertilised the land. In the House of Lords, the Speaker sits on a woolsack, a symbol of prosperity.
Palmer's sheep have an almost sculptural quality; he revels in their fatness and roundness. In The Magic Apple Tree, as in other paintings, his sheep are clustered together and hunkered down, often under starry night skies. The little group of wooly creatures is tended by a shepherd wearing a shady hat and baggy blue trousers. He's playing a whistle to while away the day.
As art historian William Vaughan points out, Palmer invites us look at nature again and to wonder at the bountiful generosity of its divine creator. Sheep are, of course, in the Christian tradition in which Palmer was steeped, symbolic of Christ's followers. But Palmer is also a masterful observer of animal character in all its majesty. In The Magic Apple Tree, he captures the unfathomable look of sheep's faces with their Roman noses and up-sprung ears.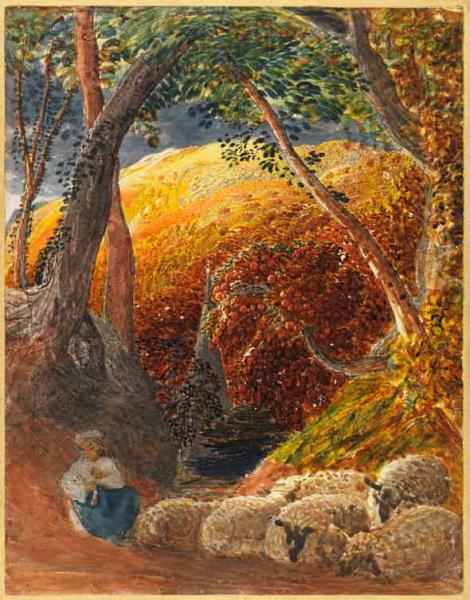 The small painting is suffused with the golden light of late summer and brims over with plenty. The central scene is embraced by boughs laden with fruit. In the background, the fields have been harvested and sheaves of corn stand in rows ready for threshing.  The composition draws the eye towards the spire of the village church which makes a focal point at the centre of the landscape. The farming cycle turns, the apples will fall and rot, but God is constant.
As an image of perfection, The Magic Apple Tree captures the English countryside as a rural idyll – a paradise of order and fecundity with nature and mankind in blissful harmony. As Vaughan points out, Palmer's work is grounded in a worldview described by the poet William Cowper: "God made the country and men made the town." Palmer wasn't painting a reality but an imagined state of rural bliss: a state half way to heaven, a 'vision' of how God would like things to be.
Visionary is the adjective inevitably applied to Palmer's work. It's the word that best describes the paintings he produced in the seven-year period when, as a young man, he lived in the Kent village of Shoreham, some 30 miles south east of London. It's a term loaded with meaning: wrapped up in it are romanticism and those other -isms – pastoralism and spiritualism – that defined much of art and literature in the mid-19th century.
Palmer was a member of a group known as the 'Ancients', a loose-knit brotherhood united by their longing to return to the rural idyll of the late medieval period. To mark their rejection of modernity, the Ancients dressed in cloaks and straw hats. Whenever they could, they escaped from London to the countryside of Kent where they captured a way of life they feared was fast disappearing. Palmer's fellow Ancients, George Richmond and Edward Calvert also sketched sheep and shepherds.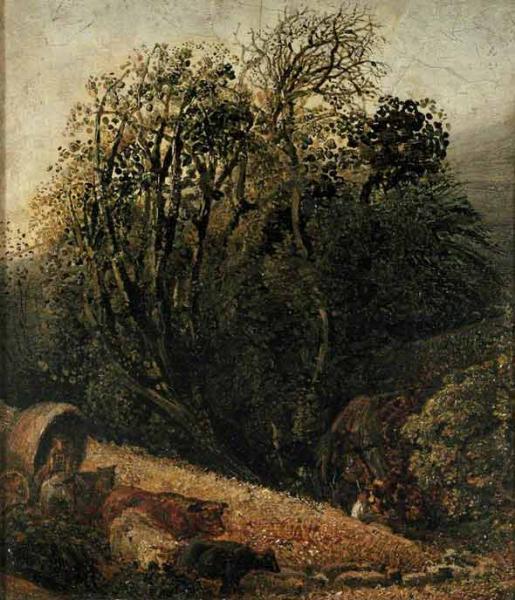 However, The Magic Apple Tree was painted in 1830 when rural life was far from idyllic. Low wages, long hours, insecure employment and cramped cottages (often tied to employment) and long hours spelt dismal poverty. The summer before had seen a disastrous harvest followed by a cruel winter. The year 1830 witnessed the eruption of the Swing Riots, an uprising against farmers who were enclosing land, in order to raise large numbers of sheep, and introducing machinery. The loss of common land, and drop in demand for traditional tasks, threatened thousands of jobs.
The Swing Riots started in east Kent, and by the end of the year had spread across the south of England. Palmer would have been well aware of the politics involved and the plight of agricultural workers. However, he was known to be a High Tory – and deeply conservative. He believed that the "fine old British peasantry" were best served by a paternalistic, hierarchical society which "gave more freedom to the poor and were not morose, sullen and blood-thirsty like the whigs".
Palmer's own background was relatively comfortable though he lost his mother when he was 13. He was taught to paint by his father-in-law, John Linnell, who introduced him to William Blake, the poet and painter. Blake (he, too, portrayed sheep in his paintings) became his greatest inspiration.
After his death, Palmer, in turn, inspired others – most notably Paul Nash, Eric Ravillious and Graham Sutherland. Some 140 years after Palmer placed flocks in many of his countryside scenes, the sculptor Henry Moore made delightful pen sketches of sheep grazing in the fields surrounding his studio in north Hertfordshire.
Today Palmer is best known for the bold work he produced in his 'visionary' period. His interpretation of natural forms continues to inform the work of artists and illustrators. In Palmer's own lifetime, the paintings he made while living in Shoreham sold badly and his work was subject to derision by the art establishment which judged his colours crude and garish. To support his family, he returned to London where he adopted a more conventional (and commercial) style.
During Palmer's London years, The Magic Apple Tree lay hidden from view in his studio where it was among the works tucked away in what he called his "Curiosity Portfolio". The painting was given its name by Palmer's son and first biographer, AH Palmer. Rarely exhibited, due to its vulnerability to light, it proved a star exhibit in the Fitzwilliam's recent exhibition of watercolours. "Look at those sheep!" said one visitor. "You just want to plunge your hands into their fleeces."
Sheep crept into Palmer's work right until the last years of his life. He died in 1881 with his friend George Richmond at his bedside. Two years earlier, Palmer had produced an exquisite etching, The Lonely Tower, to illustrate Milton's poem 'Il Penseroso'. Huddled under some sheltering trees, and watched over by two young shepherds, is a flock of sheep, the rhythms of their fleecy forms caught by the light of a crescent moon.
Next in the Cambridge Animal Alphabet: T is for an animal that is under threat of extinction due to a rare form of transmissible cancer.
Have you missed the series so far? Catch up on Medium here.
Inset images: The Magic Apple Tree, by Samuel Palmer (Fitzwilliam Museum); A Cornfield bordered by Trees, by Samuel Palmer (The Ashmolean Museum of Art and Archaeology); Pastoral Scene, by Samuel Palmer (The Ashmolean Museum of Art and Archaeology).
---

The text in this work is licensed under a Creative Commons Attribution 4.0 International License. For image use please see separate credits above.
---