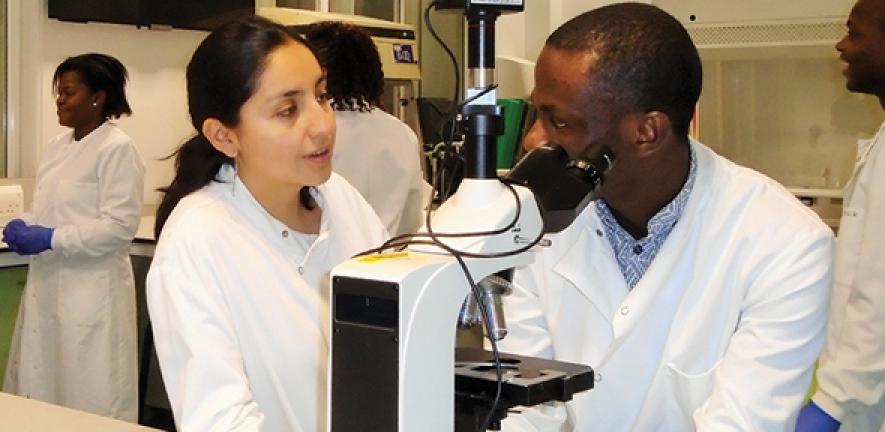 Do you have to choose between an academic career and activism? Gates Cambridge Scholar Carol Ibe is one of an increasing number of students are choosing to keep a foot in both camps.
I want to provide affordable quality training so scientists in Africa can be successful in their research projects. I know what they need because I have been there myself

Carol Ibe
Carol Ibe, a Gates Cambridge Scholar who was born in the USA but grew up in Nigeria, is not only doing a PhD in Plant Sciences, but is also running her own non-profit organisation to help train future African scientists and promote joined up thinking on sustainable development.
Carol set up the JR Biotek Foundation in 2013, although the idea for setting up the organisation came to her while she was doing her first masters in the States in 2006. A year later she had launched her first training programme in biotechnology and biomedicine for students and laboratory scientists in Africa. She wanted to ensure that those participating paid minimal costs so the training could be open to as many research students in Africa as possible, and so she worked with partners to keep costs down. More than 60 people applied for the training workshop from 11 countries in Africa. Even though costs were very low, many could not attend because they lacked funding.
Carol had already completed two masters and worked for several years as both a molecular biologist and a research biologist before setting up the Foundation. Although she was working hard on the organisation, she realised she wanted to continue her academic research so she applied to the University of Cambridge and tailored her research proposal to the work she is doing with her organisation.
"I started to think what area of training and capacity building could have the most impact in the continent," she said. "Agriculture is key to Africa's development because it is the largest employer of labour. Food insecurity remains a major problem. Soil conditions are deteriorating very rapidly and people are suffering on a daily basis. We need to train a new generation of scientists who can improve agricultural productivity and human health in Africa."
Her PhD focuses on rice, the staple food of a large part of the world, and how to produce quality rice in places where there are poor soil and climate conditions. "Factors such as lack of funding and new technologies, poor infrastructure and poor market access hinder farmers from producing rice with higher yield and quality. If we can empower smallholder farmers to produce and sell more we can reduce poverty," said Carol.
While she has been at Cambridge, Carol has been busy not just with her research but with forging partnerships which help achieve the goals she has set for the Foundation.
In April, the Foundation is holding the first African Diaspora Biotech Summit. The event will take place in Cambridge and will bring African graduate students, researchers and bio-industry leaders together to debate how research capacity, innovation and commercialisation can be strengthened across the continent.
It will bring together 70 African diaspora delegates from different disciplines and professions, including biotechnology and applied biosciences, policy, sustainable development and bio-entrepreneurship and will include a keynote address from Professor Lucy J. Ogbadu, Director-General of the National Biotechnology Development Agency at Nigeria's Ministry of Science and Technology.
The summit will look at areas such as the role of modern bio-technologies in improving agricultural productivity and food security in sub-Saharan Africa by 2050 and the need to reform Africa's tertiary education system to make it globally competitive. Carol says that too often previous initiatives developed outside Africa have failed to meet the need for which they are developed due to "a limited understanding of the depth of the problems facing African nations and the African people".
In the lead-up to the summit, JR Biotek is running a Molecular Laboratory Training Workshop for Africa-based agricultural research scientists and academics. It will be held in collaboration with the University of Cambridge's Department of Plant Sciences. Eight PhD students will be awarded scholarships to attend the workshop and the Summit, funded by the BBSRC Global Challenge Research Fund and Trinity College, Cambridge. During the Summit, the Foundation will also hold the NextGen Africa Bioinnovation Pitch Competition which is designed to identify and celebrate bio-innovations made to improve lives and systems and to promote sustainable development in Africa.
Carol says: "I want to provide affordable quality training so scientists in Africa can be successful in their research projects. I know what they need because I have been there myself. I am also hoping that African governments and their development partners will start investing in research and development across all sectors in the continent, especially agriculture and healthcare because that's how innovation, which we so desperately need in Africa, can come about."
---

The text in this work is licensed under a Creative Commons Attribution 4.0 International License. For image use please see separate credits above.
---