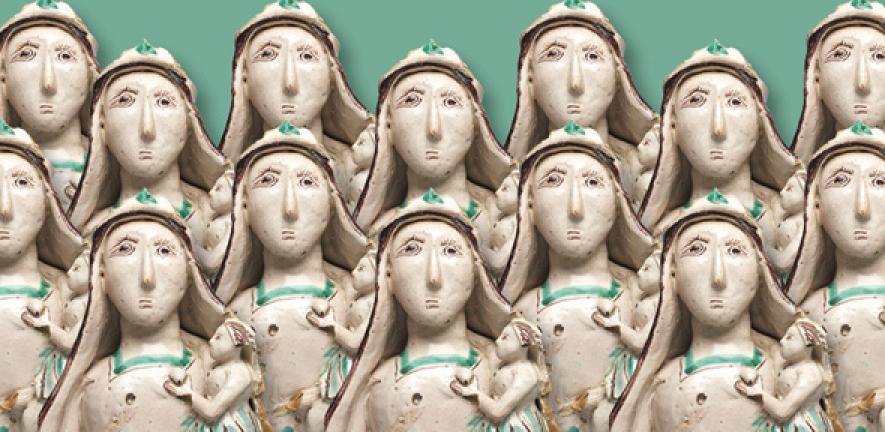 Rustic figurines of a resigned-looking Virgin clutching her child may have no obvious literary or artistic merit to us today. But understanding what they meant to the spiritual lives of their owners can offer a glimpse of the human hopes and fears that people have, for centuries, invested in inanimate objects.
The tight bond between the domestic and the devotional can be seen in the material culture of the period – in paintings, ceramics and more. These objects tell us how closely daily life intersected with religious belief.

Mary Laven
It's an enduring irony of history that the most commonplace objects from the past are those least represented in today's museum collections. The more precious and expensive an object, the more likely it is to have survived. As a result, our perceptions are skewed towards items that belonged to the rich and powerful – objects that were perhaps rarely handled.
During Madonnas and Miracles, a recent exhibition of religious material culture at the Fitzwilliam Museum, one of the most 'stopped at' items of the objects on show was an exquisite rock crystal rosary. It was clearly crafted for an individual of outstanding wealth and status. Each bead features a scene from the New Testament; the drawings are incised into a layer of gold. Not surprisingly, the rosary is today one of the treasures held by the Palazzo Madama Museum in Turin.
But also attracting attention was a much less eye-catching slip of paper printed on both sides with prayers in Latin. This breve would have been sold cheaply on the streets of Italian cities. Its frayed edges suggest that it was folded and worn close to the skin in the belief that the prayers would protect the wearer from a host of disasters – from earthquake to plague. Thousands of brevi were produced, and carried as talismans against misfortune, but few have survived.
In 2013, three Cambridge academics from different fields of scholarship came together to throw fresh light on the ways in which Renaissance Italians worshipped within the privacy of the home. Historian Professor Mary Laven, literary specialist Dr Abigail Brundin and art historian Professor Deborah Howard were determined to explore material culture from modest as well as wealthy households through their ambitious research project, Domestic Devotions: the Place of Piety in the Italian Domestic Home 1400–1600, funded by the European Research Council.
During the research, which informed Madonnas and Miracles and a forthcoming book, the three stepped out of the 'golden triangle' of Florence, Rome and Venice, the major hubs of cultural activity in the Renaissance, to look at material culture from further afield – in Naples, the Marche and the Venetian mainland. In doing so, their study makes an important contribution to our understanding of domestic religious practice across the Italian peninsula.
The Renaissance is often seen as a secular, less religious age in which interest in antiquity encouraged a more rational way of seeing the world. But the evidence from material culture paints a different picture. "The wealth of devotional images and artefacts that we have discovered in Renaissance homes encourages us to view the period 1400–1600 as a time of spiritual revitalisation," says Laven.
Household inventories show how even a relatively modest family could create a special place for prayer and meditation by setting objects such as a crucifix, candlesticks, holy books and rosaries on a table or kneeling stool. As a reminder of divine protection, religious pictures or statues might be found almost anywhere in or around the house.
"Acts of devotion, from routine prayers to extraordinary religious experiences, such as miracles and visions, frequently took place in the home and were shaped to meet the demands of domestic life with all its ups and downs – from birth to death," adds Laven. "The tight bond between the domestic and the devotional can be seen in the material culture of the period – in paintings, ceramics and more. These objects tell us how closely daily life intersected with religious belief."
Young women often asked the Virgin Mary for intercession during childbirth. Representations of the Madonna embracing her healthy son were a feature of many bedchambers – and not just those of the wealthy. The Fitzwilliam Museum holds an example of a rustic terracotta figure of a solemn-looking Madonna and Christ child who is portrayed holding his mother's naked breast. This rare object exemplifies the type of lower-end production available to less well-off consumers.
Household objects acted as reminders to Renaissance parents of their duties, and the Holy Family was a powerful model of how a devout family should live. An early 16th-century maiolica inkstand in the Fitzwilliam collection, for instance, takes the form of a nativity scene: the infant Christ lies before an adoring Mary and Joseph while a cow and ass look over a stable door, their placidity testament to the wonder of the moment.
In Renaissance paintings, the Madonna appears as an ideal mother and educator – a compelling role model. "A painting of Virgin and child with John the Baptist by Pinturicchio, held by the Fitzwilliam, is a wonderful example," says Howard. "It shows the Madonna teaching the young Jesus to read. Seated on her lap and encircled by her arms, he is perfectly absorbed in a book. Meanwhile, a boyish and pious John the Baptist provides a model for devotion by young children."
Everyday objects could literally incorporate the sacred. An earthenware bowl in the Fitzwilliam Museum decorated with an image of the Madonna of Loreto bears around its rim the inscription: CON POL. DI S. CASA. This abbreviated Italian text tells us that the clay from which it was made contains dust (polvere) from the 'holy house' of the Virgin Mary, supposedly carried from Nazareth to Italy in the 13th century. Behind the Madonna is an outline of the Santa Casa with its tiled roof and bell tower.
At a time when much of the population was illiterate, owning devotional texts was important for surprisingly large swathes of the population. Even when closed, or unread, they exuded beauty and spiritual value within the domestic sphere. Brundin explains: "Sacred words, by their very presence, could provide protection. Some authors even advised writing the words of certain psalms on the walls to keep the family safe and as a reminder to pray regularly."
Texts can offer clues to their owners. Cambridge University Library holds a stunning hand-illustrated printed copy of the Meditation on the Life of Christ. Hand-written notes in its margins show that in 1528 it was given to a nun, Sister Alexia, by her uncle. Alexia's annotations indicate that she read the work closely. She even added manicules (pointing fingers) next to passages of particular importance. The book was later owned by another nun, Teofila, whose own reading would have been guided by Alexia's marks.
Objects accrue deeply personal meanings that are impossible to unravel fully. Careful investigation across disciplines can, however, offer a glimpse of the very human and very fragile hopes and fears embodied by objects, as Brundin explains: "A humble scrap of paper marked with a cross or a brief prayer, of no obvious artistic or literary merit, comes alive when we're able to marry it with an archival record in which a devotee explains what it means to them."
'The Sacred Home in Renaissance Italy' by Abigail Brundin, Deborah Howard and Professor Mary Laven will be published by Oxford University Press in 2018.
Inset image: This breve was probably folded and worn close to the skin around 500 years ago in the belief that the prayers would protect the wearer; Breve di S. Vincenzo Ferrerio contro la fibre, Civica Raccolta Stampe A. Bertarelli. 
---

The text in this work is licensed under a Creative Commons Attribution 4.0 International License. For image use please see separate credits above.
---