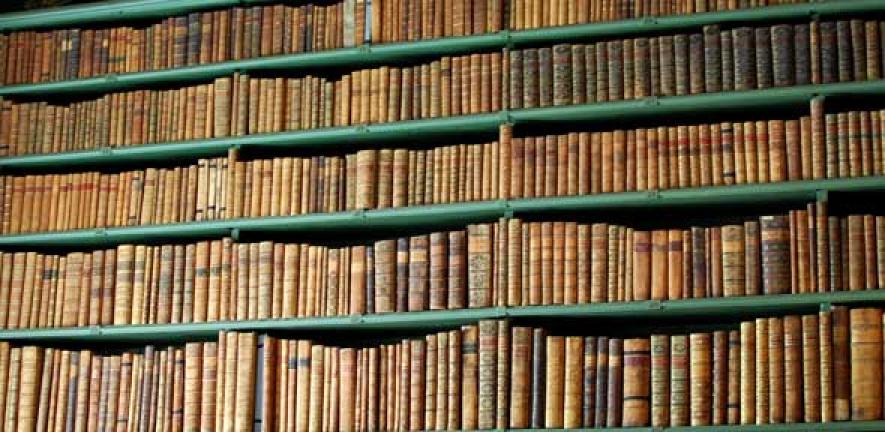 Belton House boasts one of the most extensive libraries among National Trust properties, representing 350 years of book collecting. Dr Abigail Brundin and Dr Dunstan Roberts have curated an exhibition of Italian literature at Belton, showcasing material that has rarely been seen by the public. 
The library at Belton is an unparalleled resource for researchers interested in the social history of reading and cultural exchange in the early modern period.

Dr Abigail Brundin
During the 18th and 19th centuries a young gentleman's education was not complete until he had made his Grand Tour, a journey that typically took him and often a retinue of tutors and servants across France and into Italy.  It was a complicated and hazardous undertaking in which much planning and expense were invested.
The Grand Tour brought the upper classes the opportunity not just to travel but also to learn languages and absorb taste and culture, as well as pick up skills in diplomacy and foreign relations by moving in an elevated social milieu, made available by letters of introduction. On his return, the Grand Tourist would be a man of the world, confident in his abilities and assured in his interactions, and ready to take over his family's estates.
Today many of the great houses and estates once lived in by those wealthy families who sent their sons on the Grand Tour are owned by the National Trust.  The design and contents of these houses reflect the influences of the French and Italian culture absorbed on the Grand Tour as the most fashionable architects and landscape gardeners sought to reinterpret the imposing classical and Renaissance styles considered the epitome of sophistication.
Paintings, furniture and furnishings show these European influences as do gardens and parks: all are potent statements of status and luxury. Books too are part of this story, revealing the aspirations and preoccupations of their owners. How (and if) a library's books were used and enjoyed is another dimension, suggesting whether the collected volumes were actually read or were simply part of a backdrop staged to impress visitors. 
The National Trust owns and manages more than 150 properties in the UK with collections of books. More than 40 of these collections are considered to be of national significance. The second largest of these libraries is that of Belton House in Lincolnshire, which has been described as the most complete example of a typical English country house. The 11,000 volumes in the library at Belton are the result of 350 years of book collecting by the Brownlow and Cust family, who began acquiring land in north Lincolnshire in the 16th century and became a dynasty of rich and successful lawyers. 
As part of its 2013 theme which focuses on collections, the National Trust invited Dr Abigail Brundin, Senior Lecturer in the Department of Italian at Cambridge University, to research and curate an exhibition of Italian books at Belton. The project was funded through grants from the Cambridge Humanities Research Fund and the Arts and Humanities Research Council. Together with her research assistant, Dr Dunstan Roberts, a specialist in early modern English literature, Dr Brundin began exploring the 264 works of Italian literature at Belton, as well as the many other books about Italy and the Italian language in the house.
Most of their research was conducted during the winter months when the house was closed to the public, bitterly cold and so dimly lit that they needed to wear head torches to find books that range in date from the 16th to the 19th centuries.
The result of their efforts is an exhibition in the library at Belton called 'The Brownlows in Italy: Books and Continental Travel'.  The exhibition can be seen by visitors to the house until it closes for the winter on 3 November, 2013. It centres on books acquired by two key figures in Belton's history, both of whom made important contributions to the library – John Brownlow, Viscount Tyrconnel, who went to Italy at the start of the 18th century and his great-great nephew, John Cust (later 1st Earl Brownlow) who went to Italy almost a century later.
Viscount Tyrconnel travelled to Italy in 1710 accompanied by a French guide named René de la Treille. Accounts of their tour show that they visited Genoa, Turin, Padua, Venice, Rome and Naples. Tyrconnel
studied the harpsichord in several cities, went to the opera and bought trinkets to send home to Belton. De la Treille returned to England with Tyrconnel and was still living at Belton when he died. Books are listed among the many items that Tyrconnel purchased in Italy, including popular works of Italian literature, grammars and dictionaries, guidebooks and works on history and politics. 
From 1801 the new heir to Belton, John Cust, together with his younger brother Henry and other companions, spent more than a year in Italy. They too purchased numerous books, inscribing them carefully with the place and date of purchase. Among these books are many local guidebooks, heavily annotated as the men travelled and took in the sites, as well as finely bound souvenirs for the library back at Belton, and works of literature in pocket size to be read on the long journey south. Both Tyrconnel and his descendent John Cust returned from Italy fluent in the language and with a lasting fascination for Italian culture.
The Italian books collected by these two former owners of Belton in relation to the Grand Tour fall into three categories. Dr Brundin explains: "The first group are books bought in preparation for travel such as phrase books, grammars and guides for Protestants travelling in a Catholic country, which include lots of practical advice. The second group are books purchased abroad including guidebooks, dictionaries, and local maps that were sectioned and mounted on sturdy linen with carry cases for ease of use. Thirdly, we have books purchased on return to England, for example works of Italian literature and books about Italian art."
Libraries such as that at Belton House demonstrate the high status accorded to learning and the part that the literature of other cultures, and a mastery of other languages, played in the formation of a gentleman.  There is evidence in the form of detailed borrowing records that the library at Belton was well used and that books were lent to friends and taken to and from the Brownlow family's other houses. As Dr Brundin points out: 'The rich archival sources relating to the library at Belton, as well as the books in the house, combine to form an unparalleled resource for researchers interested in the social history of reading and cultural exchange in the early modern period."
The National Trust is in the process of cataloguing all the books held in the libraries of its properties. The project at Belton, where the library has been fully catalogued, represents a move towards encouraging National Trust visitors to consider the role of books in the life of an important household and how libraries are repositories of the social history of a place and its wider cultural encounters.
To find out about visiting Belton House go to http://www.nationaltrust.org.uk/belton-house/
Inset image: John Brownlow, 1st Viscount Tyrconnel (1690-1754), Wikimedia Commons
---
This work is licensed under a Creative Commons Licence. If you use this content on your site please link back to this page.
---