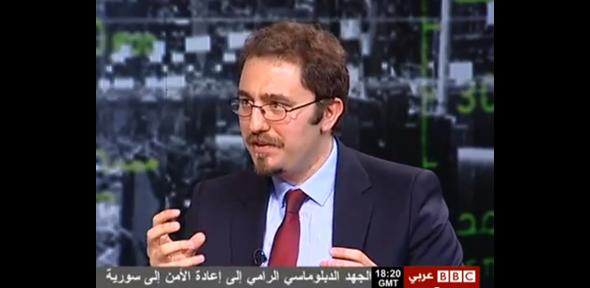 He trained as a medical doctor in Syria and did a PhD at Cambridge in order to set up a cancer research unit in Aleppo. In 2012, Dr Talal Al-Mayhani found himself in an impossible situation and decided to settle in the UK. He has worked hard for peace in Syria ever since – and is convinced that it will come. When it does, he will return to Aleppo. 
I'm motivated by total belief that education, communication and long-term investment in human capital will ensure that peace will happen

Talal Al-Mayhani
One evening, a couple of weeks ago, there was a knock on the door of Dr Talal Al-Mayhani's house in Cambridge. "A man stood on the doorstep – a neighbour I might have spoken to once or twice in the street. He looked at me and said 'Tell me what I can do for Syria'," remembers Al-Mayhani. "A few days later, Stephen Tomkins, who was my tutor at Homerton College, phoned to check I was ok. Those simple acts of humanity were something quite wonderful."  
Al-Mayhani was brought up in Aleppo, Syria, a historic city now split into two by warring factions. He graduated in 2003 as a Medical Doctor (MD) from the University of Aleppo, and undertook clinical training in Damascus and Aleppo. In 2006-2010 he took a PhD at Cambridge University under Dr Colin Watts at the Cambridge Centre for Brain Repair. His career objectives were to contribute to the fields of scientific research and healthcare in his native Syria.
While still based in Cambridge, Al-Mayhani helped to set up a Cancer Research Unit (CRU) at the University of Aleppo. He was assisted by Watts and Cambridge colleagues. The CRU launched a project to bring together basic and clinical techniques and teams to study six of the most common types of cancer in Syria.
"It seemed a good time for research and for science in Syria – things were really blooming. However, they were not sustainable in a war environment," he says. "When the political situation deteriorated, and tensions within Syrian society escalated, some members of the CRU team got arrested and others had to escape. It was simply not possible for us to maintain the CRU in Aleppo."
Late in 2012, Al-Mayhani made the decision to settle in Cambridge. Since then he has taught neuroscience to undergraduates at Sidney Sussex College and worked on brain cancer, specifically stem cell models of cancer organisation, in Watts' lab. "The lab is one of the few centres for research into brain cancer in the UK. It brings clinical and basic science together for the benefit of patients. Being part of this group has been a great opportunity for me in so many ways," says Al-Mayhani.
But Syria has never been far from Al-Mayhani's thoughts. "For the past three years, I've worked on my medical research during the week and on peace initiatives at weekends," he says. "I founded the Centre for Thought and Public Affairs (CTPA), a London-based think tank that focuses on conflict resolution. I'm motivated by total belief that peace will come to Syria – and that education, communication and long-term investment in human capital will ensure that peace will happen."
Earlier this year, in collaboration with the peace-building organisation International Alert, the CTPA and a number of Syrian organisations and individuals set up the Syrian Platform for Peace (SPP). Acting as an umbrella, SPP aims to bring the Syrians in diaspora together to lobby for peaceful change, and to raise awareness among the public in the UK. In mid-September Al-Mayhani gave a short talk at the Conflict Café: Syria, a pop-up restaurant on the South Bank in London that champions peace through food. 
In the next few months, Al-Mayhani plans to step down from his role as director of the CTPA to focus on his career as a medical doctor, ideally in East Anglia. However, making a contribution to bringing peace back to Syria remains his life mission.
In the Q&A below, Al-Mayhani answers some of the questions about Syria that he is most frequently asked in the UK. Top of the list are: What is happening? Why is it happening? And what can we do about it?
What is happening in Syria – and why?
Syria is a country of ethnically and religiously diverse populations of 23 million. In 2011, demonstrations took place in different parts of Syria, and the authorities tried to oppress them. The use of violence led to things getting out of control, and Syria became a stage for conflict, and a proxy war ensued between regional and international powers. The conflict in Syria has gradually manifested itself as sectarian strife and civil hatred, and medieval pre-modern identities have become fuelled by extreme thoughts and out-dated political mythologies used by warlords and other violent actors. Those identities have become so prominent under current circumstances that they hide the concepts of citizenship and belonging to the modern Syrian state, and create an environment for ongoing atrocities committed by the warring factions.
Millions of Syrians found themselves trapped amid this bloodshed, with estimated figure of 250,000 victims and hundred of thousands of wounded and disabled. Destruction is widespread, and many Syrians, including my family, lost their houses and businesses due to this war. I watched a youtube video of my grandfather's house, which had been in our family for 200 years, being bombed. It stood on a central square in Aleppo. In minutes it was ruined, and all memories had gone forever.
According to UNHCR around 8 million people have left their homes and have become internally displaced within Syria. But living in Syria today is not compatible with any standard of living in the 21st century. Even if you are lucky enough to not be bombarded, killed, arrested or kidnapped, there is shortage in basic services. In Aleppo, where some of my family still live, there is little access to electricity, water, healthcare and education. Many school buildings have become army bases, prisons or refugee camps.
A further 4 million Syrians have left the carnage to take refuge in neighbouring countries. Two million have fled to Turkey and 1.5 million to Lebanon. Only a small proportion of Syrians have tried to come to Europe. Attitudes towards leaving the country differ. For example, older people tend to say: we lived here all our lives, we want to die here. Many younger people think differently. They are reluctant to leave the country they've been brought up in, but try to see a positive future in front of them somewhere else, and want to find safety and schools for their children.
What can we do about it?
On an immediate basis, we can donate money to relief and humanitarian organisations, and we can welcome refugees who will add value to the diverse and multicultural society in the UK. We need to do both of these things.  But more than anything we need to help the people of Syria find a peaceful solution, stop the war and put this terrible time of bloodshed behind them so that millions can return to the lives, and contribute to the building of their country.
In the UK, the Department for International Development (DFID) shows a clear interest in peace policies in Syria, and supports many initiatives and projects in this regard. These efforts should be up-scaled and paralleled with other deliverable policies and action plans with wider impact.
Cambridge University, with its reputation for academic excellence and long history of welcoming political exiles, can play a role here. In the 1930s and 1940s, Cambridge and other British universities provided places for academics fleeing the Nazis. That's how Max Perutz, the Austrian-born Nobel Laureate and supervisor of Francis Crick, came to work in Cambridge. Perutz is just one of many examples.
As a response to the present crisis, Cambridge can provide the platforms for student unions, staff, researchers and the public to raise the awareness, call for co-ordinated action to pressure for peace, in addition to helping Syrian scientists, academics and students to resume their research and education through scholarships and fellowships. St Anthony's College, Oxford, and St Andrew's University are showing the way – and in Cambridge, Clare Hall is offering scholarships to Syrian graduates. Much more could be done.
What are the routes to peace?
The majority of Syrians want peace, but this majority lacks the platforms and means to express itself.  When some colleagues and I set up CTPA we identified two objectives. First, we wanted to encourage Syrian intellectuals to think deeply and critically about the Syrian crisis, and its roots. We also saw that there was the need for Syrian lobbying for peace, and hence it is essential to bring Syrians together to make this happen.  
Out of CTPA have come other initiatives to build bridges between Syrians who hold polarised attitudes and opinions on what is going on in their country. Our initiatives include activities of trust-building, engagement, providing the platforms, and encouraging people to recount and share their stories, pains, feelings and hopes – activities that we envisage as potential ingredients for peace.
In August, the CTPA hosted a workshop on "peace-building across Syrian divides" in Lebanon. This workshop was the result of partnership with the UK-based Peaceful Change Initiative (PCI), and it aimed to strengthen a network of peace-resources inside Syria. Being there was a thrilling experience, not only to see Syrians with different attitudes and opinions sitting together in the same room, but to watch them working together on joint initiatives on conflict resolution and management, and to see their faces lit up with a sense of hope.
Greater awareness among the general public in the UK and elsewhere is also really important. This awareness can make a change and it will. Earlier this month, there was a march in London to welcome refugees. There was a huge feeling of support – just to see all those thousands of people was something quite wonderful and life affirming. This show of solidarity gave us in the CTPA a new energy to keep going.
Nothing happens without the will of the people – but we have to reach out to them. Peace will come about as a result of bottom-up grassroots pressure, as well as through policies of international and regional powers. This is a universal responsibility that should be shared by all humans who believe in and dream about peaceful world for all.
How have you kept a sense of optimism?
My optimism stems from my belief in Syria, and the people of Syria. Not merely in political Syria which was established in 1918, but in cultural Syria with its contribution to human civilisation across millennia. It also stems from the sense of solidarity that I encounter in my surroundings here in Cambridge. This optimism allows me to emerge psychologically intact from this crisis, and gives me the motivation to translate hope into reality.
Would you ever return to live and work in Syria?
It's my dearest wish to return to Syria. I will go back there – it's only a question of when. I'm incredibly grateful to the UK, and to Cambridge, for the opportunities I've been given to study and to develop my skills and knowledge. But I am also indebted to Syria, and I've always wanted to live and work there, and to pay back part of my debt to my country.
When I think about Syria, and about my childhood in Aleppo, I remember its beauty, its warmth, its history, its wonderful diversity, the small aspects of everyday life – from morning greetings in the busy ancient streets and markets to families sitting around tables of delicious food of the Syrian cuisine – such as kubba (meat balls with wheat) and muhshi (stuffed aubergine). I know that many Syrians leaving now miss these small things, share these same nostalgic feelings, and dream about making them real again.
How do you feel watching the plight of Syrians through the lens of the British media?
The media focus is quite understandably on the plight of people risking their lives in tiny boats, and crossing Europe on foot to find safety.  What we never see or capture is what people have left behind – their houses, shops, businesses. Those Syrians have no idea of whether they will ever get these things back, and their individual narratives are never mentioned, or at best get diluted and marginalised within the tragedies of mass crisis.
It is one thing to realise how ugly the war is, but it is totally another thing to realise how much beauty has been destroyed by an ugly war. An English colleague of mine said that when he saw the picture of the little boy found dead on the beach, he felt terribly sad.  Then he saw a picture of the same little boy, standing bright-eyed with his father and brother, just a few days before he drowned – that's when my colleague cried.
Inset images: Dr Talal Al-Mayhani with medical colleagues on an old district on Aleppo in 2012. Since 2012 most of Aleppo's old districts have been destroyed by the ongoing war; From a workshop on "peace building across Syrian divides" hosted by the CTPA where Al-Mayhani serves as its director; Aleppo at night; Aleppo citadel. The citadel is considered one of the main historical and symbolic landmarks of Aleppo. Parts of the citadel have been affected by the ongoing war.
---
Donate to refugee charities
---

The text in this work is licensed under a Creative Commons Attribution 4.0 International License. For image use please see separate credits above.
---