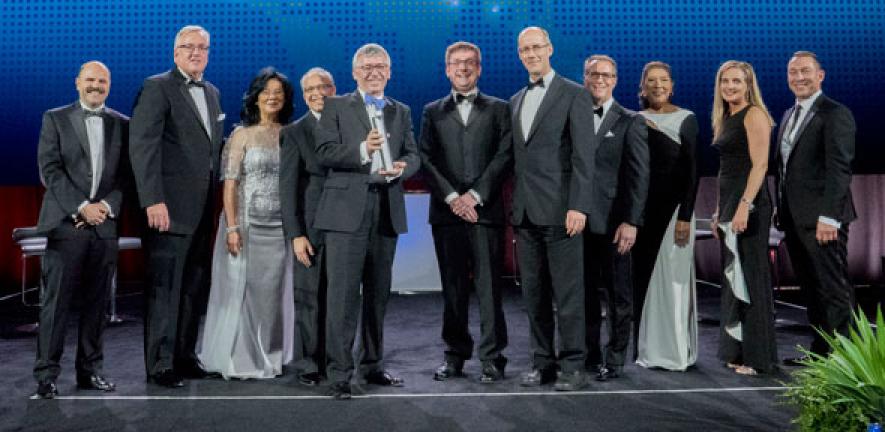 The University of Cambridge's 'outstanding performance' in research and development has been recognised by Boeing in its 2017 Supplier of the Year Awards.
The University was presented with Boeing's Innovation Award at a gala held in Portland, Oregon, on Wednesday 11 April. The award was given for the University's 'outstanding performance in research and development efforts, instrumental in the introduction of new products to meet Boeing's current and future business needs'.
Accepting the award on behalf of the University were Philip Guildford, Professor Bill O'Neill and Dr John Durrell from the Department of Engineering. 
"We thought working with Boeing engineers on such exciting research for the last 15 years was already prize enough, but now Boeing has topped this wonderful experience with its most prestigious award – we are thrilled," said Guildford. 
Professor David Cardwell, Head of the Department of Engineering, coordinated the Boeing partnership for Cambridge for many years, a role which was taken over in 2017 by Professor Duncan McFarlane.
Researchers from the Institute for Manufacturing (IfM) have been working with Boeing since 2005, finding intelligent solutions to some challenging industrial problems. DIAL, headed up by McFarlane, has worked with Boeing on seven major projects to date, addressing three key challenges: how to manage supply chains more effectively, how to improve production resilience and how to make airports and airlines more efficient and robust. The lab is currently implementing a production quality tracking system in one of Boeing's US facilities.
Researchers in the Bulk Superconductivity Group, supported by Boeing, set a new Guinness World Record in 2014 for the strongest magnetic field trapped in a superconductor (17.6 tesla - roughly 2000 times stronger than the field generated by a typical fridge magnet), beating a record that stood for more than a decade. They have since demonstrated a portable superconducting magnetic system that can act as a high-performance substitute for a conventional permanent magnet and can attain a 3-tesla level for the magnetic field.
The team, led by Dr John Durrell, are planning further testing for more magnetic power and overall efficiency. The group aims to enhance both the fundamental performance of superconducting bulks and to tailor them for specific applications.
And Bill O'Neill, Professor of Laser Engineering, is working with Boeing on a new generation of laser-based manufacturing technologies aimed at improving quality and productivity.
As part of its 2017 Supplier of the Year Awards, Boeing recognised 13 companies for the high-quality products, services and value they create for Boeing as well as its commercial airplanes, services, and defence, space and security customers.
The aerospace company said its award-winning suppliers had helped it achieve a 'record year' in its commercial airplane deliveries, growth in its services business and solid defence, space and security performance.
Boeing Chairman, President and CEO Dennis Muilenburg said: "Our continued success in an increasingly challenging business environment is driven in large part by having the aerospace industry's best team and talent – and that includes the world's best supply chain.
"The 2017 Supplier of the Year Award recipients all share a passion for innovation, collaboration and sustained exceptional performance – qualities we look for in all of our industry partners."
Jenette Ramos, Boeing Senior Vice President, Supply Chain and Operations, added: "The winners are among the best aerospace suppliers the world has to offer, and with their help, we will continue to lead the market by delivering value throughout Boeing's second century."
---

The text in this work is licensed under a Creative Commons Attribution 4.0 International License. For image use please see separate credits above.
---