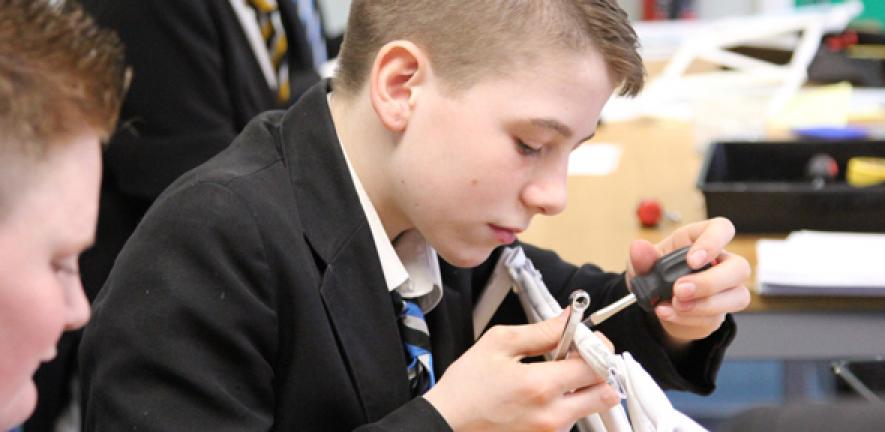 Students from six Fenland schools are taking part in a programme designed to encourage students interested in engineering and manufacturing.
It's about encouraging all young people to fulfil their potential and pursue a rewarding career path.

Matt Diston, Widening Participation Project Coordinator
Metalcraft makes equipment for international clients in energy, medical science and other industries – one of its most high-profile projects was at CERN's Large Hadron Collider in Switzerland.
Back in Chatteris, the company also offers a traditional engineering apprenticeship, drawing most of its recruits from local schools. The University of Cambridge has been working with the firm to inspire and encourage students in local schools for several years.
Participants are asked to build a bridge across a 1m gap using only paper, key rings and steel nuts and bolts. After receiving a crash course in bridge design, each team competes to build the bridge with the highest strength-to-mass ratio. Each team's bridge is tested to breaking point by hanging cans of food to it.
Metalcraft's Neil Kirby comments: "This programme not only introduces Year 10s to engineering basics, it also gets them thinking about what they want to do when they leave school. Metalcraft stays in contact with local schools all year round and it's great to be working with Cambridge University to encourage local teenagers to aim high." 
In 2015, members of the group arranged over 51,000 interactions with students from 134 local primary and secondary schools to give students potentially life-changing educational opportunities.
CAPSOG's members include the Department of Engineering, the University's eight Museums and Botanic Garden, the Cavendish Laboratory, the Millennium Mathematics Project, St Catharine's College and several other Offices.
---

The text in this work is licensed under a Creative Commons Attribution 4.0 International License. For image use please see separate credits above.
---