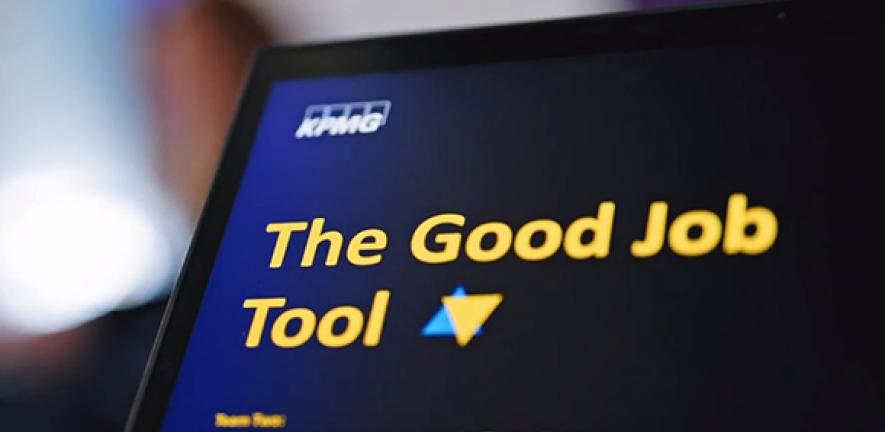 The University of Cambridge's ThinkLab helped design and run a KPMG 'Future of Work' hackathon to find promising new ideas that will help transform the world of work. The winning team, including a Cambridge MBA student, will receive funding and support from KPMG to put the idea into practice.
Job-placement platform 'The Good Job Tool', developed by a Cambridge MBA student at Cambridge Judge Business School and KPMG consultants, was named winner of the 'Digital Future of Work' hackathon at KPMG's Ignition Centre in London. 
The Good Job Tool is an AI-driven platform which helps employers and organisations rethink and customise jobs and job descriptions to better take account of the needs of a rapidly changing workforce. The platform also aims to generate clearer insights into how employees can best build and leverage their skills and experience to plan out their future careers by taking a data-driven approach to career trajectories across various industries.
Cambridge MBA student and member of the winning team, Irufan Ahmed, explains the thinking behind their idea: "As a team we listed down a number of bad experiences we've had in the past, and then how we can convert them into what a good job would look like".
The two-day hackathon focused on the United Nation's Sustainable Development Goal of 'Decent work and economic growth', which promotes full and productive employment and sustained, inclusive economic growth. The event involved participants from around the world, working in multidisciplinary teams across different organisations. Each team pitched their idea to a panel of judges from KPMG, Microsoft, BP plc and the University of Cambridge. The University of Cambridge's ThinkLab co-created and helped run the hackathon with ThinkLab Manager, Tyler Shores, on the judging panel.
The winning team will receive investment and support from KPMG's global innovation team to help develop and scale the idea.
Tyler Shores said, "The future of work hackathon was a wonderfully unique collaboration opportunity that showed how much innovative thinking and creativity can come from researchers, industry leaders and professionals coming together to work on shared big picture challenges. The ideas that came from this event have the potential to create a lot of meaningful change in the near future and we can't wait to see what comes next."
Roni Michael, Global Head of Innovation for KPMG International, said, "the businesses of today are adapting the way they work to a completely new environment. The way we all work is changing – and so are the reasons why. We developed this hackathon because we saw it as a great opportunity to bring multi-disciplinary teams together to re-consider what work means to each of us, redefine it and see how we can get more out of it, as employees, as employers and as a society."
Of the Good Job Tool platform, Michael says in a video posted by KPMG: "It gave a solution into a problem that we all care about so much. It blew our mind. It's just rethinking the whole recruiting process".
Cambridge and KPMG recently announced a new five-year partnership looking at the future of work which will start by addressing mental wellbeing in the workplace. 
Adapted from an article that first appeared on the Cambridge Judge Business School website. 
---

The text in this work is licensed under a Creative Commons Attribution 4.0 International License. Images, including our videos, are Copyright ©University of Cambridge and licensors/contributors as identified.  All rights reserved. We make our image and video content available in a number of ways – as here, on our main website under its Terms and conditions, and on a range of channels including social media that permit your use and sharing of our content under their respective Terms.
---