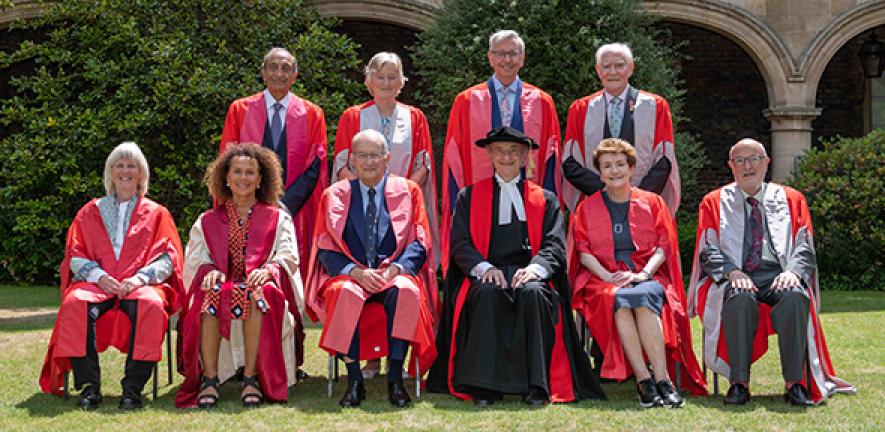 The University of Cambridge has awarded honorary degrees to eight distinguished individuals in recognition of outstanding achievement in law, science, technical innovation and manufacturing, medicine, music, history and the visual arts.
The Chancellor, Lord Sainsbury of Turville, presided over a special congregation in the Senate House attended by over 400 staff, students, alumni and invited guests.
An honorary doctorate is the highest accolade the University can offer and those graduating this year included the University's former Vice-Chancellor, Professor Stephen Toope.
The honorary graduands this year are:
Professor Dame Linda Colley (Doctor of Letters). A celebrated historian whose remarkable career has progressed to focus chiefly on British, imperial and global history, but who is also well-known not only as a writer, but also for broadcasting and public speaking.
Professor Chris Frith (Doctor of Science), a neuropsychologist noted for work on the relationship between the mind and brain and for using brain-imaging to study mental processes. Also renowned for his work on agency, social cognition and the minds of those suffering mental disorders.
Mrs Lida Lopes Cardozo Kindersley (Doctor of Letters). An alphabetician and partner in the Cardozo Kindersley Workshop, with an outstanding reputation for lettercutting and typography, she is devoted to the cause of fine lettering and has gained additional renown as an author and teacher.
Professor Sir Ravinder Maini (Doctor of Medical Science), a rheumatologist who has had an outstanding career in both academic research and clinical medicine. His work on autoimmune diseases has greatly improved treatments for these disabling conditions.
Professor Chi-chi Nwanoku (Doctor of Music). An acclaimed double bassist and a Professor at the Royal Academy of Music, she is an educator, broadcaster and champion of diversity in classical music. The Chineke! Foundation has made her a trailblazer and inspiration to black and ethnically diverse musicians worldwide.
Professor Dame Julia Slingo (Doctor of Science). A meteorologist and climate scientist and former chief scientist at the Meteorological Office, she has led major research programmes in tropical meteorology and pioneered next generation climate modelling.
Dr John C Taylor (Doctor of Science). A prolific inventor with more than 400 patents to his name and celebrated for innovation in component manufacturing, his switches for electric kettles revolutionised the industry and market worldwide. He is also a noted horologist and philanthropist, and invented and designed the Corpus Clock.
Professor Stephen J Toope (Doctor of Law), Vice-Chancellor and Professor of International Law Emeritus, who is renowned as a legal scholar as well as an academic leader. His work focuses on human rights, public international law and international relations.
---


The text in this work is licensed under a Creative Commons Attribution-NonCommercial-ShareAlike 4.0 International License. Images, including our videos, are Copyright ©University of Cambridge and licensors/contributors as identified.  All rights reserved. We make our image and video content available in a number of ways – as here, on our main website under its Terms and conditions, and on a range of channels including social media that permit your use and sharing of our content under their respective Terms.
---