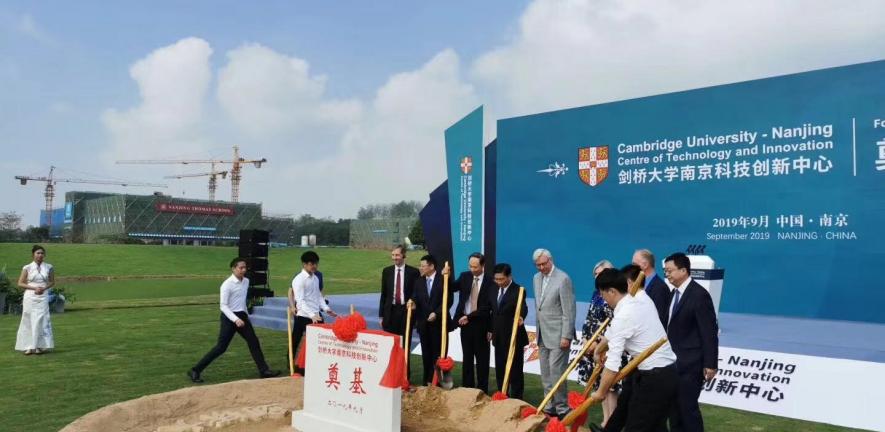 The University of Cambridge and the Nanjing Municipal Government have broken ground on the Cambridge University-Nanjing Centre of Technology and Innovation.
Here in Nanjing, an ancient city and former imperial capital, we are embarking on a unique enterprise.

Vice-Chancellor Stephen J Toope
Cambridge Vice-Chancellor Professor Stephen J Toope joined Zhang Jinghua, Party Secretary of Nanjing City Party Committee and Nanjing Deputy Mayor Jiang Yuejian to turn the first soil at the site where the Centre's dedicated building will rise in Nanjing's Jiangbei New Area.
The Cambridge University-Nanjing Centre of Technology and Innovation will establish a home for joint research and innovation in collaboration with the Chinese government, industry and China's global research universities that is dedicated to the future of creating 'smart' cities.
"Here in Nanjing, an ancient city and former imperial capital, we are embarking on a unique enterprise," Vice-Chancellor Toope said at the groundbreaking ceremony. "The innovations emerging from this Centre will enable the development of 'smart' cities in which sensors can enable sustainable lifestyles, improve healthcare, limit pollution and make efficient use of energy."
Cambridge and its Chinese partners will share revenue derived from the commercialisation of Intellectual Property (IP) developed at the Centre. It is the University's first overseas enterprise at this scale.
Funded by the Nanjing Municipality for its first five years, the project will have its own dedicated building as a pilot urban development based on high levels of technological innovation.
At the heart of the new Centre's activities will be research into technologies that support a modern 21st century city with integrated IT, health care and building management. Innovations emerging from the Centre will enable the development of 'smart' cities in which sensors – applied at the individual level and all the way through to the level of large infrastructure – will enable sustainable lifestyles.
As well as supporting health and wellbeing in new cities, the new Centre will help deliver efficient energy use through its academic and entrepreneurial activities.
The agreement between Cambridge and Nanjing will fund positions in Nanjing, both academic and management, and will allow Cambridge-based academics to engage with specific, long-term projects in Nanjing. It will also support the establishment of a professorship, based in Cambridge, with responsibility as the Centre's Academic Director.
The project has been driven by Cambridge's Department of Engineering, although it is hoped that there will be opportunities to widen participation to other departments and Schools. IP generated by research funded through the Centre will be licensed for commercialisation by Cambridge University's innovation branch, Cambridge Enterprise.
The Centre will seek to demonstrate the power of collaboration with China's universities, industry, government and other partners to conduct the kind of academic research of excellence today that will make life better for the city dwellers of tomorrow.
One of the two initial projects already approved is to create a high resolution scanner that can provide a low-cost easily accessible method for examining difficult areas of the body, such as bent spines, without using large and expensive CT scans.
That project will be led by Cambridge Engineering Department Professor Richard Prager, in collaboration with China's Southeast University and established local ultrasonic manufacturer Vinno.
A second identified project led by Principal Investigator Professor Toni Vidal-Puig from Cambridge's Clinical Biochemistry Department, will study the associated complications of increased obesity in China.
Both themes are closely linked to the focus area of local partner, NIHA (Nanjing International Healthcare Area).  
The Vice-Chancellor was joined at the groundbreaking ceremony by representatives from partners Nanjing University, Southeast University, Peking University. Tsinghua University, Fudan University and Zheijiang University as well as the Academic Director of Cambridge University-Nanjing Centre, Professor Daping Chu of Cambridge's Electrical Engineering Department, and Pro-Vice-Chancellor for International Relations Eilis Ferran.
---

The text in this work is licensed under a Creative Commons Attribution 4.0 International License. Images, including our videos, are Copyright ©University of Cambridge and licensors/contributors as identified.  All rights reserved. We make our image and video content available in a number of ways – as here, on our main website under its Terms and conditions, and on a range of channels including social media that permit your use and sharing of our content under their respective Terms.
---