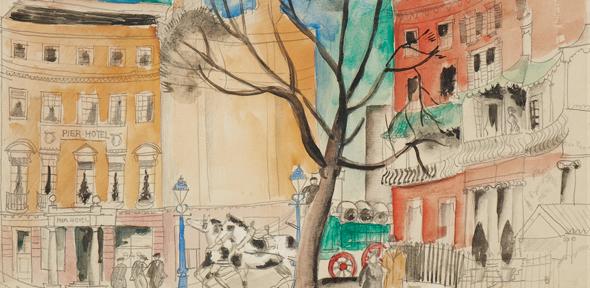 This summer, Kettle's Yard reveals a unique collection of work by English artist Christopher Wood, for the third in its series of Artist in Focus exhibitions.
Presenting some 25 works together for the first time, this is a unique opportunity to see the Wood collection at Kettle's Yard. Favourite paintings from the permanent displays will be displayed beside rarely seen drawings, stage designs and ephemera from the archives. Highlights include the reunion of two portraits, depicting sibling friends of Wood's, Jean and Jeanne Bourgoint, whom it is said inspired the Jean Cocteau novel, Les Enfants Terribles.
Wood's ambition to become the best painter alive propelled him from a childhood in rural Wiltshire to the epicentre of the avant-garde in cosmopolitan Paris of the 1920s, where he learnt quickly from the artists he met. His 1930 exhibition at the Galerie Bernheim in Paris was the first time an Englishman had been shown in Paris for several years. His painting developed rapidly, and by the time of his tragic death in 1930 at the age of 29, he had evolved a mature, lyrical style and a passionate connection with the coastal life of both Cornwall and Brittany.
The exhibition will examine the artist's preoccupations, his subjects, his life and relationships with other artists including Ben and Winifred Nicholson, Picasso and Jean Cocteau, as well as his importance for Jim Ede, founder of the gallery. The permanent collection will be complemented by major loans from the collection of the Fitzwilliam Museum and from the University of Essex to which Ede donated Woman with Fox (1929), as part of his gift to the fledgling University in 1964.
The exhibition is open Tuesday – Sunday, 11:30am – 5:00pm, until 1 September 2013. For more information please visit: http://www.kettlesyard.co.uk
---
This work is licensed under a Creative Commons Licence. If you use this content on your site please link back to this page.
---