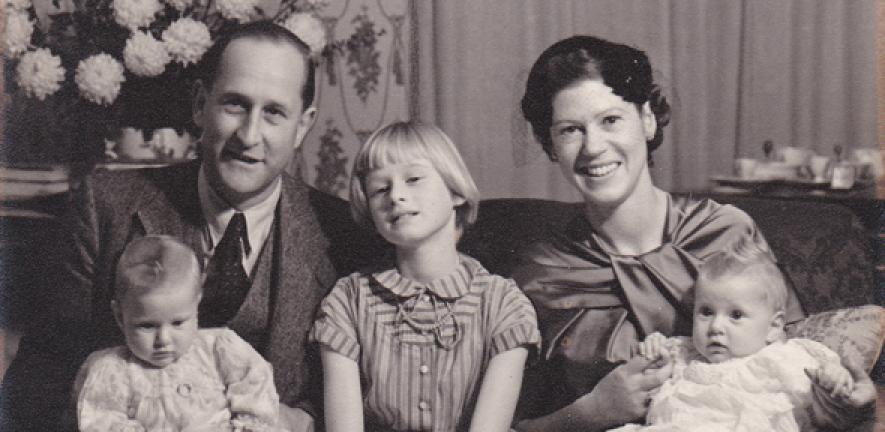 A stolen chest of letters – penned by an army wife to her husband on the battlefields of the Second World War – has helped a Cambridge academic and biographer trace the history of the women behind the men in uniform.
Diana talked about couples having sex outside Buckingham Palace on VE Day and 'getting tiddly'.

Midge Gillies
Army Wives by Midge Gillies, Academic Director for Creative Writing at the Institute of Continuing Education (ICE), uses first-hand accounts, diaries and letters to piece together some of the extraordinary stories of servicemen's wives through history – from Crimea to the war in Afghanistan.
Exploring all aspects of army life across the centuries; from the impact of life-changing injuries to séances, public memorials and death in foreign fields, Army Wives seeks to understand the singular experience of what it means for women to be part of the 'army family'.
But it is perhaps the wartime letters of Diana Carnegie to her husband James which provide the most personal, colourful and touching accounts of a life wedded to both the soldier she loved, and the uncertain life of a military wife.
"I wanted a distinctive voice that took me beyond the familiar stories of bombing, blackouts and barrage balloons of the Second World War," said Gillies. "Then I read a piece in The Telegraph about a cache of letters being sold at auction which provided an uncensored account of the war that wasn't available in Pathe newsreels: Diana talked about couples having sex outside Buckingham Palace on VE Day and 'getting tiddly' on the way to hear a speech by Ernest Bevin."
However, Gillies' joy at outbidding her rivals at auction for the letters was short-lived when the auction house phoned her to reveal that although the letters were sold in good faith, they had in fact been stolen as part of a house burglary more than a decade earlier, and that she should expect a call from Kent Constabulary.
Sophie Carnegie, one of Diana's two surviving daughters, only learnt about the letters' reappearance a day after the auction, thanks to a chance phone conversation with someone who mentioned the Telegraph piece in passing. Sophie and her twin sister Charlotte both realised the letters must have come from a chest stolen when their parents' house was burgled after Diana Carnegie's death in 1998.
"Fortunately, the family were delighted I wanted to write about their parents and would help me as much as they could," added Gillies. It didn't take long to see that this was rich material. Diana wrote about the Home Guard and her fears of invasion right up until the terror of the V1 bombs and, finally, the agony of waiting for her husband to be demobbed at the war's end. Her voice was witty, sassy and vivid – I liked her immediately."
As well as Carnegie's letters, Gillies visited and spoke with around 30 current and former army wives, as well as visiting archives across the UK in a sometimes difficult search for the voices of the women who were both left behind – or made the arduous journey to the front lines with their husbands.
Although it seems incredible today, the wives of British soldiers fighting in the Crimea were among the last of many to witness battle at close quarters; travelling with their husbands or sometimes stowing away on board Royal Navy ships in an effort not to be parted. Army wives, especially those married to lower-ranking men, often suffered terrible hardships and lived in squalor alongside their husbands, spending years in distant parts of the Empire, or accompanying their husbands from one seat of unrest to the other.
When a regiment was ordered abroad, a certain number of places were allocated for the wives of ordinary soldiers. In 1800, six women per 100 were allowed to go with their husbands. When soldiers began to travel further afield this rose to 12 per 100 men in India, China and New South Wales, and by the 1870s it was one in eight soldiers.
The wives drew lots to determine who would accompany their husbands in a tense and very public ritual that was usually left to the very last minute to avoid the risk of desertion if a man found his wife was to be left behind.
"This most cruel of lucky dips took place either in a room into which the wives filed in order of their husbands' rank, or sometimes, at the very dock where the soldiers' ship was waiting," added Gillies. "This led to harrowing scenes in which distraught wives waited to find out their fate; the wrong scrap of paper or the wrong-coloured pebble meant they may not see their husband for several years – if ever again."
In her book, Gillies recounts the experience of 24-year-old Nell Butler who followed husband Michael, a private in the 95th Derbyshire, to Crimea aboard troop ships and 20-mile-a-day marches.  Watching from a ship as a major battle commenced, Nell pleaded to be allowed ashore to search for Michael after fearing he must have been injured in the fierce fighting.
Once ashore, Nell trudged her way to Balaklava where she searched hospital ships and was mistaken for a nurse; being called into action to hold a soldier's hand as his leg was amputated without anesthetic. Despite fainting, she earned herself a nursing role, tearing up her petticoats as makeshift bandages to treat the most appalling battlefield injuries.
Eventually, she found the badly-injured Michael and accompanied him to a hospital 300 miles away where she is thought to have served under Florence Nightingale in the hellish conditions that because synonymous with the conflict and the reforms of battlefield medicine and surgery.
Not that conditions for soldiers and their wives were markedly better at home. Army Wives reveals how overcrowding, poor hygiene, and a lack of basic cleaning facilities meant that diseases such as typhoid and tuberculosis were often rife, and their toll catastrophic.
In 1864 there was an outbreak of scarlet fever among army children at Aldershot and between 1865-1874, 120 children living in huts on Woolwich Common died of the same disease or diphtheria, at a much higher rate than in the civilian population.
Disease was by no means confined to home barracks. Husbands returning from service abroad often brought unwanted gifts back to their wives. The steady supply of prostitutes to army camps led to one estimate, in the middle of the 19th century, that around one quarter of the British Army had VD.
Rates for infection remained high in India, rising to 438 admissions per 1,000 men in 1890-93, double the rate for the British Army at home, and almost six times the German Army. This was partly why more wives were allowed to follow their husbands to the subcontinent.
In the 20th century, two world wars produced new generations of army wives and widows who lived through separation, injury and the deaths of husbands by forging friendships that lasted into peacetime. More recently, the Cold War and the war on terror has produced a new breed of more independent women who have supported their loved ones through an evolving landscape of combat operations.
"While the roles, expectations and the day-to-day lives of army wives may have altered over time, there were constant recurring themes as I wrote the book," added Gillies.  "Accommodation has always been a bone of contention and the state of army housing remains a real cause for concern today.
"Likewise, although communication is a lot easier than the days of letters and telegrams, our era of instant communication brings with it its own problems when husbands in difficult and demanding situations are available on a daily basis via Facebook or Skype to hear that Jonny isn't doing his homework or that the washing machine is on the blink when there is nothing they can do about it from such a distance."
The strain is evident in divorce rates for soldiers and their wives. The figure remains much higher than that for couples in civilian life. So many army wives put their career second to become, effectively, a single mum for the time their husbands are deployed. Likewise, they often face the strain of uprooting their lives, and the children's lives, time and again for new postings in the UK and overseas.
"The lot of an army wife is waiting, being there to support and almost being gagged in a sense," said Gillies. "A lot of the wives I spoke to seemed inhibited about speaking to me either because they feared getting their husbands into trouble, or because of their fears about the war on terror after the death of Fusilier Lee Rigby.
"But on the plus side, the friendship networks they develop are fantastic and for those who throw themselves into the life, the experience can be a great one. There was a real sense of service among many of the wives I spoke to – even if their lives can sometimes be very lonely and unpredictable."
Gillies was also struck by the importance that couples still place on letters. Lyrics for the song, Wherever you are, which was written as a result of Gareth Malone's TV programme, The Choir: Military Wives (2011) and which reached Number One, was based on letters and poems. For army families the letter is still king – even if it is delivered electronically before being printed out as an "e-bluey".  While the rest of us have abandoned letters in favour of texts and other forms of electronic communication the Army should provide rich pickings for future historians. 
---

The text in this work is licensed under a Creative Commons Attribution 4.0 International License. For image use please see separate credits above.
---