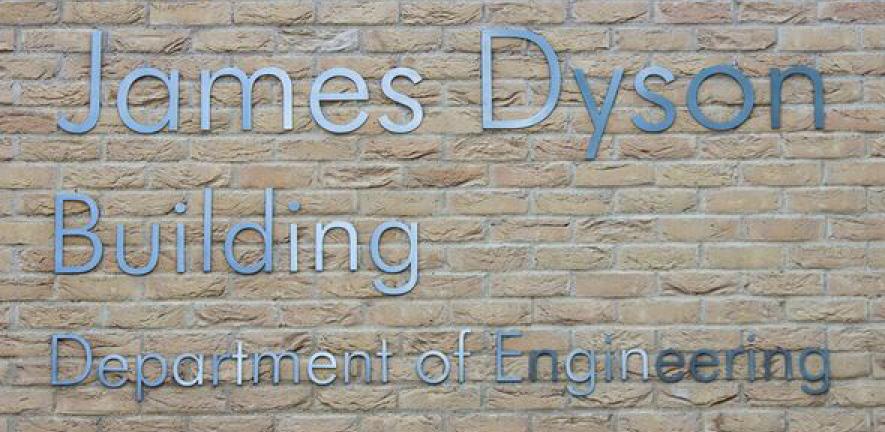 Engineering hub focuses on advances including smart infrastructure, electric vehicles and efficient internal combustion systems
I'm hopeful that this new space for Britain's best engineers at the University of Cambridge will catalyse great technological breakthroughs that transform how we live.

Sir James Dyson
Sir James Dyson opens some of the world's most advanced engineering facilities at the University of Cambridge today – giving the institution's students and academics the space and means to prototype, invent and collaborate on cutting-edge research.
The development has been funded by a £8m donation from the James Dyson Foundation – the largest gift ever received by Cambridge's Department of Engineering, consistently ranked among the best engineering departments globally.
The Dyson Centre for Engineering Design is the focal point for teaching Cambridge students about the design process, providing specialised printing machinery, scanners, lasers and routers. It provides space for over 1,200 bright engineers to conduct their project work. An open plan design encourages the sharing of ideas and a collaborative environment. Student led projects housed within the centre include solar powered electric racing cars, vehicles engineered for arctic ice, quad-rotor drones and helium balloon spaceflight systems.
A separate new four-storey building, the James Dyson Building for Engineering, houses postgraduate researchers and supports world leading research in areas including advanced materials, smart infrastructure, electric vehicles and efficient internal combustion systems. A bridge link offers easy access to testing laboratories housing world-class fluid dynamics machinery, aerodynamics equipment and areas for aeroacoustics analysis.
The building itself is as smart as the minds it houses: fibre-optic sensors in the foundation piles, concrete columns and floor sections offer live data, about temperatures and strain – providing a picture of how the building is behaving. The result is a building that's more of a living creature than a passive block of material.
Research undertaken in the hub will build on a rich tradition of invention:  Cambridge alumni include internal combustion pioneer Harry Ricardo and Jet engine inventor Frank Whittle.
The Department is located at the heart of the Cambridge cluster, Europe's largest technology cluster, which employs around 57,000 people in more than 1,500 technology-based firms, which have combined annual revenue of over £13 billion. Cambridge has created over 1,500 spin-out companies over the last decade, with a 97.4% five year survival rate, compared to 44.6% nationally. 
Sir James said: "Developing the intellectual property that will help Britain succeed in the global technology race depends on applying our brightest minds to ambitious and exciting research projects. I'm hopeful that this new space for Britain's best engineers at the University of Cambridge will catalyse great technological breakthroughs that transform how we live".
Vice-Chancellor of the University of Cambridge, Professor Sir Leszek Borysiewicz, said: "The research taking place in this building exists at the very cutting edge of engineering excellence. Allied to new ideas generated within the Dyson Centre, this will produce not only world-changing discoveries and inventions, but the future generations of engineers the world requires to address the major challenges of the 21st century."
Head of the Department of Engineering, Professor David Cardwell, said: "Collaboration is at the heart of solving global engineering challenges and the new James Dyson Building brings brilliant researchers from across disciplines together with industrial practitioners to serve our cities, transportation and energy systems with novel techniques.
"The adjoining Dyson Centre for Engineering Design enables students to express their creative talents and test their engineering skills using high-tech and diverse machining and prototyping equipment. Here we will also welcome schoolchildren to see engineers at work and captivate the next generation of competent engineers. An updated and redesigned Engineering Library will guarantee flexible spaces for collaborative as well as silent work spaces for our students and researchers."
Professor Dame Ann Dowling, President of the Royal Academy of Engineering, said: "Academic rigour must meet with practical invention. The Dyson Engineering Design Centre and the James Dyson Building for Engineering bridge the gap, encouraging engineers to apply their minds to creatively experiment and try new things."
---

The text in this work is licensed under a Creative Commons Attribution 4.0 International License. For image use please see separate credits above.
---