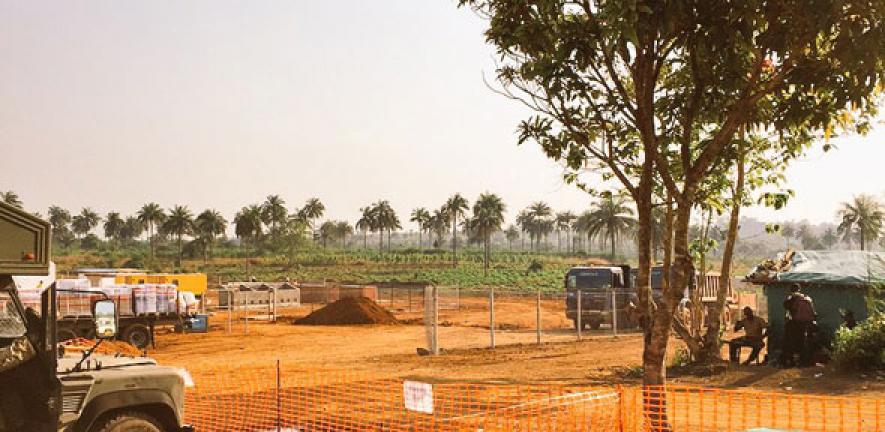 A University of Cambridge scientist is helping the efforts to contain the Ebola outbreak in Sierra Leone.
It is essential that a response is sustained until every single Ebola infection is prevented.

Professor Ian Goodfellow
A Professor of Virology, from the University of Cambridge's Department of Pathology, arrived in Sierra Leone on December 1 to help set up a new diagnostics centre amid reports that the West African country is now the worst-hit by the Ebola crisis.
Ian Goodfellow, a norovirus specialist in the Department of Pathology, is part of the team of volunteers coordinated by Public Health England (PHE) to assist in the construction and running of the laboratory in Makeni, 120 miles to the north-east of the capital, Freetown. The laboratory is one of three being built in the country under the supervision of the UK Royal Engineers, with support from the Department for International Development.
One of the main difficulties faced by Sierra Leone and its neighbours in responding to the Ebola outbreak has been their limited capacity to test for the virus. Test results can currently take more than five days to come back. The Makeni lab, once it is fully functional, will be able to turn samples around in 24 hours or less. Together with the labs recently set up in Kerry Town and Port Loko, this will quadruple the country's testing and diagnostic capacity, allowing health workers to isolate patients and contain the spread of the disease.
"Without a doubt the greatest challenge for our lab team so far has been logistics," said Professor Goodfellow, writing from Makeni. "As we are the first team into the site we are responsible for setting up the laboratory. All the equipment and various reagents we need in the lab have had to be shipped from the UK, but getting them to Makeni has proven a real challenge."
One part of that challenge has been tracking down missing equipment and reagents. "In many cases this has involved people driving around the various logistics hubs in Sierra Leone, going from one tent to another and opening boxes." Once found, the items still have to be sent to Makeni site in various forms of transport, and manually off-loaded due to the lack of heavy lifting equipment. "As you can imagine, as lab scientists we are not accustomed to moving over 10 tons of equipment and reagents by hand. Doing this in 35C heat with over 90% humidity on a rather dangerous and very active building site has been testing."
The lab is expected to open before the treatment centre, so that diagnostic capacity in the country as a whole can be increased.
Considering that the Makeni site has only been under construction for six weeks, he says: "It's really amazing to see how quickly the centre has been built. Everyone involved has done a fantastic job. The international community has now made real efforts to commit resources and expertise to control the outbreak but, as you can imagine, it is simply not possible to build these types of treatment centres overnight. Added to this is the need to recruit and train people effectively in the operation of such a centre. Safe working in these conditions is critical and is not something that can be done in an instant."
The lab team, he adds, "is made up of 10 people from various parts of the UK and from various backgrounds. The majority are biomedical scientists with experience in clinical diagnostics. But we also have people from the PHE research institute at Porton Down. In addition there are two academics on the team. Neither one of us has worked with Ebola previously, but we are both experienced in containment and working with highly infectious materials."
Commenting on how his perception of the Ebola outbreak has evolved since his arrival, Professor Goodfellow says: "The most striking thing I've noticed is how 'normal' life appears here. The locals are going about their daily business as usual and the only evidence of the Ebola crisis on the ground is the lack of physical contact between people, the presence of bleach buckets everywhere and the various posters advising people how to avoid infection."
Responding to the question of what else needs to be done, he said: "My main concern at present is that the media coverage suggests that the Ebola crisis is under control." Indeed, on the same day of Prof Goodfellow's arrival in Sierra Leone the World Health Organisation's Assistant Director General declared that "the prognosis for Sierra Leone is very good". This despite the fact that, only days before, the New York Times reported that Sierra Leone was poised to overtake Liberia in the number of Ebola cases.
Professor Goodfellow shows caution in his assessment: "There is evidence of slowing of the number of new cases in Liberia, but new cases are still appearing on a daily basis in all three affected countries [Sierra Leone, Liberia, Guinea]. A slowing of new cases is an indication that the outbreak is controlled. But it is essential that a response is sustained until every single Ebola infection is prevented. Without a sustained response it is likely the outbreak will continue for a long time, with many more fatalities."
Commenting on Professor Goodfellow's efforts to assist in the efforts to contain the Ebola outbreak, Professor David Dunne, Director of both the Wellcome Trust-Cambridge Centre for Global Health Research (WT-CCGHR) and the Cambridge-Africa Programme, said "Ian became directly aware of the problem of slow Ebola diagnosis in August, when he was a member of a WT-CCGHR delegation to discuss Cambridge-Africa support for health research training in the Gambia. The day we arrived in the Gambia the first Senegalese Ebola case was confirmed in Dakar, just over a hundred miles away. Ian saw that slow diagnosis was a major worry for MRC-Gambia hospital staff who were contingency planning for Ebola's arrival there. Thankfully, Senegal had no secondary cases, so Ebola did not arrive. But, Ian realised that his professional skills could directly help the people of West Africa in this crisis and it became inevitable that he would make this happen. Our University is committed to supporting African researchers through the Cambridge-Africa programme, and Cambridge-Africa is proud of him"
Professor Sir Leszek Borysiewicz, Vice-Chancellor of the University of Cambridge and Chairman of the UK International Development and Research Advisory Committee (DfID) added: "Ian Goodfellow's exemplary commitment makes us all proud.  His decision to use his knowledge and experience as a volunteer, setting up the Makeni lab in Sierra Leone, underscores the University's mission: 'to contribute to society through the pursuit of education, learning and research at the highest levels of international excellence'. In a time of grand challenges, he also reminds us that individual action is the essential component of our response to crises. We are grateful to him, and to the Department and colleagues that are supporting him, in carrying out this important work."
---
The text in this work is licensed under a Creative Commons Licence. If you use this content on your site please link back to this page. For image rights, please see the credits associated with each individual image.
---