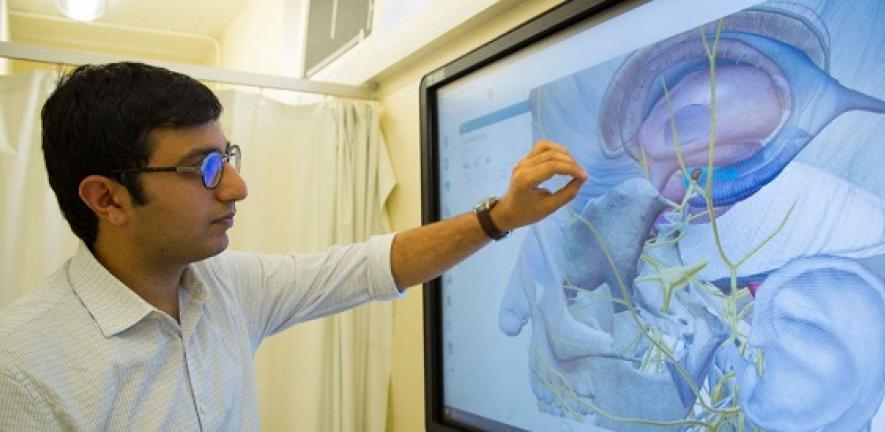 Ninety new Gates Cambridge Scholars will form the Class of 2017.
 
Gates Cambridge Scholars come from all over the world, but they have some important things in common: great leadership potential, a commitment to improving the lives of others, and an unparalleled passion for learning.

Bill Gates
Minaam Abbas has not yet started his PhD, but he is already co-founder of two businesses with the potential to transform how cancer is treated and how small enterprises are supported.

Minaam, who will start his PhD at Cambridge this autumn as a Gates Cambridge Scholar, is chief operating officer of angioClast, a company aiming to develop drugs that can target blood vessels in the most aggressive forms of brain cancer.

He is also co-founder of Hazina, a social enterprise that aims to turn microfinance on its head by cutting out the middle man and providing an alternative credit rating for the smallest businesses, while also teaching financial literacy.

Minaam's PhD will focus on the new field of epitranscriptomics, looking at how RNA can be modified and how these modifications can be used to fight cancer.

His driving passion is to make a positive impact on people's lives, and through both his research and his businesses he is already doing so. He might not have made it to where he is now, however, without the support of local businesspeople in Pakistan, of individuals and institutions at Cambridge, and now the Gates Cambridge Trust.

Minaam is one of 90 new Gates Cambridge Scholars announced today as part of The Class of 2017. It comprises students from 34 nationalities, and includes the first Native American Scholar, as well as the first ever Scholars from Bosnia and Herzegovina and Luxembourg.

Marina Velickovic, the first Gates Cambridge Scholar from Bosnia and Herzegovina, will do a PhD in International Criminal Law focusing on the International Criminal Tribunal for the former Yugoslavia through the lens of gender and ethnicity. Marina has co-authored two books and co-founded the only feminist magazine in Bosnia, She is currently a Visiting Fellow at Goldsmiths College, where she is working on a feminist critique of the legal discourse surrounding conflict-related sexual violence.

Sandile Mtetwa, from Zimbabwe, will do an MPhil in Chemistry focused on improving the properties of photo-active materials used in the process of harnessing clean energy. She is founder of the Trust Simuka-Arise Initiative, in Zimbabwe, which aims to empower young women academically, socially and economically.

Norman Wray from Ecuador is a Constituent Assembly Member and once stood for President of Ecuador. He is a strong advocate of the "Buen Vivir" (Good Living) regime, the rights of nature, and the inclusion of access to water as a human right in the Constitution of Ecuador. His MPhil in Conservation will develop a nature-based, evidence-led approach to the resolution of social, economic, ecological and political problems.

Thierry Mousset, the first Gates Cambridge Scholar from Luxembourg, will do a PhD at the Department of German and Dutch on the use of non-dramatic texts by W.G. Sebald, Mathias Enard and Orhan Pamuk in contemporary stage performances. He says: "I believe that in the current political climate, informed by a sharp rise in anti-Muslim and nationalist rhetoric, it is more important than ever to remind ourselves of the shared history of the two sides of the Mediterranean."

Gates Cambridge is the University of Cambridge's leading award for international postgraduate students and was set up in October 2000 through a $210m donation from the Bill and Melinda Gates Foundation -the largest single donation to a UK university. Those selected need to demonstrate not only academic brilliance but outstanding leadership qualities and a commitment to improving the lives of others.

Bill Gates, co-chair of the Bill & Melinda Gates Foundation, says: "Gates Cambridge Scholars come from all over the world, but they have some important things in common: great leadership potential, a commitment to improving the lives of others and an unparalleled passion for learning. Melinda and I are pleased to welcome the class of 2017. We have no doubt they will have an incredible impact on topics of global importance."

Cambridge Vice-Chancellor and Chair of the Gates Cambridge Board of Trustees Professor Sir Leszek Borysiewicz added: "Cambridge is a global university and the Gates Cambridge programme epitomises both its international, outward-looking nature and its mission to tackle global challenges and to improve the lives of others."

The mission of the scholarship is to create a dynamic global network of Scholars who use their intellectual and leadership skills to improve the lives of others. Since 2001 the programme has supported over 1,500 Scholars spanning more than 100 countries. The programme has already spawned several multi-disciplinary, international initiatives founded by groups of Scholars. They include the award-winning Simprints, which provides low-cost, fingerprint scanners for frontline workers in fields such as healthcare, finance and education; Favalley, a social hacking enterprise with the mission of turning slums and favelas around the world into the next Silicon Valleys; Action Meter, an e-democracy  web platform for running social campaigns in Estonia; and We are Sister Stories, a digital platform that highlights the strength and resilience of women and girls across the globe.

Minaam Abbas is excited about meeting his fellow Scholars in the autumn, and hopes that being part of a diverse network of Scholars working on global issues will lead to interesting collaborations. He says:  "The Gates Cambridge community inspires me. Amazing ideas can come from people working together in a common space across different subjects, countries and perspectives. Gates Cambridge actively promotes this and encourages people to get together to brainstorm."
 
---

The text in this work is licensed under a Creative Commons Attribution 4.0 International License. For image use please see separate credits above.
---