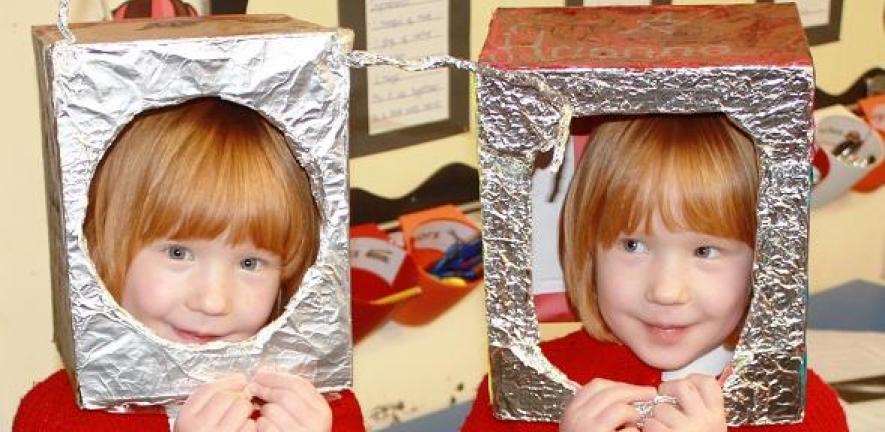 A primary school in Sawston spent the day learning all about space and one lucky 11-year old girl had the chance to try on a real space suit. 
We need to get children interested and excited about science at an early age and Tim Peake's mission is a great opportunity to do this

Helen Mason OBE
On Wednesday 6 February, groups of enthusiastic children, aged 4-11 years old, at Icknield Primary School were taken to infinity and beyond during a day of classes that celebrated all things space, including workshops about space and astronauts, games, a hands-on demonstration of a real space suit (including how to go to the toilet in the space suit), making models of space suits and helmets, and building model spaceships.
The Icknield space day, which is just the beginning of a programme of space-themed events at the School, is linked to the Space to Earth challenge – and Mission X Train Like an Astronaut challenges a call to action for schools to align their teaching activities with the 400km distance between the International Space Station (ISS) and Earth, and Earth and the Moon as part of the UK Space Agency's package of activities for the Principia Mission. 
Over the next few months, teachers at the School will incorporate space-themed physics, technology, mathematics, PE and design activities into daily teaching, coinciding with the six-month European Space Agency (ESA) mission to ISS by British Astronaut, Tim Peake. Tim is the first British ESA astronaut to live and work on the ISS. The mission is intended to inspire children and young people to explore the world around them, and engage more fully with science, technology, engineering and maths (STEM) subjects.
Dr Helen Mason OBE from University of Cambridge's Department of Applied Mathematics and Theoretical Physics and a Fellow of St Edmund's College, and Heather MacRae (venturethinking), who is leading the Space to Earth Challenge, spent the day at Icknield school. Throughout the day, Helen and Heather participated in every lesson, taking the excited children on a journey through space and answering any questions from the ever-inquisitive young minds, such as:
"What are the chances of there being life on other planets?"
"Could a black hole suck up the space station?"
"What would happen if the space suit had a hole while the astronaut was space walking?"
Speaking about the day, Helen said: "We need to get children interested and excited about science at an early age and Tim Peake's mission is a great opportunity to do this. The mission is called Principia, named after the book by Sir Isaac Newton who studied at the University of Cambridge. So this is a fantastic chance for local schools to get involved in a range of fantastic activities."
Eleven-year old, Karla Bolton, who wore the space suit said: "It's a lot heavier than it looks and you get really warm inside it. It makes you realise how hard it must be to wear it a lot. The best bit of the whole day was trying on the suit. I also found it very interesting learning how small the Earth is compared to the Sun. I'm now really looking forward to watching more stories about Tim in the news."
Gregor James, also 11-years old, agreed: "I'm really excited to watch more about Tim's mission too. We've done lots of things on space today and on other days, asking lots of questions. It's made me more interested in doing science when I go to high school."
Icknield School Deputy Head, Tom Snowdon, who is coordinating activities at the School, has noticed the children's heightened enthusiasm for science over the last couple of months since they started the Space to Earth Challenge.
He said, "We are part of the Tim Peake Primary Project supported by the European Space Education Resource Office.  We've been working with Heather and Helen since November and the children are really starting to connect with the ideas, and to think much more about space and science.
"Over the Christmas holidays, lots of the children designed and made space helmets that we have been sharing and using for the basis of science lesson work. These have clearly made the children consider what the environment would be like in space and how they would survive there.
"As a result, they're now switching on to scientific concepts, as demonstrated by some of their questions that really showed their depth of thought.  It's opened up their eyes to new possibilities, especially all the different types of careers involved with science and space."
Parents of children at Icknield School have also noticed a difference. Dr Matt Davey, a Senior Research Associate at the University of Cambridge Plant Sciences Department, and a research associate of Corpus Christi College, is a parent of pupils at Icknield Primary and Pippins pre-school.
He said: "My children had an amazing day – they really enjoyed touching the space suit and it was great to hear them talking about it in such detail at home. I even learnt a lot about space suits and living in space, such as how each suit and seat is made for each astronaut. They're now looking forward to the other planned space events this term at the school, such as docking and working in their classroom version of the International Space Station."
Icknield School has further events planned during the next few months, including a visit from Spectrum Drama Company who will perform a dramatisation about Yuri Gagarin, the first man in space. In addition, an astronomer will be visiting the School to give a presentation to Year 6.  
---

The text in this work is licensed under a Creative Commons Attribution 4.0 International License. For image use please see separate credits above.
---