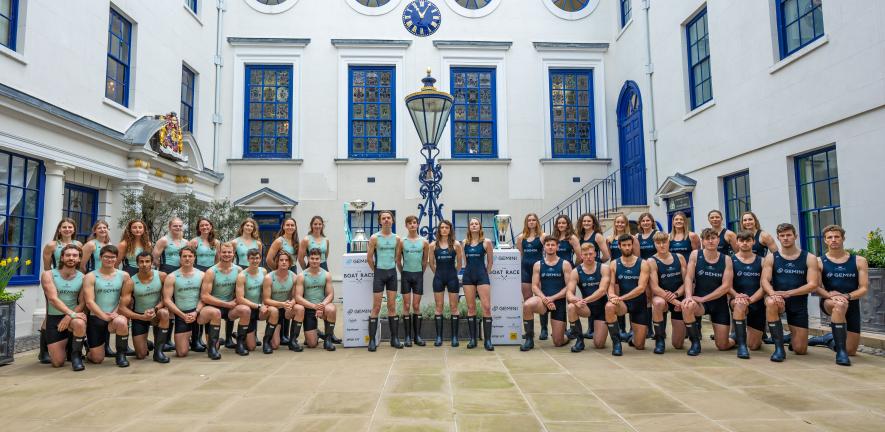 The Cambridge and Oxford crews for The Boat Race 2023 have been announced.
The 36 crew members who have won a coveted place in their 'Blue Boat' were announced at an event, hosted by sports broadcaster Andrew Cotter and held at Apothecaries' Hall, Blackfriars. The Blue Boat is the name given to the top crew from each university whose members win the coveted Light Blue colour of Cambridge, or Dark Blue of Oxford.
Cambridge Women:
Bow: Carina Graf (Emmanuel – Phd Neuro Sci)
2: Rosa Millard (Trinity Hall – BA Linguistics)
3: Alex Riddell-Webster (Murray Edways – BA Comp Sci
4: Jenna Armstrong (Jesus – PhD Physiology)
5: Freya Keto (St Edmund's – MPhil African Studies)
6: Isabelle Bastian (Jesus – MPhil Health, Medicine, and Society)
7: Claire Brillon (Fitzwilliam – MPhil Musicology)
Stroke: Caoimhe Dempsey (Newnham – PhD Psychology)
Cox: James Trotman (Sidney Sussex – BA Economics)
Caoimhe Dempsey, says: "We are focused on going as fast as possible on Boat Race day. Our goal is to leave no stone unturned in the lead up to the race, use every opportunity to put out our best performance. On the day, the result will take care of itself. These girls have been an absolute pleasure to lead, they have a never ending energy and commitment to strive for more. I'm really proud of the journey we've been on and it'll be an honour to line up on race day together."
Cambridge Men:
Bow: Matt Edge (St Catharine's – PhD Chem Eng)
2: Brett Taylor (Queens' – BA Medicine)
3: Noam Mouelle (Hughes Hall – PhD Astrophysics)
4: Seb Benzecry (Jesus – PhD Film Studies)
5: Tom Lynch (Hughes Hall – PhD Engineering)
6: Nick Mayhew (Peterhouse – MPhil Mgt)
7: Oliver Parish (Peterhouse – MEngineering)
Stroke: Luca Ferraro (King's – BA Classics)
Cox: Jasper Parish (Clare – BA Comp Sci)
Seb Benzecry said: "This year's crew is a really exciting boat to be a part of. We're not the most experienced Blue Boat, and we're on the small side, but everyone has come in with an incredibly positive mindset and an absolute determination to keep improving session after session. I think that's allowed us to become much more than the sum of our parts."
The crew for Cambridge are all members of, and selected by, Cambridge University Boat Club (CUBC). Patrick Ryan is the Chief Coach for the women's crew and Rob Baker is Chief Coach for the men's.
The Boat Race will take place on Sunday 26 March, on what is known as 'The Championship Course' and stretches four miles between Putney and Mortlake on the River Thames. The 77th Women's Boat Race begins at 4pm. The 168th Men's Boat Race begins at 5pm.
---

The text in this work is licensed under a Creative Commons Attribution 4.0 International License. Images, including our videos, are Copyright ©University of Cambridge and licensors/contributors as identified.  All rights reserved. We make our image and video content available in a number of ways – as here, on our main website under its Terms and conditions, and on a range of channels including social media that permit your use and sharing of our content under their respective Terms.
---