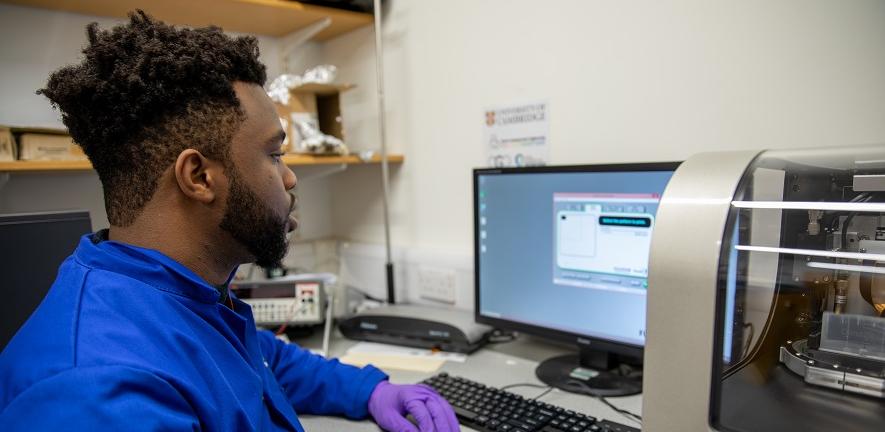 The University of Cambridge, which has a long-established widening participation programme for undergraduate students, is now turning its attention to addressing inequalities that exist across the postgraduate higher education sector.
We want to find ways to make admissions systems flex better

Dr Katherine Powlesland
The University is delighted to have been awarded two significant grants by the Office for Students (OfS) and Research England (RE) to deliver innovative and ambitious programmes designed to improve the admission of students from under-represented minority ethnic backgrounds into the highest level of postgraduate education (notably postgraduate research or doctoral study undertaken as PhDs or DPhils).
Across the Higher Education sector the proportion of students from minority ethnic cohorts who continue into initial postgraduate study is lower than for White students, and the gap is even greater in doctoral study. The difference is particularly marked for Black British, British Pakistani and British Bangladeshi students. These gaps ultimately mean fewer people from minority ethnic backgrounds progress into academia as a career, resulting in fewer professors with these heritages.
A grant of £800,000 will be shared between the Universities of Cambridge and Oxford enabling the two institutions to work together in a groundbreaking collaboration to develop and test a range of new admissions practices and systems designed to transform selection processes for postgraduate research. A set of new selection model prototypes that build on world-leading inclusive recruitment practices will be tested in a total of 16 volunteer departments, eight in each University, and will range from simple and efficient solutions like contextual flags to models that could revolutionise pathways into academic research. Among areas to be considered will be the extent to which systems need to adapt better to take account of different student pathways and trajectories, how, and when to apply, and the availability of support through the transition from undergraduate to postgraduate study.
Professor Graham Virgo, Senior Pro-Vice-Chancellor at the University of Cambridge, said:
"We are really pleased to be partnering with the University of Oxford, and delighted that this OfS/RE funding competition has brought about the opportunity to share data and current practice so openly. We feel this is indicative of a wider desire across the sector to collaborate to bring about transformational change in representation in postgraduate study."
The aim is to halve the current 'offer gap' in pilot sites by the end of 2025, with an aspiration to eliminate the gap altogether within one school generation (by 2035). To drive the initial four year project, the two Universities will create four new posts. A range of stakeholders will be consulted at every stage. Included in the programme is a combined Cambridge-Oxford Student Panel. It is intended that the programme will develop a range of new, fair postgraduate admissions processes and tools for use throughout the Higher Education sector.  
Dr Katherine Powlesland, Postgraduate Widening Participation Manager at the University of Cambridge, said:
"By the time many students from under-represented ethnic groups come to apply for postgraduate research study, they have often chosen pathways that inadvertently may have made it harder for them to access postgraduate research and funding, because of certain established selection practices. We want to find ways to make admissions systems flex better – thinking imaginatively about pre-requisites, really interrogating the inclusivity of our systems, asking the right questions so we can spot and support the best talent – and also to think radically about innovative inclusive recruitment. From the postgraduate communities of Britain's leading research universities come the experts of tomorrow: the decision-makers and advisors on climate change, on educational policy, on social justice. We need these researchers to represent the widest range of lived experience possible, so that, ultimately, all voices can be heard and no perspective goes unseen."
Martin Williams, Pro-Vice-Chancellor for Education at the University of Oxford, said:
"We're delighted that our joint bid with the University of Cambridge to the OfS/Research England competition to improve access to postgraduate research study for under-represented students has been successful. The University [of Oxford] has taken significant steps in recognising the issue of graduate access in recent years, and this has become a strategic priority building on the work that been done at undergraduate level for years." 
Cambridge's second successful bid to the same funding competition is a collaboration with University College London and City University and will offer paid summer research internships for students from under-represented ethnic groups.
Dr Powlesland added: "We also know there is a lot we could do further upstream to support ethnic minority students to make successful applications for postgraduate research study. We are delighted that, with the support of the Office for Students and Research England, we are also able to partner with UCL and City on a really exciting project to deliver undergraduate summer research internships. Cambridge will be offering at least 72 paid internships over three years to Black British, British Bangladeshi, and British Pakistani undergraduates as part of the collaboration. We are excited to be pushing for real change in minority ethnic representation in academic research.'
The University of Cambridge has made significant improvements over the last five years in diversifying its undergraduate population so that it is more reflective of UK society as a whole. The work in this area has not just been focused on numbers but on improving student experience too. That's why the Black Advisory Hub was established. As part of this project, new ways of assessing applicants for postgraduate study will be examined, and the University will seek to overturn any systemic barriers that may exist. Today's postgraduates are, after all, tomorrow's experts in their respective fields.
---

The text in this work is licensed under a Creative Commons Attribution 4.0 International License. Images, including our videos, are Copyright ©University of Cambridge and licensors/contributors as identified.  All rights reserved. We make our image and video content available in a number of ways – as here, on our main website under its Terms and conditions, and on a range of channels including social media that permit your use and sharing of our content under their respective Terms.
---