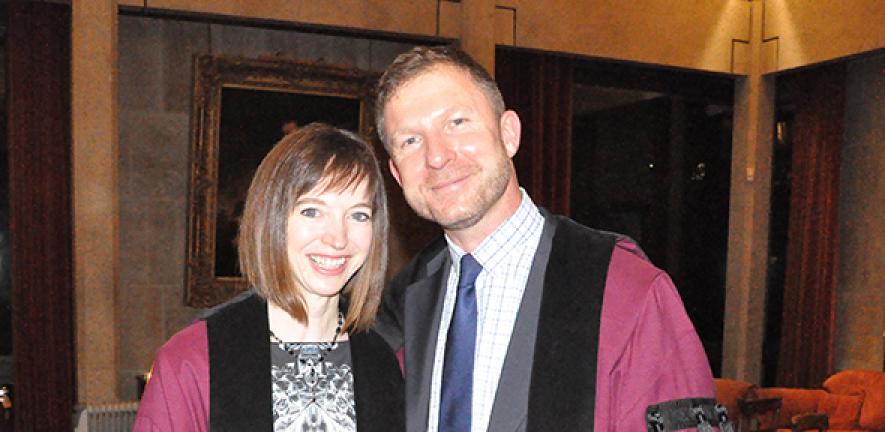 A couple who met at Downing as undergraduates are supporting their College's outreach work in the South West of England. 
It benefits society as a whole if the University can attract the most academically able young people from all backgrounds

Louise Arnell
This summer, Downing College welcomed students from seventeen schools and colleges in Dorset, Cornwall and Devon to its 16th South West Open Day, where they explored the College, met Directors of Studies, joined departmental tours and got a taste of lectures from Fellows and PhD students. 
For most of the students, taking part involved a round trip of at least 400 miles but the College is determined to overcome any obstacles posed by distance.
Downing has helped with travel expenses for some time but this year a donation from former students, Jamie and Louise Arnell, meant the event could be extended to two nights, giving students more time to immerse themselves in University life. 
Jamie studied law at Downing in the 1980s and later qualified as a barrister. He is now a Partner at the private equity firm, Charterhouse, and is on several company boards. Louise studied Classics and runs The Pebble Trust, a charity supporting individuals and organisations in Brighton and Hove, as well as volunteering for Citizens Advice and the Gatwick Detainees Welfare Group. 
Jamie said "My degree opened so many doors and I would like to see students from the widest possible range of backgrounds benefiting from those same opportunities. Before Downing I went to a charity school which supports social mobility and I still feel very passionate about this."
"We focused our efforts on Downing partly because we both studied there, but also because the College has a tough task. The South West is a long way from Cambridge and overcoming distance costs money."
Louise added "I don't come from a privileged background but I was never made to feel that access to the very best education was out of my reach. My teachers encouraged me to apply to Cambridge but not everyone is fortunate enough to have such support."
"Many Cambridge graduates go on to become leaders in their field so it benefits society as a whole if the University can attract the most academically able young people from all backgrounds."  
Downing recently appointed a new Schools Liaison Officer, Lauren Payne. An English literature graduate from Emmanuel College, Lauren will continue to build relationships in the South West, as well as organising events for students from across the UK and spreading the word via the Discover Downing website , Facebook and Twitter.
Cambridge's outreach work achieves national coverage thanks to its Area Links scheme (established in 2000), which gives schools and colleges in every part of the UK a direct way of developing a relationship with the collegiate University through specific contact points.
Schools Liaison Officers and Admissions Tutors for each College engage thousands of state school students and teachers throughout the year through outreach activities. There is no expectation that students should apply to their area link College and all Colleges welcome enquiries from anywhere in the UK, and the world. 
In 2013-14, the collegiate University delivered 4,000 access events which led to almost 200,000 interactions with young people and their teachers. For more information, visit www.undergraduate.study.cam.ac.uk  
---

The text in this work is licensed under a Creative Commons Attribution 4.0 International License. For image use please see separate credits above.
---