Don't miss the fun happening in the centre of Cambridge on Saturday, 13 September when Elizabeth I will be in town with a retinue of courtiers and musicians to re-enact a visit that took place 450 years ago. The event is part of Open Cambridge 2014. 
We hope that local families will get involved in creating their own costumes and joining in the celebrations. How often can you dress as a Tudor princess – or peasant – and process into King's College Chapel with the Queen!

Rosie Sharkey
Royalty will be coming to Cambridge on Saturday, 13 September when, after an absence of 450 years, Queen Elizabeth I will reappear with her retinue of courtiers and process through the centre of the city to the sound of Tudor music performed live on authentic instruments.
The historical extravaganza,  planned as part of Open Cambridge, celebrates Elizabeth's visit in 1564 when she spoke in Latin at Great St Mary's Church and visited all the Cambridge colleges then in existence with the exception of Jesus College which was then on the edge of town.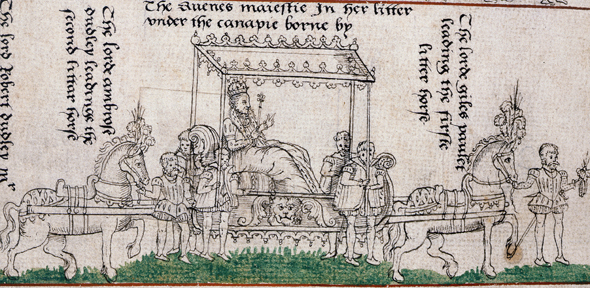 Contemporary reports describe how the 30-year-old Queen arrived in Cambridge not on a litter, as on other occasions, but on horseback wearing a 'gown of black velvet and a hat that was spangled with gold, with a bush of feathers'. She rode into St John's College Hall but dismounted to enter King's College Chapel, a building emblazoned with Tudor emblems.
The pageant is being organised by Rosie Sharkey, Heritage Education Officer at Great St Mary's Church. Also on the programme is a Tudor market and activities for families taking place in the church and churchyard during the morning. Members of the public who join the royal procession during the afternoon will be treated to entertainment in the chapels of St John's College and King's College.
"Cambridge is well known for its royal connections which have continued right up the present," said Sharkey. "The pageant should be great fun and we hope that local families will get involved in creating their own costumes and joining in the celebrations. How often can you dress as a Tudor princess – or peasant – and process into King's College Chapel with the Queen!"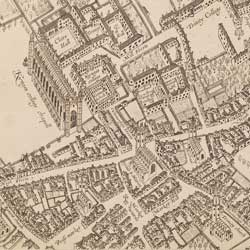 Professional and amateur re-enactors are playing the parts of Elizabeth and her courtiers who will appear in authentic costumes to give a flavour of the grandeur of the Virgin Queen and her entourage. The role of the Queen will be played by Rachel Duffield and that of the Queen's confidant and advisor, Robert Dudley by Matthew Ward.Two groups of musicians (The Ely Waits and A Merrie Noyse) will be taking part in the celebrations and will perform Tudor music on early instruments such as the sackbut and shawm.
In August 1564 Queen Elizabeth paid her one and only visit to Cambridge. It was the first official visit by a monarch since her father Henry VIII, who provided the funds for the completion of King's College Chapel, had come to Cambridge 42 years earlier. She is reported to have enjoyed her visit and would have stayed longer if 'provision of beer and ale could have been made'.
During her five-day visit to Cambridge, Elizabeth attended church services, watched plays and visited the colleges where she received gifts of marzipan, gloves and gold coins. At Great St Mary's sand was spread over the churchyard to cover the filth and mud. The tower was unfinished and the churchwardens were fined for failing to ring the bells when the Queen first arrived.
However, she attended two debates held at Great St Mary's before an audience of scholars, masters at dignitaries. Questions discussed ranged from political topics such as 'monarchy is the best form of government' to dietary dilemmas like whether it's better to eat more at lunch or dinner. The Queen castigated the scholars for speaking in 'small and not audible' voices and urged them in Latin to speak up.
Asked to give a speech once the debate was over, Elizabeth took the opportunity to make a show of strength. She impressed the assembled academics with her command of Latin and compared herself to Alexander the Great, stressing her belief in the importance of learning. Her promise to provide an important building for the university never materialised. But she later granted the town its first coat or arms, and she employed and favoured many Cambridge graduates during her long reign.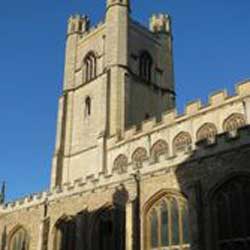 The extravaganza on Saturday, 13 September is part of a series of family-friendly events organised by Great St Mary's and supported by the Heritage Lottery Fund.
All are open to everyone and most are free of charge. For more information go to http://gsmheritage.wordpress.com/ or join the event on facebook: For information about Open Cambridge go to http://www.opencambridge.cam.ac.uk/news/open-cambridge-2014 or phone 01223 766766.
Inset images: detail from an illustration showing Elizabeth I in procession the day before her coronation in 1559 (Kings, Heralds, and Pursuivants of Arms); detail from John Hammond's map of Cambridge 1592 (Cambridge University Library); musical instruments from the Tudor period; Great St Mary's today.
---
The text in this work is licensed under a Creative Commons Licence. If you use this content on your site please link back to this page. For image rights, please see the credits associated with each individual image.
---