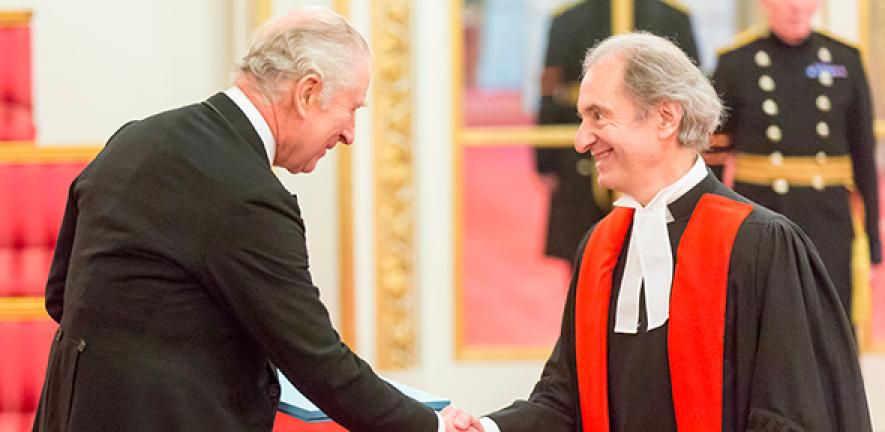 A delegation, led by the Acting Vice-Chancellor, Dr Anthony Freeling, was at Buckingham Palace on Thursday, 9 March to deliver a Loyal Address to HM the King.
The University of Cambridge was one of 27 Privileged Bodies – institutions and corporations that enjoy the historic right to present these to the Sovereign – presenting an Address. The Acting Vice-Chancellor introduced and delivered the text of the University's Address to His Majesty, highlighting the role of the late Prince Philip, Duke of Edinburgh, as the University's Chancellor for thirty-five years, and mentioning members of the Royal Family who are alumni, including the King.
In accordance with University regulations, the Acting Vice-Chancellor was accompanied by the Registrary and the Proctors. He was joined by other members of the University specially nominated for this occasion: the Master of Jesus College, the President of the Postdocs of Cambridge Society and the Presidents (Postgraduate and Undergraduate) of the University of Cambridge Students' Union. The Esquire Bedells and the University Marshal also attended.
Responding to the Privileged Bodies, HM The King remarked: "Whether in the fields of education, science, or the arts, or whether as representatives of the faith communities or of civic organisations, you advance our knowledge and our understanding of how we relate to each other and the world about us. You underpin the very foundations upon which our country is built and help to construct a framework of excellence and achievement within which our civil society functions and our national narrative can be formed."
The last time the University was invited to deliver a Loyal Address was in 2012, on the occasion of the Diamond Jubilee of Her Majesty Queen Elizabeth II.
---

The text in this work is licensed under a Creative Commons Attribution 4.0 International License. Images, including our videos, are Copyright ©University of Cambridge and licensors/contributors as identified.  All rights reserved. We make our image and video content available in a number of ways – as here, on our main website under its Terms and conditions, and on a range of channels including social media that permit your use and sharing of our content under their respective Terms.
---