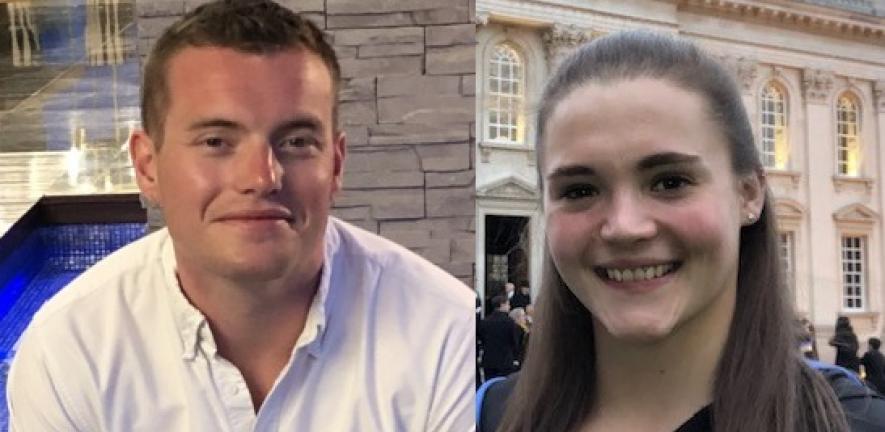 Friends and former colleagues have paid tribute to Cambridge graduates - and members of the Learning Together programme community - Jack Merritt and Saskia Jones, who were killed at London Bridge. Among the three people injured, whose identities have not been publicly released, is a member of University staff.
We have collated some of the messages below:
"Saskia's warm disposition and extraordinary intellectual creativity was combined with a strong belief that people who have committed criminal offences should have opportunities for rehabilitation. Though she completed her MPhil  in Criminology in 2018, her determination to make an enduring and positive impact on society in everything she did led her to stay in contact with the Learning Together community. They valued her contributions enormously and were inspired by her determination to push towards the good. 
"All of us at the Institute will miss Jack's quiet humour and rigorous intellect. His determined belief in rehabilitation inspired him to join the Institute as a staff member to work in the Learning Together research team after completing his MPhil in Criminology in 2017. Jack's passion for social and criminal justice was infectious. He was deeply creatively and courageously engaged with the world, advocating for a politics of love. He worked tirelessly in dark places to pull towards the light."
Professor Loraine R Gelsthorpe, Director of the Institute of Criminology
I facilitated at a @JustisTogether course @Cambridge_Uni with #JackMerritt as coordinator, and saw first hand how worthwhile prisoner rehabilitation work is and what a kind man he was. My prayers for him and his family @butwhatifitsall #LondonBridgeAttack pic.twitter.com/uWTVaucCsF

— Nabila Idris (@NabilaIdris) December 1, 2019
"Jack. Your brilliant smile, your pragmatism, your commitment to prison education and reform inspired everyone who worked with you. I will miss your sense of humour and your focus while working together with  students in the toughest situations. You always remembered everyone's names, and their needs in the group. I saw the quiet courage and reassurance you imparted to those around you. From prison inmates to guards, students to colleagues, you ignited camaraderie and respect  for each other in all of us. Thank you for everything you did, every day, to make our world a more kind, more equal place." 
Dr Preti Taneja, leader of Jesus College's Writing Together programme
"Saskia's passion for justice and her desire to pursue Criminology were apparent from the first encounter, when she telephoned the Institute to confirm her place on the MPhil course. She was a bright, determined woman possessing deep connection with the work of Learning Together, the loss of her talent is a tragedy for us all.
"I have had the great privilege of knowing Jack and am honoured to have had him not only as a colleague, but a like-minded friend. His lightness, sense of justice and unwavering integrity made him one of the best young men I have known. To also witness his deep creativity, resurface and find expression at the 2018 Learning Together alumni event and celebration, brought great joy to many and is a memory I hold very dear."​
Rebecca L Greene, Honorary Artist in Residence, Institute of Criminology
A year ago I met Jack Merritt, who died in the London Bridge attack. His work on rehabilitation was difficult, inspiring and profoundly necessary, especially for the many of us with lives touched by serious crime.

May you RIP @JackmerrittJack https://t.co/o0iSBr5UEP

— Maria Farrell (@mariafarrell) November 30, 2019
"I just wanted to say that without Jack we would not have been able to do what we have been doing, he found hope and love and support for people that society had forgotten and he made it possible for us to help tell these people's stories as well. My heart goes out to his family, friends and colleagues and I will not forget his belief in the good of people even in the darkest of places."
Matt Brown, of video production company MBP
"Jack was one of the rare people we meet in the journey we call life. He was one of my best and dearest friends. Every time I met him, he greeted me with a big hug, a casual 'you alright mate?' and a smile that glinted behind his eyes. His kindness and love was boundless. He was also devoted to helping people that society had forgotten. He approached his work with care, wisdom and dedication. He had a natural gift of knowing what to say to make you feel better. He was at total ease in himself, with a humble confidence, which meant he could navigate both the prison wings and the corridors of Cambridge. He had an uncanny ability to bring calmness and perspective to difficult and challenging situations – of which he faced many – and yet his strength and compassion never faltered. He was steadfast in his commitment to social justice and his loss has impacted many of us. He will never be forgotten; we will carry him in our hearts always."
Ellie Brown, Doctoral Candidate, Institute of Criminology
"I only met Jack a few times but I will never forget the first time when he came into our MPhil class to tell us about Learning Together. No one could deny how passionate Jack was about Learning Together and how much he believed it benefited not only students but also the prisoners.
"Although, I chose not to participate in Learning Together, whenever I would meet Jack around the Institute he always had time to chat and was always interested in my research - he would always ask a question that made me go away and look into something or re-evaluate something. That is a passion which I think drove all aspects of Jack's work and it is awful to think that there will be no more random corridor chats but his passion will always walk the Institute corridors. It was a privilege to know Jack, even for only a few years, and I will never forget the enthusiasm he brought to everything he did. Jack's passion and dedication should inspire us all to fight for what we believe in, never forget the underdog and aim for a world of social justice! Goodbye Jack x
Caitlin Bones, Institute of Criminology
"Friday morning at Fishmongers' Hall was the first time that I had met Saskia, and we spoke only briefly, but others I know well spoke very warmly of her and I am deeply saddened that I will no longer have the chance to get to know someone whose energy and enthusiasm for Learning Together I shared. I send my condolences to her family at this difficult time, and as a fellow LT family member hope that in time, once the shock and horror of the last twelve days have worn off, I can carry forward her work and her legacy in some small way."
Ben Jarman, Institute of Criminology  ​
---

The text in this work is licensed under a Creative Commons Attribution 4.0 International License. Images, including our videos, are Copyright ©University of Cambridge and licensors/contributors as identified.  All rights reserved. We make our image and video content available in a number of ways – as here, on our main website under its Terms and conditions, and on a range of channels including social media that permit your use and sharing of our content under their respective Terms.
---