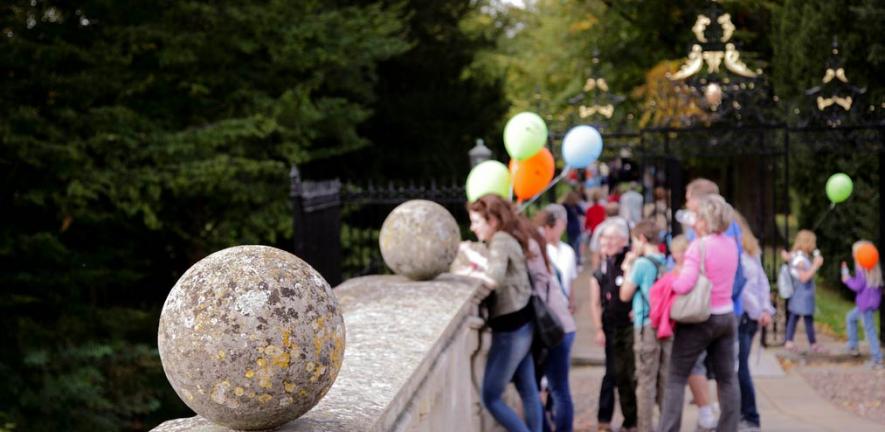 Thousands of people enjoyed a chance to explore Cambridge's secrets and scenic paths earlier this month thanks to Open Cambridge (9/10 September) and the tenth annual Bridge the Gap charity walk on Sunday, 11 September.
Open Cambridge events are offered free to the public and feature University, College and partner buildings in the city as part of the national Heritage Open Days initiative.  
Most of the weekend's events were fully booked in advance, and many were heavily oversubscribed. A total of 2,500 people attended the weekend's tours and talks, and another 1,500 attended drop-in events throughout the weekend. Highlights for many visitors included a tour of the University's Senate House, numerous college libraries and external venues including the City's Guildhall. 
As the weekend finale, Bridge the Gap took place with the benefit of surprisingly good weather and a strong turnout from the community.  On Sunday, 2,700 people turned up to participate, many of them walking as families, groups of friends or teams of co-workers. This year's walk toured nine Cambridge colleges and the Zoology Museum, which was open to participants and also served as a checkpoint for the walk. In addition to relying on staff from the Zoology Museum and the Porter's Lodges at the nine Colleges visited, the walk was marshaled by 150 volunteers, providing support at the start and finish lines and serving as route stewards, tourist guides and collectors.
The route planning for Bridge the Gap begins eight months in advance, and includes provision for a level-access route.  Catherine Kimberley, whose son Jack uses a wheelchair, said: "We took part in the Bridge the Gap walk on Sunday for the first time as a family and had a thoroughly enjoyable experience. Since our son Jack was born with cerebral palsy, access has become more and more of an issue with lots of family activities becoming impossible. But taking part on Sunday was a positive experience for all of us."
Each year the Bridge the Gap walk raises support for local charities.  Participants in the walk pay a fee of £15 to register on the day, or £10 in advance; children participate for free.  Many participants also raise extra support for the charities benefiting from the walk.  In 2010, Bridge the Gap raised £45,000 in total, and this year's walk is expected to surpass last year's fundraising achievement.  Proceeds from Bridge the Gap 2011 will benefit Arthur Rank Hospice Charity and Press Relief, the community fund of Cambridge News.
Cambridge University Press (CUP), one of the partners for Bridge the Gap, participated on the day as a team of 157, including 72 staff members and 85 friends and family members. 
Heidi Mulvey, Community and University Relations Manager, said: "Cambridge University Press staff first walked as a team of 42 in 2006. Now the walk is a firm favourite with our friends and family too. It's a fantastic way to get to know your colleagues, whilst discovering the quiet gems on our doorstep, in gardens, chapels and even a secret tunnel. We look forward to finding out what 2012 will bring!"
---
This work is licensed under a Creative Commons Licence. If you use this content on your site please link back to this page.
---