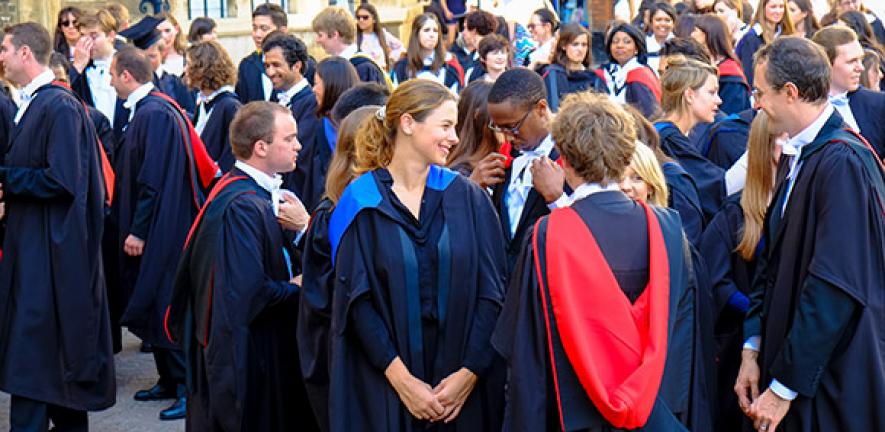 Philanthropy has the power to transform the lives of students by giving them a chance to study regardless of their background, says Professor Stephen J Toope.
In her remarkable memoir, Educated, Dr Tara Westover tells the story of her journey from an abusive upbringing on an Idaho scrapyard to the manicured quadrangles of Cambridge. This journey was possible because of her resilience and will to succeed. It was also possible, she recognises, thanks to the right financial support from various universities, including a Gates Cambridge Scholarship for her PhD.
My own experience, while rather less dramatic, echoes hers in some ways. Unlike Tara's parents, mine were great believers in formal education, and encouraged me from an early age to aim high. But as an Anglican Minister, my father had limited means and was certainly in no position to cover the cost of my bachelor's degree, let alone study at a higher level. I was lucky enough to win a scholarship to Harvard, and subsequently secured financial support to study for my law degrees at McGill and Cambridge. Those years shaped a career in international law and have culminated in the enormous honour of becoming Vice-Chancellor of the University.
In the UK, school leavers today have a greater opportunity to go to university than ever before, regardless of their backgrounds. That is how it should be in an advanced economy which puts a premium on intellectual achievement and skills.
But the noisy debate over the affordability of student loans in England and the limited availability of postgraduate funding underlines how the cost of study can still act as a real barrier to education. Whatever the outcome of the Government's current review into the funding of post-18 education, these are issues that will not go away. This is why it is so important that universities like Cambridge are able to offer financial support to the most talented students from around the world.
I am passionate about breaking down the barriers that might prevent some of those very talented students from coming to Cambridge. It is good for them – and it is good for the University – if we can help cover their tuition fees, living and study expenses. They benefit from a great education. In turn, the University benefits from working with some of the finest minds from around the world.
The extraordinary generosity of David and Claudia Harding means we are now in a position to offer fully funded places to many dozens more PhD students. David, an alumnus of St Catharine's College, is already one of our greatest supporters and their joint gift of £100 million will allow us, among other things, to recruit a cohort of more than 100 postgraduate students over a period of four years.
It is hard to overstate the importance of this gift – the largest single donation ever made to a British university by a British philanthropist. Among those scholars who will benefit will be people whose work in future years is very likely to change the course of history. Like generations before them, they will push at the barriers of knowledge, bringing us insights and discoveries as yet unimagined. They will be a mighty force for good.
In an increasingly competitive global market for highly talented students, this gift has the capacity to make a real difference for Cambridge. It will allow us far greater flexibility in attracting and recruiting top quality candidates. In doing so, it will help us educate the next generation of leaders, scholars, artists and scientists.
---

The text in this work is licensed under a Creative Commons Attribution 4.0 International License. Images, including our videos, are Copyright ©University of Cambridge and licensors/contributors as identified.  All rights reserved. We make our image and video content available in a number of ways – as here, on our main website under its Terms and conditions, and on a range of channels including social media that permit your use and sharing of our content under their respective Terms.
---