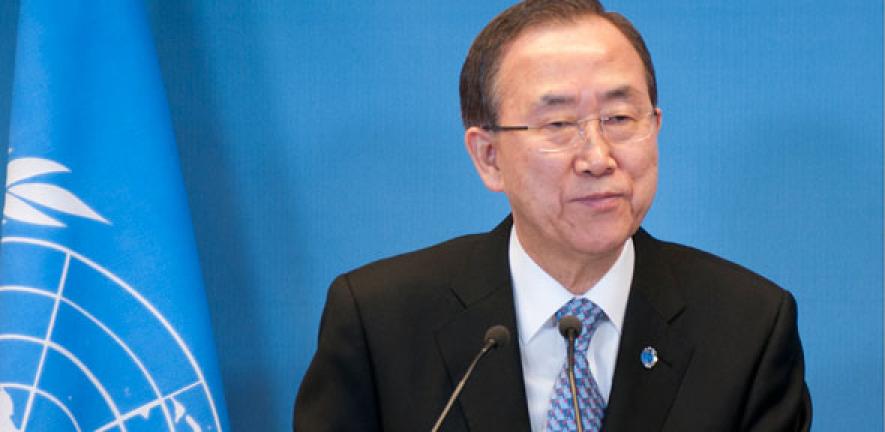 University's highest honour conferred for 'humanitarian work, support for women's rights and achievements in pursuit of global peace and security'.
At a special Congregation in the Senate House, the Vice-Chancellor, Professor Sir Leszek Borysiewicz, will admit His Excellency, the Secretary-General of the United Nations, Ban Ki-moon, to an honorary doctorate.
The honorary degree of Doctor of Law will be conferred on the Secretary-General in recognition of his humanitarian work, support for women's rights and achievements in pursuit of global peace and security.
After admission to his degree on 3 February, the Secretary-General will deliver a lecture to members of the University community.
The honour comes in Mr Ban's last year as Secretary-General of the United Nations, a position he has held since 1 January 2007.
He took his bachelor's degree in international relations at Seoul National University before earning a master's degree in public administration at the Kennedy School of Government at Harvard University.
At the time of his election as Secretary-General, Mr Ban was South Korea's Minister of Foreign Affairs and Trade.
His 37 years of service with that Ministry included postings in New Delhi, Washington DC and Vienna, and a variety of portfolios, including foreign policy and national security. Mr Ban's ties to the UN date back to 1975, when he worked for the Ministry's UN Division.
His extensive diplomatic efforts have helped to put climate change at the forefront of the global agenda, while his notable support of women's rights, including backing for many high-profile campaigns, has seen the creation of the agency UN Women, plus the establishment of a new Special Representative on Sexual Violence in Conflict.
Throughout his time at the UN, he has driven forward improvements to the UN peacekeeping operations. Accountability for violations of human rights has received high-level attention through inquiries related to Gaza, Guinea, Pakistan and Sri Lanka, legal processes in Lebanon and Cambodia, and advocacy for the "responsibility to protect," the new UN norm aimed at preventing or halting genocide and other grave crimes.
He has also worked to strengthen humanitarian response in the aftermath of disasters in Myanmar (2008), Haiti (2010) and Pakistan (2010), and mobilised UN support for the democratic transitions in North Africa and the Middle East. Mr Ban has also increased efforts to rejuvenate the disarmament agenda.
The honorary degree Congregation will be declared a 'scarlet day', when those holding doctorates wear their 'festal' gowns and all University members attending will wear academical dress.
University and College buildings will fly flags to mark the occasion while the bells of the University Church ring out.
The University has been conferring honorary degrees for some 500 years. One of the earliest recorded ceremonies was in 1493, when the University honoured the poet John Skelton. An honorary degree is the highest accolade the University can bestow.
---

The text in this work is licensed under a Creative Commons Attribution 4.0 International License. For image use please see separate credits above.
---