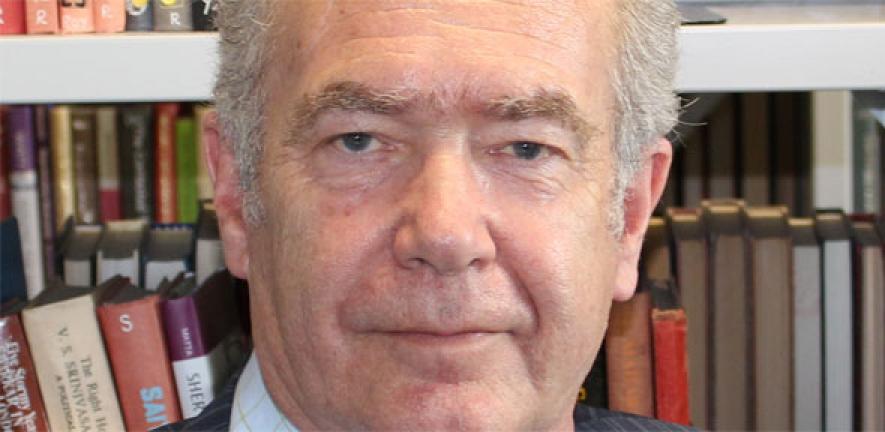 Friends and colleagues pay tribute to world-renowned expert.
"It is not an exaggeration to say that Chris has been the single most influential figure in the field of modern Indian history."

Professor Joya Chatterji
Professor Sir Christopher Bayly, described as the single most influential figure in the field of modern Indian history, has died in Chicago aged 69.
He was world-renowned for his enormous contributions to the Centre of South Asian Studies in Cambridge and to his subject.
He held many positions during his time at Cambridge including being the Centre's Director, President of St Catharine's College, and Vere Harmsworth Professor of Imperial and Naval History in the Faculty of History.
He also held positions outside of Cambridge including being the Vivekananda Professor at the University of Chicago. It was on Sunday while in Chicago, during one of his annual Spring visits, that he died of a suspected heart attack.
Professor Bayly was a member of the Centre of South Asian Studies for more than 45 years having arrived in Cambridge from Oxford in 1969 where he had completed his doctorate under the supervision of Jack Gallagher.
Although he retired last year from the Directorship of the Centre he still maintained a base there and Professor Joya Chatterji, the current Director, said her predecessor was a "crucial point of continuity" in its history.
Professor Chatterji said: "It is not an exaggeration to say that Chris has been the single most influential figure in the field of modern Indian history. Every one of his monographs, from his first book on Allahabad in 1975 to his last book on Liberalism in 2012, broke new ground, whether in political, social and economic, or latterly intellectual history."
She added that Professor Bayly completely transformed people's understanding of the 18th and 19th centuries in a series of publications, above all Rulers, Townsmen and Bazaars (1983) which many regard as his magnum opus.
Having established his reputation as a social and economic historian of outstanding originality, he then went on to take up new challenges. Empire and Information (1996) uncovered the worlds of Indian spies, runners and political secretaries who were recruited by the British to secure information about their subjects, and the social and intellectual origins of these informants.
Increasingly drawn to think about 'world historical' comparisons and connections he wrote first Imperial Meridian in 1989, and then a stunning new analysis of The Birth of the Modern World (2004), which transformed the understanding of the history of modernity itself, and drew attention to its richly complex, overlapping global roots.
A pair of books followed in quick succession, co-authored with Tim Harper, on the social transformations wrought by the Second World War in Asia. He would later write about the intellectual history of Indian liberalism.
Describing his work Professor Chatterji said: "His prodigious productivity, the stunning range of his scholarship, and his talent for thinking comparatively, and in a connected way, about a range of historical questions, established the reputation for which he was elected a Fellow of the British Academy in 2004 and received a knighthood in 2007.
"Many will remember Chris as an inspiring supervisor, as a colleague and friend, as a longstanding member of the Centre's Committee of Management and above all as Director of this Centre."
Reflecting on his legacy Professor Chatterji added that during his Directorship he oversaw the Centre's move from its historic premises in Laundress Lane to the Alison Richard Building and launched the MPhil in South Asian Studies.
Professor Chatterji added: "No less significantly, he drew the study of South East Asia squarely into the Centre's remit.
"Those who knew him have each, in their own way, learnt immeasurably from Chris, not only by reading his work, but by working with and alongside him as a supervisor and colleague. Our thoughts are with his wife Susan, his family, and his students past and present, who today feel bereft."
Dame Jean Thomas, Master of St Catharine's College, said that many people had paid tribute to Professor Bayly, adding: "It is clear that he was held in high esteem not only in Cambridge and St Catharine's, but around the world. We have lost a friend and valued colleague, and he will be sorely missed. We extend our deepest sympathy to Susan and his family."
---

The text in this work is licensed under a Creative Commons Attribution 4.0 International License. For image use please see separate credits above.
---