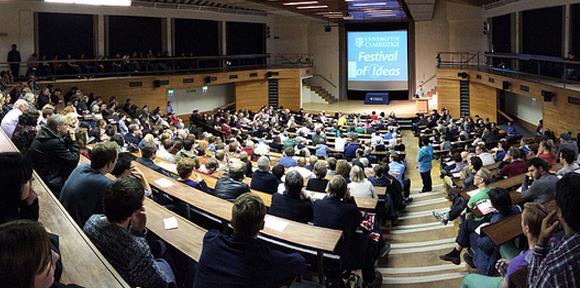 This year's Cambridge Festival of Ideas was a huge success with participation numbers up by a quarter from last year's total of approximately 14,000, to around 18,500 this autumn
It is hugely encouraging to see how the events stimulated and challenged the audience with some people literally bouncing in their seats to ask a question.

Malavika Anderson
The Festival, which ended on Sunday, culminated in another weekend bursting with events, including a lively debate on immigration that saw hundreds of attendees packed into Lady Mitchell Hall on the Sidgwick Site.
Speaking about the event, organiser and University of Cambridge PhD student, Ed Anderson said: "Putting on an event looking at immigration in detail was important to me not only because of my own research interests, but also as I felt it was a really important issue that is highly politicised and manipulated. The debate is usually high on emotion, but low on fact. The live event included presentations of different perspectives based in research and experience, and the audience responded with many questions for the panel as a result.
"The Festival of Ideas provides a great opportunity to open up discussion as much as possible, and it's really encouraging seeing it go from strength to strength."
With over 200 events, there were many Festival highlights to choose from. Recent Cambridge graduate George the Poet received a standing ovation at the end of his set on Friday, 25 October, when he performed his piece, Malik, in the West Road Concert Hall.
Owen Jones' enthusiasm and conviction was infectious and his talk, which dealt with the alternatives to austerity, resulted in a lengthy Q&A session with a diverse audience from a broad age range. A member of the audience commented: "Owen Jones talk was excellent; thought-provoking, challenging, humorous and timely."
Anglia Ruskin University had the busiest year yet, with more than 1,700 people attending their events.  Miriam Berg, Community Engagement Officer at Anglia Ruskin, said: "Anglia Ruskin University is proud to have been involved in another incredibly successful Cambridge Festival of Ideas and we were delighted to welcome Sir Quentin Blake and Melvyn Bragg onto campus."
Festival favourites Michael White, Anthony Giddens and Noreena Hertz roused audiences with their intelligent participation in talks and panels. Audience diversity and participation was also a major feature of the Festival this year. The panel discussion, 'The Internet of Things and the boundaries of humanity', provoked many high-quality audience questions that were being discussed by panellists and audience members long beyond the end of the event.
Anthony Giddens said: "I'm a great fan of the Festival of Ideas. The level of audience participation and interest in the two sessions in which I took part was absolutely outstanding. Some of the questions raised were very testing – really valuable for me to be pushed that way in terms of trying to think through ideas properly."
The 'Becksistentialism' event seemed to capture the imagination of the press as well as the audience, with articles on the main BBC news site, The Independent, Time magazine, London Evening Standard and Varsity magazine to name a few.
Dr Andy Martin, creator of Becksistentialism said: "The Festival of Ideas is a party from which there are no known physical after-effects. But the intellectual spin-offs are potentially unlimited. The Festival is a gateway happening – with traffic in and out. People are free to wander unconstrained (and without payment of tuition fees!) into lecture halls. But, on top of that, the ideas are free to radiate on outwards into the world at large, using the Festival as a platform.
"In my own case, 'Becksistentialism' – 'existentialism but with a very cool haircut' as I defined it – getting featured on the BBC news website, on Radio 5live, and the World Service – and finally ending up being talked about on a TV programme in the US called Soccer Gods was like playing in the World Cup in a local stadium."
The volunteers were also a major part of the Festival; it would be impossible to stage over 200 events without a large team of committed volunteers. This year, there were more than 70 individuals from the local community all willing to give their time to help out during the festival.  Volunteers came from all walks of life, background and ages.
Commenting on this year's Cambridge Festival of Ideas, Malavika Anderson, Festival Co-ordinator said: "What stands out most for me is the level and quality of audience participation this year. It is hugely encouraging to see how the events stimulated and challenged the audience with some people literally bouncing in their seats to ask a question. This is exactly why the Cambridge Festival of Ideas exists, to provoke dialogue and to make people think about the world we live in, past, present and future.
"I would also like to say a big thank you and congratulations to everyone involved, including the sponsors, partners, volunteers, academics, presenters, performers, artists, event organisers, festival team, and most of all the visitors."
The Cambridge Festival of Ideas is supported by the University of Cambridge, Barclays, Cambridge University Press and Anglia Ruskin University, who also organise events during the Festival. Event partners include Heffers Classics Festival, University of Cambridge Museums, RAND Europe, the Goethe-Institut London and the Junction. The Festival's media partner is BBC Radio Cambridgeshire and its hospitality partner is Cambridge City Hotel.
---
This work is licensed under a Creative Commons Licence. If you use this content on your site please link back to this page.
---