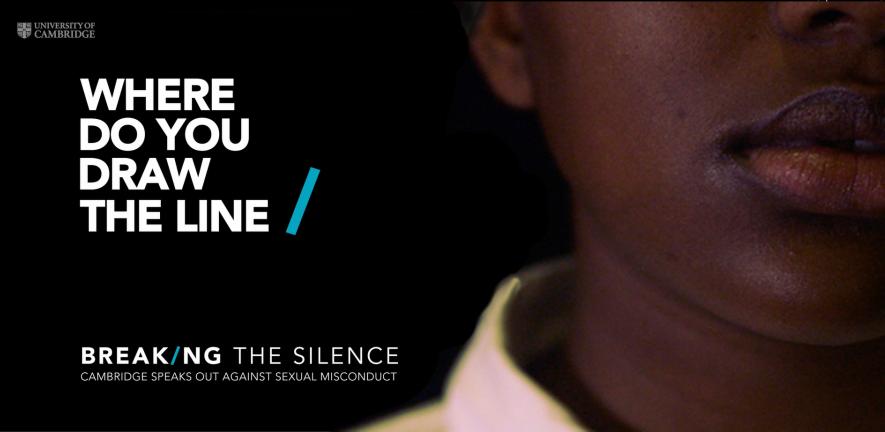 One year on from the publication of landmark sexual misconduct guidance that empowered universities to investigate cases, Pro-Vice-Chancellor for Education at the University of Cambridge, Professor Graham Virgo, looks at what more needs to be done
Very soon after I was appointed Pro-Vice-Chancellor for Education at the University of Cambridge in 2014, a student came to see me. She had never told anyone what she shared with me in our conversation. Months before, at a student society event, she had been raped. She had not wanted to report this to the police. She thought in my new role, I could do something about the incident.  She tasked me with taking action.
At the time, the only support I could offer her was emotional as well as sign-post her to student support services. Uncomfortably, her only hope for justice was to go to the police.  Guidance at the time stipulated that universities should not investigate sexual misconduct cases themselves, but had to refer them to the police.
We have come a long way from there, as is shown in today's UUK report, Changing the culture: one year on – an assessment of strategies to tackle sexual misconduct, hate crime and harassment affecting university students. In the UK, it is now a sector standard to have a disciplinary procedure that refers to harassment or sexual misconduct for both staff and students. The student who came to see me was not alone. Thousands issued their own calls to action and their combined volume shifted sector thinking. The many students who were brave enough to speak up, to share their experiences, to challenge and to campaign for change have brought us here.
The status quo is no longer an option
Evidence played a key part in forcing the change. With today's UUK report highlighting that one-fifth of the providers in the sample have made very limited progress in addressing key issues around sexual misconduct, maintaining the status quo becomes uncomfortable.
Before mandatory frameworks were introduced, students created their own programmes to inform students about sexual misconduct. After national guidance was issued in 2016, universities were able to translate this momentum into policy supported by procedures and resources.
The uneven progress highlighted in today's report brings to mind my own surprise at witnessing attitudes in higher education today that date back to the era before Ireland's Say Something and the UK's Hidden Marks reports revealed the scale of sexual misconduct on campus. A few colleagues at other universities have come up against a reluctance to expose the scale and nature of the problem on their campus.
Advocates trying to launch a campaign like It Stops Now or Cambridge's Breaking the Silence have found roadblocks being thrown in the way. Opponents have spread confusion and delays saying - "But we don't have that problem here", "It will put students or staff off applying", and, "Well, we don't want to look like we're conducting witch hunts". Have those people ever had a student sit opposite them, disclosing a raw and immensely painful trauma, and yet they told them, "Sorry, we just can't help you"?
I do not underestimate the courage it takes to tell another person about a deeply personal and distressing incident, not least because I have witnessed it first-hand. Nor do I forget the strength of those who choose not to report, but to work through their pain alone. But we as institutions need to match their bravery with our own. As the Director of the Cambridge Rape Crisis Centre Norah Al-Ani, has said, 'no discomfort we, as an institution, may experience in tackling sexual misconduct can come close to the suffering of a victim'.
Anonymous reporting is about victim choice
At the beginning of last month, Cambridge announced that 173 anonymous reports of sexual misconduct had been made since May 2017. In the weeks following that announcement, there were 76 more bringing the total to 249. Since the beginning of last term, six complaints have been made formally, with victims choosing to have those incidents investigated by the University. There has been much debate over the gap between those two figures.
Some people have chosen to see anonymous reporting as a tool institutions use to avoid tackling incidents. Nothing could be further from the truth. Not only does anonymous reporting give victims a greater choice in how they wish to start talking about what has happened to them, it creates a climate in which calling out sexual misconduct is the norm rather than the exception.
To place our own interpretation on why victims choose to report anonymously, and worse, put a lower value on this than on formal reporting, is wrong because it denies victims the right to make their own choices.
The cornerstone to all of our work on tackling sexual misconduct is building trust with our staff and students; so that, where issues arise, they feel safe in using our full range of support services and reporting processes.
At Cambridge, this work is far from over. And in the wider sector, there is still much to be done. A recent EU study found that policies regarding gender-related violence towards young people in Ireland, Italy, Spain and the UK varied and many were in urgent need of review.

Across Europe, policies remain centred on violence between students, and some critics have argues that students who are victimised by staff do not enjoy the same level of support.
Cambridge has a staff student relationship policy that can be accessed on the Breaking the Silence website. With it, clear lines can be drawn between consensual relationships and abuses of power that we will meet with zero tolerance.
Breaking down barriers
When you begin to draw lines, clarify what sexual misconduct means and what the consequences for perpetrators will be, a rise in reports is an inevitable and important result of increased confidence in how they will be handled. See this as a positive, and you have taken a huge step in understanding, and then acting on, issues that are affecting members of your community in ways that can be devastating.
There is still much to fight for. Where barriers put up within our communities, or the wider society, are preventing victims from speaking up, we must break them down. At Cambridge, 26% of people who reported anonymously chose not to formally report because they were worried about the reactions of their friends. We all have a part to play in ensuring those around us feel safe to disclose, knowing we will believe and support them. And it is up to the institution to respond to the finding that 35% of people who reported anonymously chose not to formally report because they were worried about being considered a trouble maker.  Harassment, hate crime or sexual misconduct is never the fault of the victim.
As our community's understanding of sexual misconduct and power dynamics deepens, we must re-evaluate our definitions and policies. 
This is an issue that affects the community as a whole and we must work together to remain agile in our response, to keep listening and acting.
For more information on the Breaking the Silence campaign visit www.breakingthesilence.cam.ac.uk.
---

The text in this work is licensed under a Creative Commons Attribution 4.0 International License. For image use please see separate credits above.
---