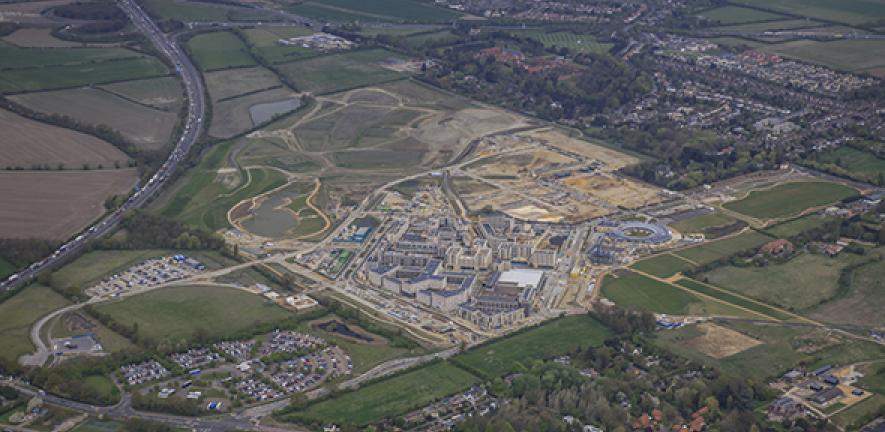 See Cambridge's newest district for the first time as part of the Open Cambridge weekend 2017
We hope many of our friends, neighbours and supporters will take the time to join us for this occasion.

Heather Topel, Project Director of the North West Cambridge Development
A showcase of Eddington, the University of Cambridge's new district in the City takes place as part of Open Cambridge on Saturday 9 September 2017.
This will be part of the Open Cambridge weekend, now celebrating its tenth year, showcasing a diverse range of hidden architectural gems and stunning spaces that are normally closed to the public or charge entry fees. This year's programme features 97 events, ranging from Jane Austen at King's, an artist walking tour of Parker's Piece and the Cambridge Mosque open day. 
Over 25 different events will make up Open Eddington, exploring the ethos of architecture and sustainability which sit at the heart of the development.
This year's festival also includes India Unboxed, exploring more than 150 years of close relations between India and Cambridge.
This year's Open Cambridge weekend will showcase the University of Cambridge's new district to the City, Eddington. Open Eddington will feature over 25 different events led by the renowned architects, professionals, and development partners who have all contributed to creating this new place.
Eddington is the heart of this new district, which has been known as the North West Cambridge Development, and is located between Madingley Road, Huntingdon Road and the M11. The opening of Eddington marks years of planning and construction with the first phase of the project now open to residents and the local and wider community.
Heather Topel, Project Director of the North West Cambridge Development said: "We are thrilled to present a whole day of activities and events for the public that illustrate the depth and breadth of our project ethos.  The University's ambitions to create a sustainable community of exceptional design quality at Eddington have been explicit, and at Open Eddington, we are delighted that so many of our project architects, consultants and partners will share with you the detail of their involvement in this exemplar development. We hope many of our friends, neighbours and supporters will take the time to join us for this occasion."
Sustainability
Innovative and unique infrastructure has been integrated across Eddington to help residents lead more sustainable lives. At Open Eddington, there will be a range of fascinating events that explain how these various features work.  Visitors can go behind the scenes of the energy centre, see the unique underground waste and recycling system in action, enjoy the virtual experience building site via Oculus Rift to explore renewable energy, learn about the rainwater harvesting scheme, or go on a walking tour with our project ecologist.  Any or all of these events will open your minds to how sustainability has been considered in place-making.
Architecture and Design
Eddington has been designed by some of the best local, national and international architectural practices. Talks and walking tours will be given by Jonathan Rose from AECOM who developed the award-winning masterplan, as well as the principals from the architects who have worked on the scheme including: Wilkinson Eyre, Mole, Stanton Williams, Mecanoo, R H Partnership, Marks Barfield, Alison Brooks and Pollard Thomas Edwards.
There will also be an exclusive behind-the-scenes tour of the Storey's Field Centre by MUMA, which is under construction.
Participation
Families can enjoy a range of events including a Roman Street Party inspired by the archaeology of the site, workshops that inspire children to become Artscapers and co-create communities through Art, or generate the energy required to watch a short film at the pop-up Cycle Cinema.
Cycle tours and self-guided walking tours will also be available as part of Open Eddington.
Travel
The Universal Bus will be operating a free service on Saturday 9 September as part of Open Eddington. The service runs from Addenbrooke's to the railway station, city centre and to Eddington. For more information visit: http://www.go-whippet.co.uk/
Eddington is a ten-minute cycle journey from central Cambridge. There will be cycle tours available and downloadable maps for journey planning.
India Unboxed
In addition to Open Cambridge's usual array of events and the Open Eddington Programme, will be the India Unboxed series – which exams the close relationship India and Cambridge have had for more than 150 years. Rooted in the University of Cambridge Museums collections, the programme explores themes of identity and connectivity for audiences both from the UK and India.
---
The Open Cambridge weekend takes place on 8-9 September, and bookings open at 11am on 14 August. For details, see www.opencambridge.cam.ac.uk or call 01223 766766. All events listed as part of Open Eddington are free. 
---

The text in this work is licensed under a Creative Commons Attribution 4.0 International License. For image use please see separate credits above.
---