Special events on 20 June mark the last weekend that Kettle's Yard will be open before closing for a major redevelopment.
As well as a last chance to see critically acclaimed exhibition New Rhythms, visitors will also be able to talk to the archivist in the house and artist Whitney McVeigh in St Peter's Church next door. Kettle's Yard's youngest visitors have been submitting drawings of dancers inspired by New Rhythms and these drawings will be on display in the learning studio where visitors on the day can also take part.
The house and gallery will then be closed from 22 June for a major redevelopment that will provide a new Education Wing, improvements to the exhibition galleries, and a café for visitors.
The weekend's events at Kettle's Yard are also part of Castle Hill Open Day, which is returning for its fourth year. A host of free events are taking place indoors and out exploring the history, heritage and art of Castle Hill.
Venues on Castle Hill will open their doors for free for the day and there will be tours, talks, creative family activities and more with historians, artists and archaeologists. There will be tours of the Nuclear Bunker, Castle Mound and Roman Cambridge; the opportunity to make your own mini summer garden with the Museum of Cambridge; and CAMRA will once again be running their historic pub trail.
New for this year will be pop-up dances performed by North Cambridge Academy students, and tours of the beautiful gardens and the New Hall Art Collection at Murray Edwards College. The collection has over 400 works of art by women artists and is regarded as the most significant collection of its kind in Europe.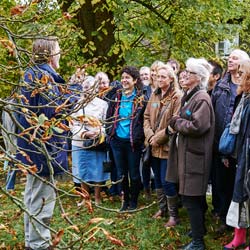 Another new feature is the Cabinet of Curiosities, a visual and audio collection of wondrous things created by artist Jane Watt with the help of over 500 people from North West Cambridge. Those who visited Jane's bright blue touring studio in autumn 2014 brought along objects and were able to watch as they were recorded as a cyanotype, one of the oldest forms of photography. Visitors will be able to see an exhibition of original cyanotypes and a short film about the project.
Refreshments will be available throughout the day and across the sites including Steak and Honour's locally sourced burgers, freshly brewed coffee from Beanissimo and the Vintage Cafe at the Museum of Cambridge.
Inset images: visitors enjoying Castle Hill Open Day (Josh Murfitt).
---

The text in this work is licensed under a Creative Commons Attribution 4.0 International License. For image use please see separate credits above.
---