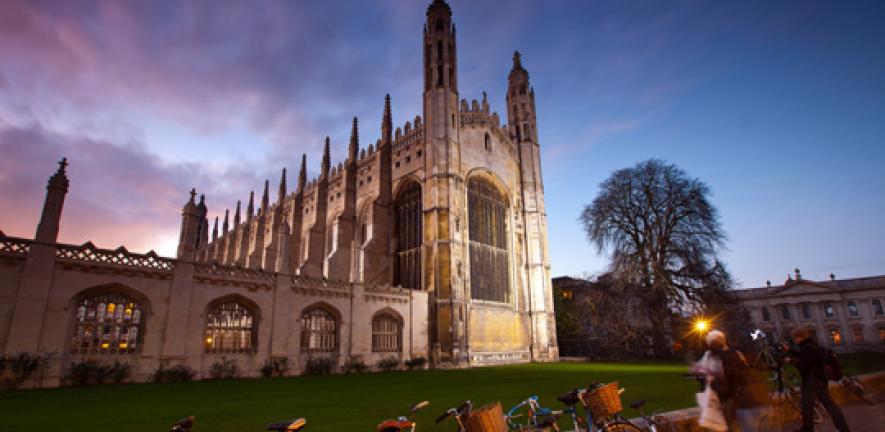 One of the UK's most iconic buildings will resonate to the sound of 21 pianos on Tuesday evening as part of a unique event involving a Cambridge composer, students, and young musicians from around Cambridgeshire.
This is a unique event for King's College Chapel and the sound and sight of 21 pianos in this wonderful space promises to be really memorable.

Richard Causton
Taking place in King's College Chapel on Tuesday (February 21) at 10pm, the Nocturne for 21 Pianos is a collaboration between composer and King's College Fellow in Music Richard Causton, the Peterborough and Saffron Walden Centres for Young Musicians, King's College Musical Society and Millers Music.
The pianos, donated by Cambridge music shop Millers Music and worth more than £50,000, will then be gifted to local schools and institutions, who are being encouraged to apply to receive one of the instruments.
A reworking of Chopin's original Nocturnes, the concert will see 21 local young musicians play 21 pianos simultaneously. With the pianos arranged in a large circle in the Chapel, it will be both a visual and aural spectacle, with a previous performance in 2010 described as "Eerie, ethereal and enchanting," by The Times.
"This is a unique event for King's College Chapel and the sound and sight of 21 pianos in this wonderful space promises to be really memorable," said Causton.
"As a child I studied at the Centre for Young Musicians, and I am very happy that pianists from the Peterborough and Saffron Walden branches of CYM will be joining forces with Cambridge University students for this very special performance. It's a fantastic chance to play in such an awe-inspiring space."
All 21 pianos have been provided by Millers Music, in celebration of its 160-year anniversary, and its Norwich-based sister store Cookes Pianos, for its 130-year anniversary.
After the event, Millers will gift the pianos to schools and institutions across East Anglia, based on applications received via its website www.millersmusic.co.uk/21pianos. Submissions are now open, and those who apply will need to state why they believe their institution would benefit from a piano.
Entries will be reviewed by a panel of judges, including Richard Causton and Millers managing director, Simon Pollard.
Pollard said: "We're thrilled to be collaborating with such a prestigious university that celebrates music education. As the oldest music shop group in the UK, we are dedicated to encouraging more young people in the region to embrace music, and gifting these pianos to local institutions does just that."
The 21 Piano Nocturne concert is part of the Chapel Lates concert series, which Causton also curates. Attendees must arrive at 9.45pm for a 10pm start, with an estimated finish time of 10.50pm. Tickets are priced at £10 (concessions £5 and King's members £2) and available to buy here and King's College Visitors Centre.
Schools, community centres, churches and other education institutions in East Anglia are eligible to apply to receive a piano. The closing date for applications is Sunday, March 12.
---

The text in this work is licensed under a Creative Commons Attribution 4.0 International License. For image use please see separate credits above.
---