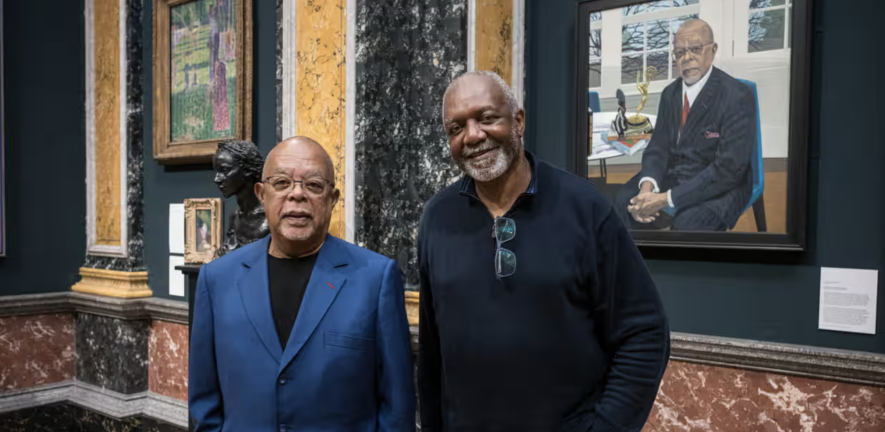 Kerry James Marshall, one of the leading international artists working today, has donated a portrait of prolific author, literary scholar and award-winning filmmaker Henry Louis 'Skip' Gates Jr to the University of Cambridge
This is a very important donation - not only as this is the first portrait of a living person that Marshall, one of the most significant artists of our time, has ever created but also that it depicts one of our remarkable alumni and honorary graduates, half a century after he first came to study here in 1973

Deborah Prentice, Vice-Chancellor of the University of Cambridge
The work is Marshall's first ever formal, painted portrait of a living sitter (not including self-portraits), and is only the second work by the world-renowned American artist to join the collection of a public institution in the UK. The painting was unveiled at The Fitzwilliam Museum on 2 October 2023 where it will be on free, public display for the first time.
Gates is a literary critic, professor, historian, and filmmaker who is currently the Alphonse Fletcher University Professor and the director of the Hutchins Center for African and African American Research at Harvard University. He is responsible for rediscovering some of the earliest known African-American novels and has published extensively on the recognition of African-American literature as part of the Western canon. Gates was the first African-American person to be awarded a Paul Mellon Fellowship at Cambridge University in 1973 when he was 22 years old. He stayed on at Cambridge to complete a PhD in English. In 2022 the University of Cambridge awarded Gates an honorary degree, one of the highest accolades it can bestow upon those who have made outstanding achievements in their respective fields. 
Marshall's painting 'Henry Louis Gates Jr 2020' depicts the acclaimed intellectual seated in a windowed room, in front of a desk which holds an Emmy award and a small stack of his books, including The Signifying Monkey and Wonders of the African World. The idea for the portrait was initiated when an image of Gates was included in a 2018 exhibition curated by the Black Cantabs Research Society, a student group set up in 2015 to create a link between past black scholars, present students, and prospective students. Then, in spring of 2019, Clare College hung a photographic portrait of Gates in its Graduate Common Room. When visiting Cambridge for the unveiling of that photograph on the occasion of the 90th anniversary of the Mellon Fellowship, Gates was inspired by the historic, richly coloured portraits which hang in Old Court. Following a discussion with Kerry James Marshall, a close friend, the two decided to create a colour portrait of Gates which would be gifted to the University. 
Kerry James Marshall's work reveals and questions the social constructs of beauty, taste, and power. Engaged in an ongoing dialogue with six centuries of representational painting, Marshall has deftly reinterpreted and updated its tropes, compositions, and styles, even pulling talismans from the canvases of his forbearers and recontextualizing them within a modern setting. At the centre of his prodigious oeuvre, which also includes drawings, sculpture, photography, and video, is the critical recognition of the conditions of invisibility so long ascribed to black bodies in the Western pictorial tradition, and the creation of what he calls a 'counter-archive' that reinscribes these figures within its narrative arc. Marshall is widely regarded as one of the most important contemporary artists working today, and has exhibited widely around the world. 
The portrait is now on view for free at The Fitzwilliam Museum. 
---


The text in this work is licensed under a Creative Commons Attribution-NonCommercial-ShareAlike 4.0 International License. Images, including our videos, are Copyright ©University of Cambridge and licensors/contributors as identified.  All rights reserved. We make our image and video content available in a number of ways – as here, on our main website under its Terms and conditions, and on a range of channels including social media that permit your use and sharing of our content under their respective Terms.
---