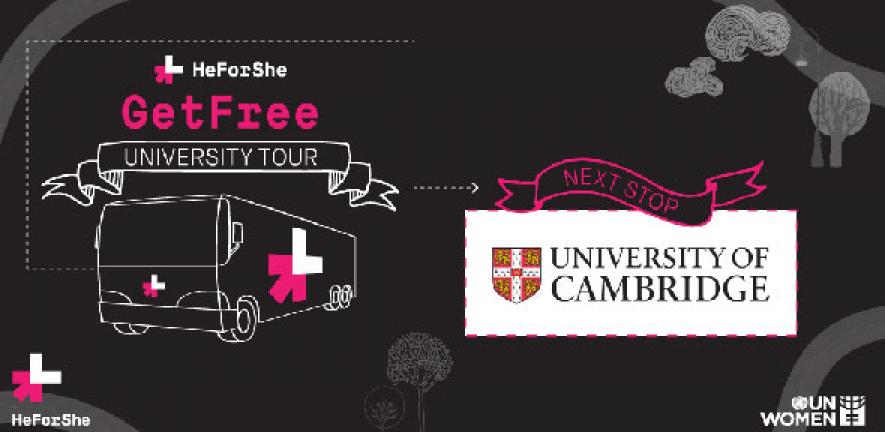 University of Cambridge joins Universities across the UK and France for inaugural #GetFree Tour.
Following UN Women's announcement, the University of Cambridge is pleased to welcome the inaugural HeForShe #GetFree Tour for a vital discussion on the importance of gender equality.
The HeForShe #GetFree Tour is a new effort, bringing a global conversation on gender equality to young people around the world. The #GetFree Tour will enable students to express themselves and explore their own understanding of gender issues, empowering them to take a lead in advancing equality in their environments and communities, say its organisers.
The HeForShe GetFree Tour will visit six universities in the U.K. and France: University of Cambridge, Imperial College London, University of Leicester, the London School of Economics and Political Science, University of Nottingham, University College of London, and the Paris Institute of Political Science (Institut d'études politiques de Paris) respectively. The University of Leicester and the Paris Institute of Political Science are part of HeForShe's IMPACT 10x10x10 programme, which engages ten leaders across three sectors to drive systemic change.                                                                               
"It's this generation of young people who will be the ones to steer our societies and our economies into the living reality of what it means to be equal. Their energy and dedication to making this change happen are inspiring," said Phumzile Mlambo-Ngcuka, UN Under-Secretary-General and Executive Director of UN Women, introducing the initiative. "The #GetFree tour is a perfect way for us to connect directly with thousands of students. We are grateful to the universities for their warm welcome and hope that this is just the beginning of a journey around the world on the road to gender equality."
Vice-Chancellor Professor Sir Leszek Borysiewicz said: "For more than 800 years the University of Cambridge has been at the forefront of the ever-changing face of education and has benefited from the widening diversity and equity among its staff and students. The University's diversity plays a key role in sustaining its academic excellence, enabling it to carry out global research to tackle the challenges facing the world today. We are happy to stand side-by-side with HeForShe and declare that we believe in the dignity of all people and their right to respect and equality of opportunity."
The #GetFree Tour will visit the University of Cambridge on October 6 for a lively discussion on how different genders impact on aspirations, experiences and opportunities. Prominent personalities including actress Gugu Mbatha-Raw will join university leaders, CUSU (Cambridge University Students' Union) and students to discuss the relevance and meaning of gender equality to universities in the 21st century.
---
What's happening on October 6?
The HeForShe campaign bus will be on Parker's Piece as part of the Freshers' Fair from 10am. Information about HeForShe and gender equality will be provided alongside an opportunity to sign up to the HeForShe solidarity movement.
Vice Chancellor Professor Sir Leszek Borysiewicz will introduce the event at 12.30pm followed by keynote speaker, the actress, Gugu Mbatha-Raw.
Following her speech a panel discussion moderated by Dame Barbara Stocking, President of Murray Edwards College, will be held.
It will feature Jack Bertram of McKinsey and Company, Elizabeth Nyamayaro of the UN, and CUSU Women's Officer Charlotte Chorley.
There will be a moderated question and answer session following the discussion.
---

The text in this work is licensed under a Creative Commons Attribution 4.0 International License. For image use please see separate credits above.
---