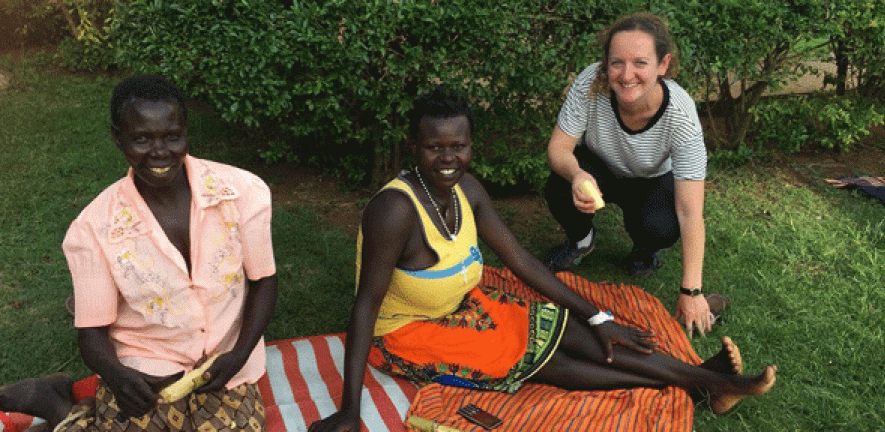 Cambridge graduates enter a wide range of careers but making a difference tops their career wish lists. In this series, inspiring graduates from the last three years describe Cambridge, their current work and their determination to give back.
People who do amazing work in very under-resourced environments really inspire me.

Kathryn Savage (Alumna)
Kathryn Savage (Trinity College), BA Modern & Medieval Languages (2016)
I graduated last year and now work in Uganda with
Pepal Foundation
, a small UK-based NGO partnered with a large Ugandan NGO,
Baylor College of Medicine
. Our project aims to improve health service delivery and increase utilisation by strengthening the leadership skills of health workers and district health teams. 
Our three year pilot runs until December 2017 in 270 facilities in two regions. The hope is to expand the project across Uganda by including it in the Ministry of Health's overall budget and training plans for newly-qualified clinical staff. We also hope that our model can be implemented in other countries. 
My role is in monitoring the success of the project in its current form and coming up with improvements for when it is (hopefully) made fully functional across multiple areas of the country.
What Cambridge did for me
I probably spent more time doing extra-curricular activities than studying, from playing Blues football to being on my college May Ball committee. Cambridge definitely taught me that you really need to enjoy whatever you spend the majority of your time doing, which for most people is working. 
I'd spent a lot of time in Latin America on my gap year and then my year abroad so I knew I wanted to work in a different part of the world with unfamiliar challenges. I first came to Uganda as a volunteer using money from a fund from my college, Trinity, and was then offered a year-long contract. 
Unfortunately, I don't currently use my languages at all in my job but having a very packed schedule has certainly equipped me with the skills to balance lots of competing interests. When studying a humanities subject you realise you could never exhaust the endless amount of reading that you could do, and it's the same in terms of workload in the NGO world, where you feel like however much you do there's always more.
My Motivation
I tried out the corporate sector during a couple of internships, thinking that I would get as much as I could from the training there to take into the NGO sector, but then I realised I couldn't even handle that. I wanted to do something I'd be proud of from the beginning and something that I could explain to my friends without having translate lots of incomprehensible corporate jargon. 
People who do amazing work in very under-resourced environments, like the many Ugandan healthcare workers that I've worked with, really inspire me. I think that we could learn a lot from them in the UK. 
I would consider doing a Masters in Global Public Health or perhaps running projects for a larger NGO. But I think I'd like to work in the UK at some point as, whilst there's so much to be done here, there are also a lot of social issues in the UK that I'd like to understand more and get involved with. 
Applying to Cambridge
I applied to study law and went to the interview having had one practice session at school with someone who seemed to be learning from me about basic legal concepts rather than the other way around! However, my parents were very supportive and I was luckily able to go into the interview without too much pressure and thinking that fate would decide the outcome. 
I initially began studying law but soon realised that I needed to be studying
languages
, having applied on deferral and spent time travelling in Latin America during my gap year. I just didn't feel like I'd exhausted my love for languages during those six months and really wanted to build on my knowledge. Despite the initial false start, it was definitely the right decision and I'm very grateful that my college allowed me to change subject.
---
Our
Spotlight on Africa
 showcases links between our university and the African continent and has been launched to coincide with the Africa special of our
Research Horizons
magazine. 
Under pressure: the battle to have a baby in Africa
---

The text in this work is licensed under a Creative Commons Attribution 4.0 International License. For image use please see separate credits above.
---