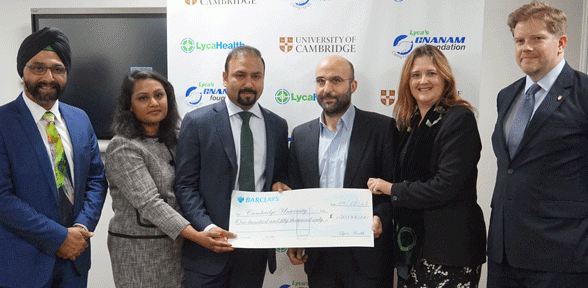 LycaHealth, the new healthcare brand, have presented a donation of £150,000 to Cambridge University to support Sri Lankan students and improve public health in Sri Lanka. 

 
We are delighted to be making the donations to such a reputable University as Cambridge, to implement study on these worth-while causes.

Prema Subaskaran
LycaHealth's donation will support two different projects to be undertaken by Cambridge University as part of the Lyca Group's mission, to bring together people from all different backgrounds and be a part of the fabric of communities in which they have a presence.
The donation will be split in two ways: £50,000 will go towards the "Sri Lankan Language Fund" enabling the University to establish a dedicated Sri Lankan language scheme for a period of five years. The donation cost will cover intensive full-time summer courses, or part-time 'in-sessional' programmes at the university.
A further £100,000 will be used to improve public health in Sri Lanka through a pre-pilot project, run by the University of Cambridge to extend the expertise of the Sri Lankan Heart Infarction and Neurological Event Study (SHINES). Building on the University's exceptional record of public health support in Pakistan and Bangladesh the donation will cover local medical staffing costs, laboratory supplies and equipment, travel and training expenses. The seed donation will mean that within 3-5 years, SHINES will have gained a sufficient evidence base to secure long-term funding from larger medical bodies.
Jocelyn Wyburd, Director of the University of Cambridge Language Centre said:
"I was fortunate enough to have the chance to visit Sri Lanka on holiday last summer for the first time and loved it! I'm therefore all the more excited about this relationship with LycaHealth and to have the chance to promote Sri Lanka's languages and an interest in the country to others."
The University's Language Centre provides resources and courses to support language learning by all members of the University community. It stocks learning resources in some 170 languages, including in the major two Sri Lankan languages (Tamil and Sinhala) and are able to offer supported self-study of these languages as individuals might require. The Sri Lankan language fund will enable the Centre to expand this provision, promoting the learning of Sri Lankan languages, not least to those who might be engaged in fieldwork in Sri Lanka as part of the accompanying public health initiative.
Jocelyn Wyburd added: "We will engage further with Sri Lankan students in the University to support learners face to face and to help us to develop supplementary online learning resources. We will also be able to provide financial support to Sri Lankan students who wish to develop further their academic skills in English to support their studies in the University."
Prema Subaskaran, Chairperson of LycaHealth, said: "We are delighted to be making the donations to such a reputable University as Cambridge, to implement study on these worth-while causes. The investment mirrors our ethos of expanding the importance of healthcare across the globe whilst bringing together people from all types of backgrounds."
The donation comes soon after LycaHealth's first centre was opened in London. The centre, located in Canary Wharf was opened by Boris Johnson, the Mayor of London. The Canary Wharf centre is the first step in LycaHealth's growth plans, with further centres planned to open around the UK, South Asia and eventually Africa over the next five years.
Cambridge's current £2 billion fundraising campaign for the University and Colleges focuses on Cambridge's impact on the world.  Cambridge will be working with philanthropists to address major global problems, as it has done throughout the course of its history. More than £590 million has already been raised, including the gift from LycaHealth, and 30,000 donors have already given to the campaign.
Photographed L - R
Dr Manpreet Gulati, CEO of LycaHealth; Prema Subaskaran, Chairperson of LycaHealth; Subaskaran Allirajah, Chairman of Lyca Group.
Dr Emanuele Di Angelantonio , Director, University Department of Public Health and Primary Care; Jocelyn Wyburd, Director, University of Cambridge Language Centre; Chris Chaney, Director of Major Gifts, University of Cambridge
---

The text in this work is licensed under a Creative Commons Attribution 4.0 International License. For image use please see separate credits above.
---