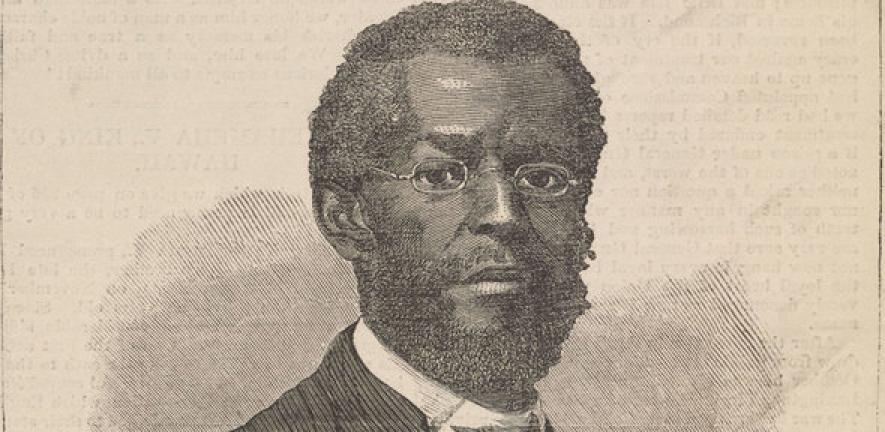 The Black Cantabs Research Society has just launched a new platform which will help further its aims of connecting early Black alumni from the University of Cambridge with present-day students.
Gloria Claire Carpenter was probably the first black woman at the University of Cambridge. A Jamaican, she studied law at Girton College in 1945 and became a prominent social reformer, playing an instrumental role in the foundation of the Law Faculty of the University of West Indies in Jamaica.
Efua Sutherland, from Ghana, studied at Homerton College, Cambridge, in 1947, a year before women were admitted as full members of the university. A playwright and filmmaker, she contributed to the development of theatre in Ghana.
Professor Thomas Odhiambo became the first black Kenyan to matriculate at Queens' College, Cambridge, in 1959. He went on to found the renowned International Centre for Insects Physiology which has helped farmers across the world to  protect their crops through biological pest control methods, contributing to food security in Africa in the process.
Until recently, their stories were little known within the University.
However, a pioneering student-led society has decided that the achievements of early black students at the university needed to be documented to fill a gap in the university's history and influence present-day attempts to forge a more inclusive culture.
The Black Cantabs Research Society was formed after Njoki Wamai, a Gates Cambridge Scholar who recently completed a PhD in Politics, met Godfrey Sang, a visiting scholar who was in Cambridge researching the life of Jean Marie Seroney, a Kenyan politician and human rights activist who had visited his friends at Cambridge in the 1950s. Njoki, who is also Kenyan, says: "Godfrey unearthed interesting stories about East Africans Seroney met in Cambridge and I got interested in finding out about the earliest African scholars at Queens' College."
Initially the research was limited to early black African alumni at Queens' College, Njoki's college, but she then joined forces with classics student Nnenda Chinda from Downing College and alumna Siana Bangura from Peterhouse to form the Black Cantabs Research Society. Their aim was to unearth rich histories of black Cambridge alumni. Siana and Nnenda were inspired by the election of Priscilla Mensah, the first black female student to Cambridge's student governing body CUSU. Eva Namusoke from Caius College later joined the team as a historian. Other Black Cantabs like Flora Tasse, a Cameroonian computer science graduate from Hughes Hall, designed the society's website and database. The society has also had the active support of two university academics, Peter Mandler, Professor of Modern Cultural History, and Dr Monica Moreno Figueroa, a senior lecturer in Sociology.
Other alumni highlighted by the Society include:
-  Alexander Crummell [pictured] who matriculated in 1849 and is the first Black Cantab to matriculate and graduate from the University. He was an African American priest who later  became an important activist and educator in Liberia and was one of the first professors at Liberia College, now the University of Liberia. His contributions to education, the field of moral philosophy and the intellectual life of Liberia are huge. The Black Cantabs' Research Society is working with the president of Queens' College to get a portrait of Alexander Crummell hung in a prominent location to celebrate him.as one of the first professors at Liberia College, now the University of Liberia. 
- Professor James Ezeilo who, with Chike Obi and Adegoke Olubummo, was one of a trio of black mathematicians who pioneered modern mathematics research in Nigeria. Sometimes called the "father of mathematics" in Nigeria, he started his studies at Cambridge in 1953, becoming only the second Nigerian at Queens' College. He was Vice-Chancellor of both the University of Nigeria, Nsukka, and Bayero University, Kano, as well as Chairman of the Committee of Vice-Chancellors and the founding Director of the National Mathematical Centre, in Abuja.
The Black Cantabs Research Society officially launched in 2015 and has won support from a number of colleges, including Queens'. Its new website was launched at Queens' last week and includes an online database which anyone can update.
The process of recovering the information has been fairly arduous. Most university records are based in Cambridge's colleges and access to recent information is barred for privacy reasons. Most of the old records do not record the country of origin of students. That means checking matriculation photos, looking in the university records for students' names and then Googling for more information.   The University's alumni department provides a useful guide which the Society has been using.
"It's a daunting task," says Njoki, adding that she hopes the university can help to continue the work. She feels it is very much needed and says: "Cambridge can be an overwhelming place for black students. You feel you carry so much weight and that you have so much to prove."
Njoki's background is in human rights activism and she says it was not until she came to Cambridge that she 'became black', rather than simply African, and part of that was to do with the lack of black academics and the lack of black representation among well-known alumni. As an activist who has focused on, for example, women's inclusion, she wanted to tackle that sense of exclusion which, she says, influences many aspects of black students' experience of the university.
Njoki is confident that the new president of the Black Cantabs Research Society, Nafisa Waziri, another PhD student from Hughes Hall College, will continue to build on what has been achieved so far. "I would like to see the colleges invest in this kind of research as it plays an important role in creating a more inclusive culture," says Njoki.
The organising committee plan to put together periodic exhibitions to celebrate the diversity in Cambridge's past and also to normalise it. This will include a Black Cantabs Speaker Series which invites distinguished Black Cantabs to share their experiences of their time in Cambridge and the paths they have taken since graduating. Eventually the Society would like to publish a book of black scholars and to form a community of Black Cantabs which connects alumni from the distant past to the present.
 
---

The text in this work is licensed under a Creative Commons Attribution 4.0 International License. For image use please see separate credits above.
---