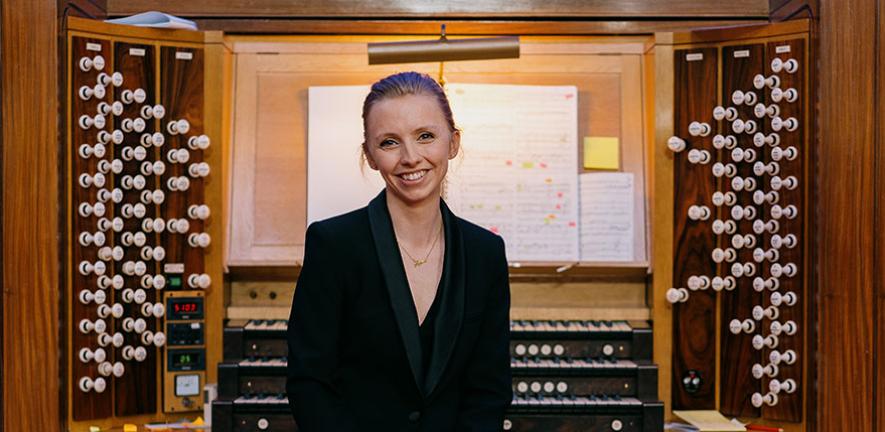 Anna Lapwood never expected that playing the organ in the London Underground might interest anyone other than the odd passer-by or her Twitter followers until an unrehearsed duet with a security guard went viral on Sunday.
Lascia ch'io Pianga actually translates as 'let me weep'. It's an expression of sorrow
The 27-year old Director of Music at Pembroke College and London Bridge security guard Marcella de Gale posted a recording of themselves playing George Frideric Handel's sorrowful aria 'Lascia ch'io Pianga' after a chance encounter at the station led to some impromptu duets.
Four million Twitter views, a stint on breakfast television and a deluge of media requests from around the world later, Lapwood is amazed by the media interest, but not the emotional effect that this piece of music has had on so many people at this moment of national mourning following the death of Queen Elizabeth II.
"Lascia ch'io Pianga actually translates as 'let me weep'. It's an expression of sorrow, and it happens to come at a time when many of us are having to process grief and are not sure how to express that," she said.
Capturing that moment on video happened on Sunday accidentally – naturally – doing something she does all the time. She dropped by to play a couple of pieces on the organ installed beneath the vaulted ceilings of London Bridge tube and rail station, something she often does when passing the station with a little time to spare.
"I played duets with four people that day," Lapwood said.
She was only planning to hang around for about 10 minutes, but then Marcella wandered over and asked to sing along.
"We played a couple of pieces together and she clearly had a voice that had been trained in the past - then she requested that Handel and it was one of those goosebump moments."
Lapwood, who earned her music degree at Oxford before coming to the University of Cambridge, always props her phone up on the organ when she visits London Bridge to capture reactions to the instrument from passing commuters.
"I love capturing people's responses to this instrument – it's not often that organs are this accessible in a public space, and I love the fact it makes it an instrument people can literally just stumble across."
Her only explanation for the explosion of interest in her and Marcella's rendition of Handel's 1711 aria for his opera Rinaldo is timing.
"Music is how we get to the heart of a conversation much quicker," she said. "It allows humans to connect without the need for words."
Lapwood's seven-year tenure at Pembroke as Director of Music started at the age of 21 and she has been on a mission to bring organ music and music in general to the masses ever since. She set up a girls' choir at Pembroke, inviting girls 11-18 from local schools to sing. Under her tenure the choirs have released two recordings, and she also has her own album, Images, out on Signum.
This was so moving. Spontaneously stopped off at the London Bridge station organ to play a couple of pieces for the Queen. This lovely security guard, Marcella, asked if I could play Lascia ch'io pianga. Turns out she trained as a singer! pic.twitter.com/c8vqaRyFge

— Anna Lapwood (@annalapwood) September 11, 2022
---

The text in this work is licensed under a Creative Commons Attribution 4.0 International License. Images, including our videos, are Copyright ©University of Cambridge and licensors/contributors as identified.  All rights reserved. We make our image and video content available in a number of ways – as here, on our main website under its Terms and conditions, and on a range of channels including social media that permit your use and sharing of our content under their respective Terms.
---